*****************************
Vale Joel Barnett
QURA member and stalwart 9 RQR Historian, Joel Barnett, passed away on Friday, 20th June 2014 after combatting an illness over a long period and had as recently as early this year appeared to be winning the battle. He is survived by his wife Karen. Below is Joel's eulogy delivered by QUR member Pat O'Keefe.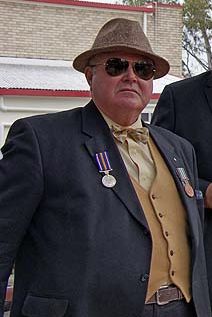 VALE JOEL BARNETT
"History with its flickering lamp stumbles along the trail of the past
Trying to reconstruct its scenes, to revive its echoes
And kindle with pale gleams the passion of former ages."
When Sir Winston Spencer Churchill penned these words, he may well have had in mind the type of 18th century soldier scholar that Joel reminded his good friend and fellow barrister, Richard Galloway, of, with his penchant for painstaking research and earnest attention to detail.
Joel Mark Barnett was born the son of Mark and Peggy Barnett on 9 June 1949.
He was educated at Brisbane Grammar School and Brigadier Rod Hamilton, prior to his departure overseas, wrote the following:
"Catherine and I very much regret that we are overseas and unable to share in this celebration of Joel's life.
My friendship with Joel goes back more than fifty years to when we were students of Brisbane Grammar School where we shared a passion for the Army Cadets. One of my very enduring memories of this time is that of Joel punctiliously saluting his father when collected after the Monday parade.
Joel became the long-serving curator of the Association Museum and a Trust member. Pat will elaborate on his contribution but I can report that it was characterised by hard work, attention to detail and a decided flair for matters historical.
He was a real gentleman – a gentle man – in every sense of the word. Perhaps he
should have been born in an earlier century, as indicated by his predilection for waistcoats
and fob watches. He was a warm man, generous of spirit, whose life was enhanced by his
marriage to the lovely Karen. I thoroughly enjoyed his frequent phone calls which always
began with "Oh Rod, it's Joel.I must tell you something which can't be repeated…" His love
and devotion to his cats also meant that there would be an account of the latest feline antics.
Only the good die young and Joel has been taken from us far too soon. His influence
in his many spheres of interest and expertise was profound and he will be etched in our
memories as a good man
.
PRO ARIS ET FOCIS
Rest well, old mate."
In like manner, Air Vice Marshal David Dunlop wrote the following from London:
"I am presently away in the UK and therefore, regrettably, will not be able to attend Joel's funeral on Thursday.If it is appropriate could you please read out the message below.
A Farewell Message from Dave Dunlop
I first met Joel when we were at Brisbane Grammar in the 1960s. Although we were not in the same class, we were both in the cadets, in my case the Air Training Corps and for Joel,the Army Cadets. My recollection was that Joel was always very smart in his uniform –
perhaps a reflection of his Father's extensive Army experience. We Air Force cadets
struggled to look good in our hand me down World War 2 vintage uniforms, but Joel always looked immaculate. In many ways , Joel was more military than the military, a characteristic that endured throughout his life.BGS had its own rifle range set up on the oval using the cliff face as the butts. There we fired 303s with .22 barrels. Perhaps this was the start of Joel's love of shooting although I suspect that may have come from his Father.
After high school, we went our separate ways –I joined the RAAF and Joel continued his association with the Army through university. It wasn't until many years later when I was posted to RAAF Base Amberley that we again met up. As I am sure many of you would recall, Joel was very involved with the Army museum at Kelvin Grove and he invited me to visit.This led to us renewing our friendship and although we only met occasionally, usually for Anzac day or dinner in the United Service Club, we did communicate regularly.
We found that we shared an interest in military history and this led to us exchanging via email, interesting articles, stories, photos and web site addresses. Joel had the knack of finding unusual snippets of information on often long forgotten events. One area of particular interest was German research during WW2 into advanced weapons and technology.
Following a visit I made to the restored WW2 launching site of the V2 missile, La Coupole in the Pas de Calais in north west France, I found a number of books on the post war program to uncover German secret weapons and to capture German scientists.Joel was intrigued by these programs.I suspect he secretly believed in the conspiracy theory concerning the German nuclear program.
When I visited Joel in hospital just before I left for the UK, he was deeply immersed in an old copy of "The Final Battle" that I had found in an antique store in Burra in South Australia.Despite his discomfort, he recounted in detail what he had read of the battle that led to the fall of Berlin.
I bid you farewell my friend. I will miss our conversations on legal intrigue, military secrets, vintage watches, shooting pistols, fountain pens and faithful cats. Although I am many miles away, I will raise a glass old whisky in honour of our friendship."
Joel Barnett will be remembered for his many connections, such as with
Queensland University Regiment – with whom he served from 1968 to 1970 and, thereafter,his membership of its regimental Association.
The National Servicemen's Association – South Brisbane Branch -of which he was a member.
The Returned and Services League of Australia – whose Salisbury Sub-Branch's affairs he presided over.
The Sporting Shooters Association – whose muzzle- loading division he helped to found and with whom he participated as a "black powder shooter" under the nickname of "Duke of Clarence".
The Victoria Barracks Historical Society – which, along with Tom Parslow, myself and others, he helped to found
( as an aside, it would not be too difficult to imagine that God's biggest problem today is keeping the unholy trinity of Pat Shanahan, Tom Parslow and Joel Barnett from establishing a military memorial museum in Heaven)
And most importantly to me, personally,
The 9th Battalions Association – of which he was a life member, a trustee and, between the years 1975 and 1995, its Museum Curator.
Often unsupported, always under-funded and sometimes forgotten, Joel gave to our Museum a priceless gift of time, energy and expertise.
I shall miss you, old friend, but I shall never forget, when we stood together and polished History's flickering lamp.
P.J.O'Keeffe OAM
Chairman
9th Battalions War Memorial Museum Collection and Property Trust