| | |
| --- | --- |
| Volume 26 Number 1 | February 2014 |

What's in this Issue

(Click on link to read article - Press `Home` key to return to here)

Another year.

Firstly I make note of the completion of duty of our Honorary Colonel Major General John Pearn. General Pearn always attended the graduation ceremonies of the Officer Cadets at RMC and again at the Graduation Ceremonies back in Brisbane. He took great care in acknowledging the names and personal details of all members of the families of the graduates. His brilliant knowledge and interest in history was invaluable to the Association in the time that we are attempting to record or own history. On behalf of the ex members of QUR I would like to express our gratitude for his tireless work in furthering the Regimental family history and trust he will enjoy his well earned rest.

Late last year Army gave notice that the position of Honorary Colonel would not be continued. Instead there would be an appointment of a Colonel Commandant. Major General Michael Fairweather has been appointed Colonel Commandant for QUR. (See later in this newsletter his CV and photo.) We bid him a warm welcome to the family and trust he will enjoy his time with us.

A person to whom QURA relies heavily on for its administration is the Second in Command of the Regiment (Executive Officer). At the end of 2013 Major Luke Hughes was transferred from QUR on promotion to Lieutenant Colonel to HQ 11 Bde. It was a pleasure to work with Luke and his cooperation and very helpful advice made my work so easy. Thanks Luke. We welcome Major Ian McNab as Luke's replacement.

This year the Regiment will host the Association to a different format for the Back to the Regiment function, on 18 March 2014. Commencing at 1830 the Association will cater for an evening meal at a minimal cost. This will be followed by the Commanding Officer, The Executive Officer and the OC Jacka Company (The Officer Cadet Training Company) giving an update of the status of the Regimental training. The current Officer Cadets in training will then be introduced to the Association members allowing them to "meet" the soldiers. The evening will be completed in the mess. This evening will be a unique opportunity for QURA members to meet the QURA staff and the current group of Officer Cadets. Additionally, it will allow members to look at the training facilities at the St Lucia Depot.

There are some other changes to the conduct of our functions during the year and they can be seen in the listing further in this document. It is especially noteworthy that the Regiment has indicated that they are willing to conduct the Christmas Drinks function at the St Lucia Depot instead of it being held in a noisy public beer garden.

Years ago I was employed with a man for many years. He became a very good friend to me. After he was transferred and retired I lost contact with him. Recently I caught up with him for a cup of coffee. During this coffee time I learned that during 1955/56 he had been a member of the Regiment. He was able to recount many stories of his time in the Regiment. I have asked him to write about some of the times that he served with QUR. He was asking as to whether there was any formal recognition for service for members of the Defence Force. After research and gathering other advice I found out that ex members of "ARMY" can obtain a "Certificate of Service", which can be mounted in a frame for wall hanging. It is a reasonably attractive certificate. Additionally photocopies are made from personal files from personal administration, course reports and health reports.

To request a certificate and copies of records of service follow the instructions below:

"You are also able to request a copy of your medical records and a discharge certificate, just tick the records you require.

Prior to the release of any information, policy requires the receipt of a signed request that includes your full name, date of birth, Service type i.e. Regular Army or Army Reserve, Service and/or PMKeys number if known, year of discharge, mailing address for the records, contact telephone number and a copy of drivers licence or other photo ID. Please forward your signed request to the following office:

Central Army Records Office

PO Box 1932

MELBOURNE  VIC  3001

Fax: (03) 5258 0657

Email (scanned and signed requests): caro.hq@defence.gov.au "

The application form can be found at the following website: www.defence.gov.au/foi/exservice_records_army.htm

Once into this site navigate to read the "Introductory Page" and the "Requests for Records". Over the last Christmas break the request for a certificate took just under 6 weeks.

I look forward to a busy year and trust that we will see many of you at the Back to the Regiment function.

CO's Report February 2014

I hope QURA members had an enjoyable and relaxing festive season. Although it is early in the year QUR has already been at work for a month conducting range of activities including:

Sending 40 Officer Cadets on national First Appointment Course Training Blocks

Conduct of a Combat Arms Module for infantry trainees

Hosting a Leadership seminar for the MAJ and WO of 11 BDE

Conduct of Force Preservation Training and AIRN testing.

I would like to congratulate the six new QUR trained Lieutenants recently commissioned at RMC:

LT Weyler (winner of the TB5 PT prize), LT Ng, LT Bellegardt, LT Wright, LT Goody, LT Stallman (NQ)

We have had a significant turn-over of ARA staff this year. I would like to take the welcome the new staff and to complement them on their proactive and professional approach so far. I would like to acknowledge the service of MAJ Shane Hanning, the OC Admin Coy last year, and thank him for his efforts. MAJ Gabby Raffin is the new OC Admin Coy (on promotion). MAJ Raffin is a QUR graduate that has performed well in a number of demanding roles including operational service and ADC. I congratulate her on her appointment and look forward to her contribution this year.

At the closing parade last year I was pleased to be able to recognise the sterling service provided by the Honorary Colonel MAJGEN John Pearn. He has been a outstanding and tireless representative of the Regiment and a great personal inspiration for me. We presented him a plaque documenting he highlights of his distinguished military career and personal qualifications. A copy of this plaque will hang in the Regimental HQ.

The following have members received awards since my last report:

QUR Member of the Year – WO2 Watts

Commendations - MAJ Bailey and CPL Gerridy

CO's Coin for Service - CAPT Mitchell, CAPT Tran, CAPT Bradley and WO2 Ryder

The following members were promoted at the final parade:

MAJ Hughes to LTCOL

LT Dixon to CAPT

PTE Page to LCPL

At the conclusion of the final parade I was pleased to host the family of LTCOL Harry Standfast for the re-naming of the OCDT Mess to the 'Harry Standfast Club'. This name with it's historical significance to the Regiment was passed to the OCDT mess on the closing of the Soldiers Club. The re-naming ceremony featured moving speeches, the un-veiling of a new sign over the entrance and the hanging of a portrait of LTCOL Standfast over the bar.

This year will be another busy and challenging one for the Regt. I look forward to supporting and attending QURA activities this year.
Scientia ac Labore
Mark Armstrong

Lieutenant Colonel
Commanding Officer
Queensland University Regiment
Below is a photo of QUR personnel for 2014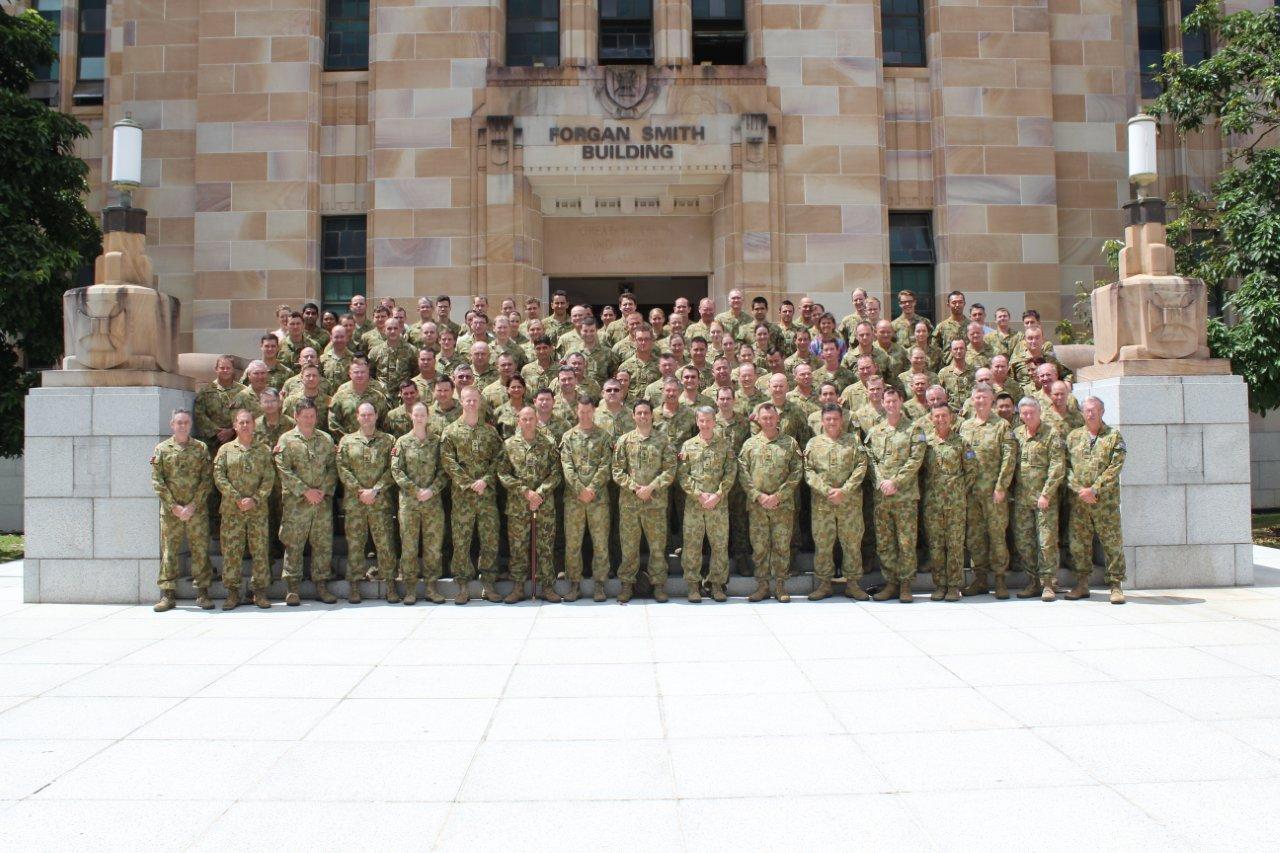 *****************************
QUR Honorary Colonel / Colonel Commandant
QUR farwelled the Honorary Colonel, Major General John Pearn at their last parade for 2013 on 26 November. John had been Honorary Colonel from 2005 to 2013. On his retirement, the Army has decided to disband the position of Honorary Colonel, QUR and replace the position with Colonel Commandant, QUR.

| | |
| --- | --- |
| MAJ GEN John Pearn attending his last parade as Honorary Colonel QUR with QUR CO LTCOL Mark Armstrong | |
| | |
| | The Honorary Colonel, MAJ GEN John Pearn, being presented with a plaque by QUR CO LTCOL Mark Armstrong, on his retirement |
| | |
| The Honorary Colonel, MAJ GEN John Pearn, biography plaque. | |
| | |
| | MAJ GEN John Pearn sharing a drink with Pte Henrichs after the final parade for 2013 |
| | |
| | |
| | |
| | |
| | |

The inaugural Colonel Commandant for QUR has been announced and is MAJ GEN Mick Fairweather. On behalf of the QURA executive, welcome Mick.

See below a short bio supplied by MAJ GEN Fairweather.

Mick Fairweather AM, RFD

Major General

Military Specialist

Defence Export Unit
Major General Mick Fairweather joined the Australian Army Reserve as an Infantry private soldier in 1971 while doing tertiary studies at Queensland Agricultural College and rose to the rank of Sergeant, with several specialist qualifications. He was commissioned as an Infantry Officer in 1977. He holds the degrees of Bachelor of Applied Science (Rural Technology) from Queensland Agricultural College (1974) a, Graduate Diploma of Teaching (1975), and a Graduate Diploma of Strategic Studies from the Australian Joint Services Staff College (JSSC)(1993). He is a Graduate of the Australian Institute of Company Directors, and has attended the Harvard Australian Leadership program. In 2011 he was awarded the UQ Gatton Gold Medal.

Mick has commanded at all levels from section to brigade in the Australian Army, (including the pre-deployment preparation of allied force elements for operations in the Pacific), Assistant Commander Training Command and Commander Australian Army Cadets (AAC). His training and staff appointments have included postings as Instructor and Chief Instructor at Tactics Wing at the Land Warfare Centre, and Colonel (Reserves) at the Royal Military College of Australia (RMC-A) He was promoted to Major General in January 2006 and appointed as Head Cadet Policy. He assumed his current role as the Military Specialist Adviser to the Australian Military Sales Office in January 2008. He was awarded an AM in the 2004 Queens Birthday Honours list.

Mick's civilian employment commenced with an appointment as a teacher in the Queensland Department of Education in 1976 for a period of 9 years after which he pursued a career in the private sector, commencing as a sales representative. In 1990 he was appointed as General Manager of a national agricultural equipment importer, wholesaler and retailer. After taking leave to attend JSSC in 1993, Mick was appointed as the regional Manager North Asia for Defiance Mills, focussed on developing export markets. Having completed a detailed internal review of Defiance's International Operations in 1997, Mick left Defiance to manage an Agricultural Co-operative. He started a consultancy with both domestic and international engagements in 1999, and in 2002 he established his own IT and Wireless ISP business.

Mick now focuses on his Army Reserve role and governance in business. He is the chairman of the board and director of several For-Profit entities and one Not-For Profit charity.
*****************************
QUR Officers and Sergeants Regimental Dinner 2013
QUR held their Annual Officers and Sergeants Regimental Dinner on 12 October 2013. Members of QURA were invited to the function that was held at Cromwell College. The following is a pictorial record of a very successful and enjoyable evening.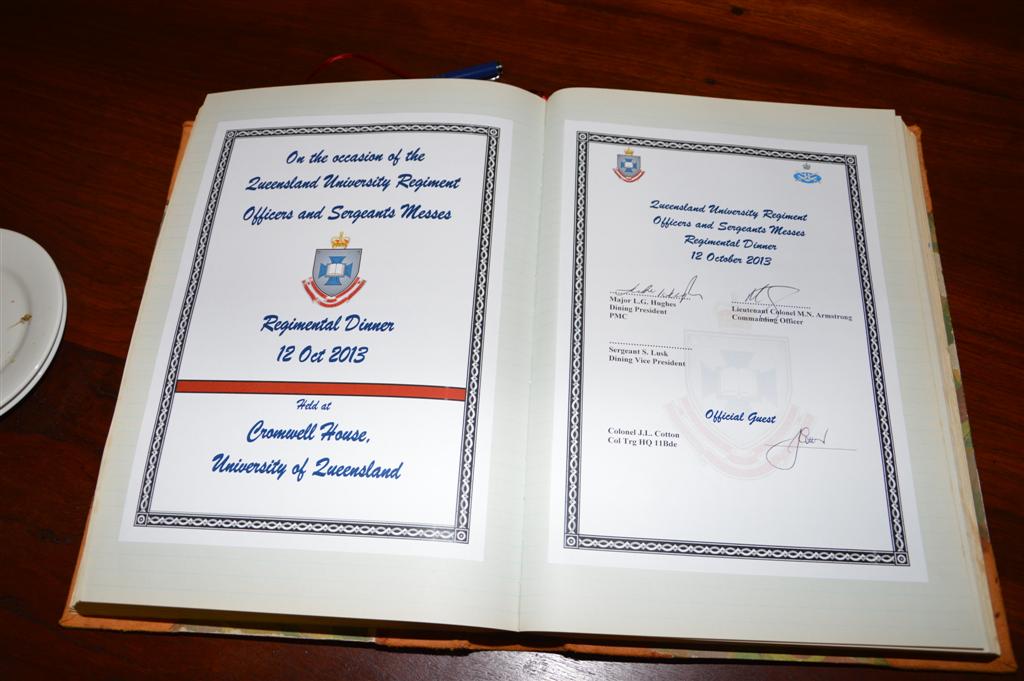 | | |
| --- | --- |
| | |
| | Officers of QUR and QURA attending the Officers and Sergeants Regimental Dinner |
| | |
| Marching in of QUR Colours | |
| | |
| | Guests enjoying a delightful dinner |
| | |
| Brad Shillig (left), Rod Hamilton and Chris Pike reminiscing on past times in 9 Battalion | |
| | |
| | QURA members LTCOL Kerry Tscherepko (ex 2IC QUR) arriving at the dinner wth COL Jenny Cotton (ex CO QUR) |
| | |
| Old QUR mates Bob Hughes (left), John Taske and Tony English catching up at the QUR Officers Mess after the Regimental Dinner | |
| | |
| | QURA members Brad Shillig (left) and Michael Bond chatting at the QUR Officers Mess |
| | |
| Recently retired from QUR, Barry Weller (right) talking about days in QUR | |
| | |
| | QURA member Bob Cummings (right) in the Officers Mess after the QUR Regimental Dinner |
| | |
*****************************
Return of the Standfast Club
Following discussions between QURA President Trevor Luttrell and QUR, the OCDT mess (formerly the Soldiers Club, formerly the Standfast Club) was renamed the Harry Standfast Club in a moving ceremony after the final 2013 QUR Parade on 26 November 2013. Harry's wife Marion and family were on hand to present QUR with a photo to be hung over the bar.
| | |
| --- | --- |
| | |
| Marion Standfast presenting a photo of LTCOL Harry Standfast to the mess | |
| | |
| | Retiring Honorary Colonel, MAJ GEN John Pearn, and Marion Standfast unveiling the `Harry Standfast Club` |
| | |
| Harry Standfast's family in front of the Harry Standfast Club | |
| | |
| | Marion Standfast at the bar of the Harry Standfast Club |
| | |
| | |
Once again, QUR has produced an excellent batch of new officers for the Australian Army Reserve
Back Row ------ L to R Hayden Knight, Sgt Elona Drain.

Middle Row ------ L to R Gordon Fisher, Rowan Jarvie and James Ryan.

Front Row -------L to R Simon Freestone, Ben Steiger, Oswald Norton and Patrick Cochrane

Back Row ------ L to R Simon Freestone, Ben Steiger, James Ryan and Patrick Cochrane.

Front Row -------L to R Oswald Norton, Hayden Knight, Gordon Fisher, Rowan Jarvie and David Shaw (Nth Qld)
*****************************

QURA Christmas Party

Some 25 plus QURA members got together at the Victory Hotel on 12 Dec 2013 to celebrate Christmas. President Trevor Luttrell spoke with QUR 2IC MAJ Luke Hughes (now promoted LTCOL and transferred to HQ 11 Bde) about holding the 2014 Christmas Party at the Walcott St Depot. Below are some photos taken of a few of the attendees.

| | |
| --- | --- |
| | Greg Adams (left) and Gary Collins having a quiet ale to celebrate Christmas |
| | |
| Paul Deighton (left) with regular attendees Chris and Sue Goodhew | |
| | |
| | Dave Ross (left), John White and Chris Backstrom in a jovial mood at the Christmas Party |
| | |
| | |
*******************************

War Quotes

For among other evils caused by being disarmed, it renders you contemptible; which is one of those disgraceful things which a prince must guard against.

Niccolo Machiavelli 1469-1527

Every gunner should know that it is good for him to drink, and eat a little meat, before he discharges any piece of artillery, otherwise the fumes of the saltpeter and brimstone may damage his brain.

Niccolo Tartataglia 1499-1557

Every man thinks meanly of himself for not having been a soldier.

Samuel Johnson 1709-1794

It is only repeating an ancient maxim of war to say, "that he who divides his force, will be beaten in detail". If you are about to give battle, strain every nerve to get together as many troops as you possibly can, for they never can be employed to better purpose.

Frederick the Great 1712-1786

The first consideration with a general who offers battle, should be the glory and honour of his arms, the safety and preservation of his men is only the second.

Napoleon Boneparte 1769-1821

I have seen war, and faced modern artillery, and I know what an outrage it is against simple men.

Thomas Kettle 1880 – 1916

Interior lines at night are a general's delight. Exterior lines at morning are the general's warning.

Archibald Percival, Lord Wavell 1883-1950

Darkness is a friend to the skilled infantryman.

Basil Liddell Hart 1895-1970

Peace is a daily, a weekly, a monthly process, gradually changing opinions, slowly eroding old barriers, quietly building new structures. And however undramatic the pursuit of peace, that pursuit must go on.

John Fitzgerald Kennedy 1917-1963

*****************************

Things to Think About

Judge: "Are you trying to show contempt for this court?"

Defence Lawyer: "No. I'm, trying to hide it."

A jury is twelve people who will try anything once.

Talk is cheap until you talk to a lawyer.

Is a lady barrister without briefs a solicitor?

The fifth commandment is humour thy father and thy mother.

A conservative admires radicals a century after they are dead.

The Conservative Party stands for innovation, progress and new ideas; but not yet.

One of the best things you can have up your sleeve is your funny bone.

"So your sister makes up jokes. Is she a humourist?" "No. She works in a beauty salon,"

Don't try to keep up with the Joneses. It's cheaper to drag them down to your level.

The Big Bang Theory

Police arrested two kids yesterday, one was drinking battery acid, and the other was eating fireworks.

They charged one and let the other one off.

Life

Life is not measured by the number of breaths we take, but by the moments that take out breath away.

Toothache

The pain that drives you to extraction.

Committee

A body that keeps minutes and wastes hours.

Tomorrow

One of the greatest labour saving devices of today




*****************************

Quotes

Human history becomes more and more a race between education and catastrophe.

H.G. Wells

My father gave me these hints on speech making:

"Be sincere….. be brief….. be seated."

James Roosevelt

He grounds the warship he walks on.

John Braken (Referring to Captain Barney Kelly who grounded the USS Enterprise in San Francisco Bay 1983)

Men and nations behave wisely once they have exhausted all other alternatives.

Abba Eban

A nation is a society united by a delusion about its ancestry and by common hatred of its neighbours.

Dean William Inge

One of the lessons of history is that nothing is often a good thing to do and always a clever thing to say.

Will Durant

The Romans would never have found time to conquer the world if they had been obliged first to learn Latin.

Heinrich Heine

What a time! What a civilization!

Cicero 106-43BC

Humanity is acquiring the right technology for all the wrong reasons,

R. Buckminster Fuller

Physics lesson: When a body is submerged in water, the phone rings.

Anonymous

*****************************

Listed below is some of the correspondence received since the last Newsletter. These emails are reproduced here for entertainment and also to keep members informed of other members movements, etc.

Please note: QURA receives emails/letters from time to time requesting contact details of members. The current policy is if a fellow member requests contact with another member, the contact details are given without contacting the relevant member.

Where contact is requested by a non-member, the contact is referred to the individual member to follow up the contact if they so desire.

==================================================================

From:- Elona Drain

To:- Peter Morton




Subject:- ARA Graduation Ceremony

Sirs,

I have attached a photo that was taken on Tuesday 10 Dec 13 at the latest ARA Graduation Ceremony at RMC Duntroon. Why was I there??????? you have asked - because all three that graduated were ex QUR OCDTs who decided to transfer to the full time army.

LT Clarkson was the Sword of Honour winner as well as the Queens Medal Receiptant. This was only the second time in the history of RMC ever to be awarded to the same person. The first time this occurred was in 2006 which was also to a female.

I was both honoured and proud to be present.

Kind regards,

Elona Drain

SGT Elona Drain

ORS

Jacka Coy

Queensland University Regiment

Names are L to R ------ LT Aaron Garnham (posted to Norforce as RASIGS), SGT Elona Drain, LT Kate Clarkson (posted to 2/14 LHI as RAAC) and LT Andrew Harbour (posted to SME as RAE).

=================================================================

From:- Alan Pawley

To:- Peter Morton




Subject:- US Navy's Most Intimidating Creation Yet Just Hit The Water- OCT 29, 2013

US Navy's Most Intimidating Creation Yet Just Hit The Water

The Navy just put its newest destroyer, the USS Zumwalt, into the sea.

Constructed by General Dynamics with weapons systems and software from other companies, the Zumwalt "DDG-1000" Guided Missile Destroyer is like the iPhone 6 of naval ships.

Its "tumblehome" hull avoids enemy radar while composite armor absorbs it, advanced weaponry strikes from more than 100 miles offshore, Linux-based networking in the bridge allows for purchase and implementation of off-the-shelf software, and an all-electric drive system keeps her purring quietly like a well-fed tiger.

Lucky for America's rivals, at about 87 percent completion, the Zumwalt is not quite ready to start making the rest of the globe flinch yet.

The USS Zumwalt hit the water Oct. 29 and is due to start patrolling by 2014.

The Zumwalt was originally estimated to cost about $3.8 billion, but so much technology was crammed onboard that its cost has nearly doubled, and after the first three are built, production will stop.





With all the new weapons systems the Navy wants aboard the Zumwalt, planners installed a power plant that could provide power to 78,000 homes (around 78 megawatts).





Such power could enable the first uses of the Navy's magnetic rail gun project, which combines magnetic currents and electric fields to fire projectiles at 7 times the speed of sound.





Computers and automation have reduced the crew to a bare bones 158. (By comparison, the USS Barry Arleigh-Burke Class requires 210 sailors.)




Sean Gallagher of Arstechnica referred to the Linux-powered bridge as a "floating data center" and wrote that it was akin to the bridge on Star Trek's Starship Enterprise.




On the outside, the USS Zumwalt not only looks cool (rule #1), but it's a full 100 feet longer than existing classes of destroyer.





According to the Navy's press release, "The shape of the superstructure and the arrangement of its antennas significantly reduce the ship's radar cross section, making the ship less visible to enemy radar at sea."





The hull of the ship is made of a composite material which effectively absorbs radar waves.




Construction of the ship required General Dynamics to build a special $40 million "Ultra Hall" to hold the pieces.

The Zumwalt's weaponry is tailored for land attack and close-to-coast dominance and will also have a sensor and weapons suite optimized for littoral warfare and for network-centric warfare.




BAE Systems Land and Armaments developed the ship's advanced gun system (AGS), which will be able to fire advanced munitions and the Zumwalt Class vessels have two landing spots for helicopters.

Zumwalt has a peripheral vertical launch system (PVLS), which consists of 20 four-cell PVLS situated round the perimeter of the deck.

The ship also has space for two medium-lift helicopter systems.

And finally, the new Long Range Attack Projectile (LRAP) ­ The DDG 1000 will be armed with tactical tomahawks, standard missile SM-3s, and the evolved SeaSparrow missile.

With the "tumblehome" hull reducing drag and radar detection, along with such advanced weapons, it's like the Zumwalt is the Navy SEAL of ships ­ always operating under cover of night, a ninja of the sea.










==================================================================

From:- Trevor Luttrell

To:- Peter Morton


Subject:- re Boeing 797

Hi Peter,


BOEING 797

It can comfortably fly 10,000 Miles (16,000 km) at Mach 0.88 or 654 mph (1,046 km/h) with 1000 passengers on board !

They have kept this secret long enough.
This shot was taken last month




The BOEING 797

Boeing is preparing this 1000 passenger Jet Liner that could reshape the Air Travel Industry. Its radical "Blended Wing & Fuselage" design has been developed by Boeing in cooperation with NASA Langley Research Centre. The mammoth aircraft will have a wing span of 265 feet compared to 211 feet of its 747, and its been designed to fit within the newly created Air Terminals for the 555 seat Airbus A380, which is 262 feet wide.

The new 797 is Boeing's direct response to the Airbus A380, which has racked up orders for 159 already. Boeing decided to kill its 747X Stretched Super Jumbo in 2003 after little interest was shown for it by Airline Companies, but continued to develop its "Ultimate Airbus Crusher", the 797 at its Phantom Works Research Facility in Long Beach, California.

The Airbus A380 had been in the works since 1999 and has accumulated $13 Billion in development costs, which gives Boeing a huge advantage. More so because Airbus is thus committed to the older style tubular structure for their aircraft for decades to come.

There are several big advantages in the "Blended Wing & Fuselage" design, the most important being the "Lift to Drag" ratio which is expected to increase by an amazing 50%, resulting in an overall weight reduction of the aircraft by 25%, making it an estimated 33% more fuel efficient than the A380, and thus making the Airbus's $13 Billion Dollar investment look pretty shaky.

"High Airframe Rigidity" is another key factor in the "Blended Wing & Fuselage" technology. It reduces turbulence and creates less stress on the airframe which adds to fuel efficiency, giving the 797 a tremendous 10,000 Mile range with 1,000 passengers on board cruising comfortably at Mach 0.88 or 654 MPH, which gives it another advantage over the tube-and-wing designed A380's 570 MPH.

The exact date for introduction of the 797 is as yet unclear, but the battle lines are clearly drawn in the high-stakes war for future civilian aircraft supremacy.

==================================================================

From:- Bill Beach

To:- Peter Morton

Subject:- Re QURA AGM

Dear Peter,

Interesting digital history project by the the National Archives and imperial way museum.

http://www.operationwardiary.org/

==================================================================

From:- Richard Gavin

To:- Peter Morton

Subject:- No Sex Since 1955

Something for the military men/wanabees among us:

A crusty old Army Sergeant Major found himself at a gala event hosted by a local liberal arts college.

There was no shortage of extremely young idealistic ladies in attendance, one of whom approached the Sergeant Major for conversation. "Excuse me, Sergeant Major, but you seem to be a very serious man. Is something bothering you?"

"Negative, ma'am. Just serious by nature."

The young lady looked at his awards and decorations and said, "It looks like you have seen a lot of action."

"Yes, ma'am, a lot of action."

The young lady, tiring of trying to start up a conversation, said, "You know, you should lighten up. Relax and enjoy yourself."

The Sergeant Major just stared at her in his serious manner. Finally the young lady said, "You know, I hope you don't take this the wrong way, but when is the last time you had sex?"

"1955, ma'am."

"Well, there you are. No wonder you're so serious. You really need to chill out! I mean, no sex since 1955! She took his hand and led him to a private room where she proceeded to "relax" him.

Afterwards, panting for breath, she leaned against his bare chest and said, "Wow, you sure didn't forget much since 1955."

The Sergeant Major said, after glancing at his watch, "I hope not; it's only 2130 now."

(Gotta love military time)

=================================================================

From:- Lesley Pyecroft

To:- Peter Morton

Subject:- Vale Percival Meredith

Just to let you know that my ex husband Warrant Officer Percival James Meredith
Passed away on the 29th November 2013 from pancreatic cancer .

He was on staff for QUR in The Q store (2003?) and was also seconded from 6 RAR as an instructor on annual camp in Tin Can Bay 1980



=================================================================

From:- Trevor Luttrell

To:- Peter Morton

Subject:- Irish Medical Terms

| | | |
| --- | --- | --- |
| Medical Term | | Irish Definition |
| Artery | - | The study of paintings |
| Bacteria | - | Back door to cafeteria |
| Barium | - | What doctors do when patients die |
| Benign | - | What you be, after you be eight |
| Caesarean Section | - | A neighbourhood in Rome |
| Cat scan | - | Searching for Kitty |
| Cauterize | - | Made eye contact with her |
| Colic | - | A sheep dog |
| Coma | - | A punctuation mark |
| Dilate | - | To live long |
| Enema | - | Unfriendly female |
| Fester | - | Quicker than someone else |
| Fibula | - | A small lie |
| Impotent | - | Distinguished, well known |
| Labor Pain | - | Getting hurt at work |
| Medical Staff | - | A Doctor's cane |
| Morbid | - | A higher offer |
| Nitrates | - | Normally more money than working Days |
| Node | - | I knew it |
| Outpatient | - | A person who has fainted |
| Pelvis | - | Second cousin to Elvis |
| Post Operative | - | A letter carrier |
| Recovery Room | - | Place to do upholstery |
| Rectum | - | Nearly killed him |
| Secretion | - | Hiding something |
| Seizure | - | Roman Emperor |
| Tablet | - | A small table |
| Terminal Illness | - | Getting sick at the airport |
| Tumor | - | One plus one more |
| Urine | - | Opposite of you're out |

=================================================================

From:- Rod Hardaker

To:- Peter Morton

Subject:- Humour in Uniform

ON SOME AIR BASES THE AIR FORCE IS ON ONE SIDE OF THE FIELD AND CIVILIAN AIRCRAFT USE THE OTHER SIDE OF THE FIELD, WITH THE CONTROL TOWER IN THE MIDDLE.

One day the tower received a call from an aircraft asking, "What time is it?"

The tower responded, "Who is calling?"

The aircraft replied, "What difference does it make?"

The tower replied, "It makes a lot of difference. If it is a commercial flight, it is 3 o'clock. If it is an Air Force plane, it is 1500 hours. If it is a Navy aircraft, it is 6 bells. If it is an Army aircraft, the big hand is on the 12 and the little hand is on the 3. If it is a Marine Corps aircraft, it's Thursday afternoon and 120 minutes to "Happy Hour".

------------ --------- --------- --------- --------- --------- -

During training exercises, the lieutenant who was driving down a muddy back road encountered another car stuck in the mud with a red-faced colonel at the wheel.

"YOUR JEEP STUCK, SIR?" ASKED THE LIEUTENANT AS HE PULLED ALONGSIDE.


"Nope," replied the colonel, coming over and handing him the keys. "Yours is."

------------ --------- --------- --------- --------- --------- -

Having just moved into his new office, a pompous new colonel was sitting at his desk when an airman knocked on the door. Conscious of his new position, the colonel quickly picked up the phone, told the airman to enter, then said into the phone, "Yes, General, I'll be seeing him this afternoon and I'll pass along your message. In the meantime, thank you for your good wishes, sir."

Feeling as though he had sufficiently impressed the young enlisted man, he asked, "What do you want?"

"Nothing important, sir," the airman replied, "I'm just here to hook up your telephone."

------------ --------- --------- --------- --------- --------- -

Officer: "Soldier, do you have change for a dollar?"
Soldier: "Sure, buddy."
Officer: "That's no way to address an officer! Now let's try it
again! Do you have change for a dollar?"
Soldier: "No, SIR!"

------------ --------- --------- --------- --------- --------- -

Q: How do you know if there is a fighter pilot at your party?
A: He'll tell you.

Q: What's the difference between God and fighter pilots?
A: God doesn't think he's a fighter pilot.

Q: What's the difference between a fighter pilot and a jet engine?
A: A jet engine stops whining when the plane shuts down.

------------ --------- --------- --------- --------- --------- -

An Air Force chief master sergeant and a general were sitting in the
barbershop. They were both just getting finished with their shaves,
when the barbers reached for some after-shave to slap on their faces.

The general shouted, "Hey, don't put that stuff on me! My wife will think I've been in a whore-house! "

The chief turned to his barber and said, "Go ahead and put it on. My wife doesn't know what the inside of a whore-house smells like."

------------ --------- --------- --------- --------- --------- -

"Well," snarled the tough old Navy Chief to the bewildered seaman, "I suppose after you get discharged from the Navy, you'll just be waiting for me to die so you can come and pee on my grave."

"Not me, Chief!" the seaman replied. "Once I get out of the Navy, I'm never going to stand in line again!"


=================================================================

From:- John Hammond

To:- Trevor Luttrell

Subject:- Sanananda Lines, Greenbank

Hello gentlemen

Photographs taken at the official opening of the Sanananda Lines, Greenbank on 16 Nov 13.

John H



=================================================================

From:- Russ Stevenson

To:- Trevor Luttrell

Subject:- QUR Invitation

Dear Peter,

I regret that I will be away in the last weekend of November so I am unable to accept the invitation. I am delighted Harry Standfast is being honoured in this way. He was a true gentleman and I enjoyed serving under him.

Cheers,

Russ

=================================================================

From:- Trevor Luttrell

To:- Peter Morton

Subject:- Forget Newton and Galileo...Here are the REAL LAWS......

I DIDN'T BELIEVE THESE LAWS AT FIRST, BUT I HAVE FOUND THEM TO BE TRUE .

1.Law of Mechanical Repair - After your hands become coated with grease, your nose will begin to itch and you'll have to pee.

2.Law of Gravity - Any tool, nut, bolt, screw, when dropped, will roll to the least accessible corner.

3. Law of Probability- The probability of being watched is directly proportional to the stupidity of your act.

4.Law of Random Numbers - If you dial a wrong number, you never get a busy signal and someone always answers.

5.Supermarket Law - As soon as you get in the smallest line, the cashier will have to call for help.

6.Variation Law -If you change lines (or traffic lanes), the one you were in will always move faster than the one you are in now.

7.Law of the Bath - When the body is fully immersed in water, the telephone rings.

8. Law of Close Encounters - The probability of meeting someone you know increases dramatically when you are with someone you don't want to be seen with.

9. Law of the Result - When you try to prove to someone that a machine won't work, it will.

10. Law of Biomechanics - The severity of the itch is inversely proportional to the reach..

11.. Law of the Theater & Hockey Arena - At any event, the people whose seats are furthest from the aisle, always arrive last. They are the ones who will leave their seats several times to go for food, beer, or the toilet and who leave early before the end of the performance or the game is over.. The folks in the aisle seats come early, never move once, have long gangly legs or big bellies and stay to the bitter end of the performance. The aisle people also are very surly folk.

12. The Coffee Law - As soon as you sit down to a cup of hot coffee, your boss will ask you to do something which will last until the coffee is cold.

13. Murphy's Law of Lockers - If there are only 2 people in a locker room, they will have adjacent lockers.

14. Law of Physical Surfaces - The chances of an open-faced jam sandwich landing face down on a floor, are directly correlated to the newness and cost of the carpet or rug.

15.Law of Logical Argument-Anything is possible if you don't know what you are talking about.

16. Brown's Law of Physical Appearance - If the clothes fit, they're ugly.

17.Oliver's Law of Public Speaking- A closed mouth gathers no feet.

18.Wilson's Law of Commercial Marketing Strategy -As soon as you find a product that you really like, they will stop making it.

19. Doctors' Law- If you don't feel well, make an appointment to go to the doctor, by the time you get there you'll feel better... But don't make an appointment, and you'll stay sick. This has been proven over and over with taking children to the pediatrician.



If you don't forward this, your belly button will unscrew and your bum will fall off---------

*****************************

FUNCTIONS - 2014

Back to the Regiment Tuesday 18 March 2014 - QUR hosted Function (Walcott St Depot)
Anzac Day Friday 25 April 2013 - 0615Hrs s

(Dawn Service - BBQ breakfast at QUR)
QUR Birthday All Ranks Function Saturday 3 May 2014

( (

Includes partners - QUR Parade Ground )

AGM

Friday 5 September 2014 - ( 1900Hrs for 1930Hrs)

Officers/SNCO Regimental Dinner Saturday 11 October 2014 (Unit and QURA members only)

Christmas Function Friday 12 December 2014 - 1730Hrs (Walcott St)

*****************************

Please check the Members Page to ensure that your membership is current.

If you pay your membership fees on a year by year basis

payment is now due for 2014

PLEASE TAKE THE TIME TO PERUSE THE Members Page AND CHECK THE ENTRIES WITH AN ADDRESS FLAG OF `N`. WE HAVE LOST CONTACT WITH THESE MEMBERS AND REQUIRE EITHER AN EMAIL ADDRESS OR POSTAL ADDRESS TO RE-ESTABLISH CONTACT

Membership status codes are:

SMEMB - Special Member (no fees)

LMEMB - Life Member (no fees)

PUOM - Paid Up Ordinary member (no fees but can transfer to 10 year membership for $50)

NEW - New member (no membership fees received as yet)

2014 - 201? membership fees paid to year indicated

199? - 2013 membership fees due for 2014

Annual dues are $10 however a 10 year paid-up membership is available for $70.

Cheques should be forwarded to:

The Treasurer

QUR Association

24 Walcott Street,

St Lucia 4067

For those members with internet banking, payments may be made direct to the QURA Bank Account.

Details are BSB 064 129, Account 0090 4500, Account Name QUR Association Inc

Please ensure your name is supplied in the payment details.

*****************************

EMAIL ADDRESSES

The Executive Committee encourages all members to provide a current email address to allow quick and easy communication of important notifications and reminders of upcoming events.

If you know of any ex-members of QUR who are not in the association, please contact the Membership Registrar (Peter Morton) with any contact details that you have.

THE ASSOCIATION WILL ONLY CONTINUE TO EXIST BY RECRUITING NEW MEMBERS

For members wishing to provide a new email address, please send an email to Sectretary to ensure your address is received and entered onto our contact list.

*****************************

HISTORY OF QUR

Have you considered purchasing a copy of the History of QUR magnificently complied and edited by Paul Smith?

It contains 128 pages of stories, photographs and has a coloured badged cover.

COST : $15 per copy.

What about a CD containing over 100 images of the history of the Regiment.

COST : $10 per copy.

Why not treat yourself to a copy or buy copies for your friends. These are collectors items so don't miss out.

How to purchase copies:

Ring Trevor Luttrell

0437 442 964

Email

Historian


Send your payment to:

The Treasurer, QUR Association, 24 Walcott Street, St Lucia Q 4067.

For those members with internet banking, payments may be made direct to the QURA Bank Account.

Details are BSB 064 129, Account 0090 4500, Account Name QUR Association Inc

Please ensure your name is supplied in the payment details.

*****************************

Position

Name

Bus Hrs

A/Hrs

Email

President

Trevor Luttrell

0437 442 964

3345 2754

President

Vice President

Col Ahern

0409 616 922

3278 1862

Secretary/Treasurer

Bruce Davis

0402 768 142

3878 2920

Treasurer

Membership Secretary

Peter Morton

3114 2010

0419 484 736

M/ship Secretary

Committee Members

Executive

Greg Adams

3264 5544

0418 744 678

Garry Collins

3359 5993

J

udy Costello

David Ross

3227 6974

0402 904 204