| | |
| --- | --- |
| Volume 22 Number 2 | May 2010 |

What's in this Issue

(Click on link to read article - Press `Home` key to return to here)

It has been rather busy time since the last newsletter. I will separate each occasion or topic in this report to make it easier to read.


Graduation Class Activities
Earlier in the year Bruce Davis and I attended a social evening to mark the graduation of staff cadets who had just graduated at RMC. QURA presented an award to the staff cadet who was deemed to be the most consistent performing graduate over the years of training. Photos from this occasion and the occasion of the graduation at RMC are seen within this newsletter. The graduates were encouraged to become active members of QURA.


Back to Regiment Function
The Back to the Regiment function in February was a success again. We had some more old faces turn up. It was great to regain contact with them. Harry Standfast was able to attend to celebrate the 30th anniversary of the Standfast Club. Harry was presented with an engraved plaque, which will be mounted on the wall of the club. The CO presented a personal commemorative medallion to Harry to mark the occasion. Once again I must thank the CO and members of the Regiment for hosting us on that evening. Photos can be seen within this newsletter.

Anzac Day
The Regiment again participated in a very moving Anzac Day ceremony at Toowong. The number of QURA members attending was down from the usual. Photos and speeches from the ceremony are enclosed in this newsletter. The Regiment again hosted visitors at breakfast. The Regimental members conducted some very spirited games of chance at breakfast and this proved popular with those who attended. One of the most notable differences from previous years was the band. Unfortunately due to Army decisions the previous large and high profile members of the QUR band were absent….. permanently! The number of band members has been reduced to one or two. It is a great pity that Army decision makers have been responsible for the complete destruction of a great band. Enclosed in this newsletter are the speeches presented by the Commanding Officer and the Unit Chaplain,

Annual Regimental Dinner
The Annual Regimental Dinner was conducted on 8 May 2010 at Cromwell College. Although fewer QURA members attended, the number of serving unit officers attending was pleasing to see. Brigadier Peter Jeffrey (Commander 11 Brigade) spoke of the unit and its very busy training schedule of courses. Of particular note Dr Jennifer Parslow, daughter of the late Brigadier Tom Parslow, ex CO and Honorary Colonel, presented Tom's ceremonial sword to the unit. It was Tom's wish that his sword be passed to QUR on his passing, as he had very fond memories of his time associated with QUR.
The Commanding Officer presented newly struck special medallions to mark the service of Honorary Colonels of the unit. Brigadier Sam Harrison and Major General John Pearn were presented with their medallions on the night. Major General Denis Luttrell was not able to attend on Saturday and will be presented with his medallion at the next formal occasion.

Sculptured QUR Badge within the University of Queensland
The University of Queensland is celebrating its centenary year in 2010. To mark the close association of QUR and the disbanded Queensland University Squadron (RAAF) with the University, the U of Q has invited both units to have their badges sculptured into the shields on two of the sandstone columns which make up the Great Court at the St Lucia campus. The badges will be unveiled by the Governor General on Saturday 3 July 2010 in the morning, around 1000 hours (time to be confirmed). All past members of both units are invited. The Association will be giving the contact details for all of its members in order for the U of Q Centennial Committee to send personal invitations. If however, our contact details register is not current, the University is interested that anyone wishing to attend is personally invited by them. Members can contact the University Centennial Committee to arrange for an invitation. (UQ Centenary Secretariat, Phone 33467705 and or email centenary@uq.edu.au)
Final decisions are yet to be made for the format of the ceremony but it is anticipated that the whole ceremony, including morning tea, will be approximately two and a half hours in length.
At the AGM in 2009 the Association (QURA) agreed to fund the sculpturing of the badges and this will be $5000. An application to the Department of Veterans Affairs for a grant was successful to the value of $2000, leaving an amount of $3000 for the Association to fund. QURA has now launched a campaign to fund the project through donations from members. We would appeal to all who would wish to be involved to consider donating to the cost of the badges. All donations will be eligible for a taxation deduction from the University. Should you wish to assist us to fund the badges a special article is included within this newsletter explaining how to donate. I appeal to all to ensure that this historic event is successfully funded. It is noted that the carving of military badges into sandstone walls within universities is an extremely rare event.

Annual General Meeting and Dinner – Friday 10 September 2010
The Annual General Meeting and Dinner will be conducted on Friday 10 September 2010 at the United Service Club. Please put this date into your diary. We will remind you of the function closer to the date.

Historical Collection
Every opportunity is taken to collect any documents, photos and items for recording in the unit history. Currently all of the old photos and documents are being scanned into electronic media format. This will ensure that the photos and documents are preserved. These scans will be available to all at a minimal charge to cover costs. The historical collection is starting to suffer from age especially the articles which were able to be recovered when the Regiment was flooded. I again appeal to all to consider loaning any old photos and documents to the Association so that we may scan them into the historical collection. We are even interested in Admin Instructions, Joining Instructions, Exercise Instructions, newsletters, parade cards etc. We will return them to you after copies have been taken.

In an effort to record more history the Association wishes to obtain the CV of all ex QUR members. We would wish to obtain these from all so that they can be recorded into history thereby allowing the future generations to undertake research on who passed through the gates. It will be also interesting for families to research the military service of QUR members. If you wish to participate in this historical project please send to us your CV, including both civilian and military aspects. It would be preferable to send it in electronic form through email. The CV will be stored in a CV file and will form the basis of a large historical database of members.

Recently we found a number of very old newsletters of QURA and have displayed them on the QURA website. Please take time to view these documents. It would be greatly appreciated if you could check to see if you have any copies of newsletter still missing so we can complete the collection.

Membership Checking Project
The executive management committee is continuing with the checking of the membership details of all. We also appeal to you all to forward the names of any ex QUR members you meet so we can keep in contact. If you get an email or surface mail communication from QURA please take the time to check your contact details.

Northern Chapter of QURA
Some members residing in north Queensland have suggested that they would wish to establish a northern chapter of QURA. This is currently being put into place. I am sure that the northern chapter would welcome any contact with any members of QURA should you be travelling through Townsville.

It has been a busy time this year. I look forward to meeting you again at the unveiling of the sculptures on 3 July 2010 and at the Annual General Meeting in September.

Please take the time to maintain contact with us.


CO's Report May 2010
Time passes quickly when you are busy, and, for members of the Regiment, it is hard to believe that we are already approaching the end of May. Most parts of the Unit have been operating at full speed since early January and have already achieved much in 2010.

In late February, several Officer Cadets attempted the final phase of their First Appointment Course; a four week training block (TB5) conducted at RMC. Those that successfully complete this last hurdle are commissioned on the last night of the course. For QUR, this last night was a memorable occasion:

• Adam Kelly was awarded the Student of Merit for the TB, the Tactics Prize for the graduating class, and the Blamey Sword of Honor for the overall top graduating cadet (noting that these are all national awards);
• Analeise Voss became the first cadet from our NQ Company to be commissioned in two years; and, most importantly,
• All QUR cadets that attempted the course completed it successfully and were commissioned on the night.

The Honorary Colonel and I had the great pleasure of attending the graduation and witnessing this significant milestone in the careers of our cadets, in the presence of their families, the Chief of Army and many other senior Army members.

So in our traditional realm of Officer Cadet training, the Regimental family already has much to be proud of in 2010. Indeed, OCDT George from our NQ Company has continued this success by recently securing the Student of Merit award on the recent TB4.

Elsewhere in the Regiment, work continues unabated. To date in 2010, we have delivered eight separate two week courses and two one week courses, covering the full span of soldier, driver, officer and other specialist training. At the request of the President, I have provided a list of the Regiment's training obligations for 2010, shown elsewhere in this newsletter, so that members of the association can get an appreciation from the scale and breadth of the training that the Regiment is now responsible for.

The Regiment has also been busy outside of our training responsibilities. ANZAC Day was a hectic time with the Unit supporting both the Toowong and Indooroopilly services, and providing several speakers and catafalque parties to various engagements in the lead up to the day. The post-service activities at the Unit were a great success. It was great to see so many people return back to the Regiment's St Lucia home and enjoy the traditional games and camaraderie well past lunch time. I hope this success continues to build in future years.

At the recent Regimental Officers dinner, the Regiment was honoured to accept a gracious bequest from the Parslow family. The sword of Brigadier Tom Parslow, former Commanding Officer and Honorary Colonel was presented to the Regiment by Dr Jenny Parslow (daughter) and Ms Fiona Wiseman (granddaughter). It is quite humbling for the Unit to be entrusted with such a treasured family item, and the Regiment will be sure to take great care the sword on behalf of the Parslow family and the wider Regimental family.

Finally, the Regiment is very much looking forward to the historic event that is to occur on the 3rd of July, (as detailed by Trevor Luttrell in this newsletter). Last year, the Regiment gratefully accepted the offer, from the University, to have the Unit crest engraved in sandstone within its Great Court, as part of the University's centenary celebrations. The crest will serve to give permanent recognition to the Regiment and to the historic bond that exists between both institutions. Its unveiling on July 3rd will be a significant occasion for the Regiment, with the unveiling to be performed by Her Excellency, the Governor General.

Once again, I would like to thank the QURA, on behalf of the Regiment, for its role in raising the funds required for the crest to be created.

Given the unique nature of the event (a University event with a military theme) the Regiment requested that the University hosts consult with Government House, to ensure that the appropriate military protocol is understood. We will await the advice of the experts and follow their direction regarding the format of proceedings.

The University has invited all members of the Regiment to the event, along with all members of the QURA, so I look forward to seeing many of you on the 3rd of July, for what will be a great day for the Regimental Family.

Scientia ac Labore

Tim O'Brien
Lieutenant Colonel
Commanding Officer
Queensland University Regiment
The following table summarises QUR's training responsibilities for 2010

Course

Length (days)

No. held

Notes

State / 11 BDE Courses:

Infantry IET Module 1

16

4

Infantry IET Module 2

16

4

Driver

16

4

Various licenses.

Reserve Response Force

9

3

One in NQ.

National courses:

Offr Grade 3 – AR

16

3

Akin to Intermediate Staff Course

Offr Grade 3 – HRR

16

3

High Readiness Reserve

Offr Grade 2 – AR

16

3

Akin to Intermediate Operations Course

Offr Grade 2 – HRR

16

2

High Readiness Reserve

Specialist courses:

Cert 4 : Training and Assessor

9

2

Formal instructional qualifications.

Totals: 23 x 16 day courses.

5 x 9 day courses.

= 413 days of formal course delivery.

Officer Cadet training and Regimental training is in addition to this.
*****************************
2010 ANZAC Day Ceremony
QUR once again provided the guard at the ANZAC Day Service held at Toowong Memorial Park, Sylvan Rd Toowong. A number of QURA members attended the Ceremony and later attended a Gunfire Breakfast provided by QUR at their Walcott St Depot.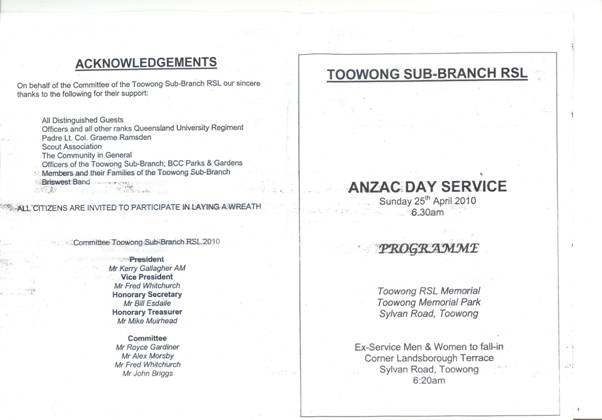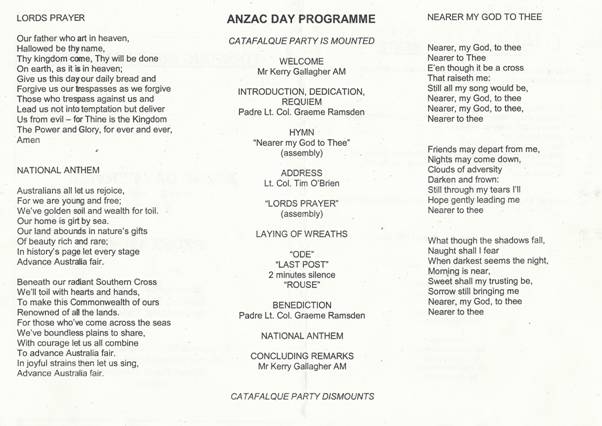 REQUIEM


by Padre LTCOL Graeme Ramsden


At the Going Down of the Sun...


I crouched in a shallow trench on that Hell of exploded beaches...

Steeply rising foothills bare of cover...

A landscape pockmarked with War's inevitable litter...

Piles of stores...

Equipment...

Ammunition...

And the weird contortions of death sculptured in Australian flesh...

I saw the going down of the Sun on that first Anzac Day...
The chaotic maelstrom of Australia's blooding



I fought in the frozen mud of the Somme...

In a blazing Destroyer exploding on the North Sea...
I fought on the Perimeter of Tobruk ...

Crashed in the flaming wreckage of a fighter in New Guinea ...

Lived with the damned in the place cursed with the name Changi.

I was your Mate...

The kid across the street...

The Med. student at graduation...

The mechanic in the corner garage...

The baker who brought you bread...

The gardener who cut your lawn...

The clerk who sent your phone bill...

I was an Army Private...

A Naval Commander...

An Air Force Bomb aimer...

No man knows me...

No name marks my Tomb, for I am every Australian serviceman...

I am the Unknown Soldier...

I died for a cause I held just in the service of my land...

That you and yours may say in freedom...
I AM PROUD TO BE AN AUSTRALIAN



*****************************

ANZAC Day Address


by CO QUR LTCOL Tim O`Brien


Good morning to you all.

I consider it a privilege to be asked to deliver an ANZAC Day address - and I would like to thank the Toowong Sub-Branch for their invitation to do so again this year. Can I also commend them on their organisation of yet another fine ANZAC Day service.

ANZAC Day stands like a beacon on our national landscape.
Its date was set by an event that took place on the other side of the world and almost a century ago. An event that is etched indelibly into our Nation's psyche; one from which we draw national identity; and one from which has evolved a day of national recognition - not only of those original ANZACs, but of all men and women who have served in our Defence Force since that day.

This morning, on this 95th anniversary of the Gallipoli landing, I would like to briefly recount some of the events that took place on the very first anniversary of Gallipoli. The purpose of this is not to give a history lesson – but to give an insight as to how the original ANZACs themselves commemorated ANZAC Day. And I do this is because - I believe - an interesting conclusion can be drawn about how we commemorate ANZAC Day, in modern Australia.

The events I will refer to are taken from the War Diaries of an Australian soldier, recording the events of April 25 1916 – the first anniversary of ANZAC.

At that time, the AIF had withdrawn off the Gallipoli peninsular and were based in Egypt, preparing for redeployment into Europe.

These are the words:

I turned out the whole Brigade…at 6-45 in the morning. Every man who had served on Gallipoli wore a blue ribbon on the right breast, and every man who, in addition, had taken part in the historic landing on April 25 wore a red ribbon also ………Alas, how few of us are left who were entitled to wear both ! We then had a short but very dignified service…..(later ) We spent the morning in cricket matches and other amusement, and in the afternoon, the whole Division went down to the Canal to swim and take part in a great Aquatic Carnival…at times there were over 15,000 men in the water… one teeming mass of naked humanity….and later we had many comic items on the program, including a skit on the memorable landing…...(later in the day)..the Prince of Wales attended, and in the evening we had mess dinners and finished up with band concerts and exchanged greetings with each other for this famous Day – OUR DAY.

The person who wrote those words was John Monash – at that time a Brigadier, and who went on to become General Sir John Monash – considered by many to be Australia's greatest ever military leader.

After reading this account from Monash, I could not help but be struck by the similarities between how Australians and New Zealanders will today commemorate ANZAC Day – and how the original ANZACs themselves did so – 94 years ago.

• Today, as then, we commence with dignified, solemn services, to remember all who have served, but are no longer with us.
• Today, as then, through marches and the wearing of ribbons, we will recognize and say thankyou to all who have served, and are still with us.
• And after the formalities, both then and today, we will take time out - to enjoy each others' company, and engage in a wide range of pastimes.

The fact that what we do today is so very similar to what those original ANZACs themselves chose to do – leads me to conclude - that as a Nation - we have got the formula right. We commemorate ANZAC Day the right way.

We ensure that all who have paid the supreme sacrifice will never be forgotten.
We ensure that all who have served in uniform, from every era, experience the outward, heartfelt gratitude of a nation.
And later in the day, after the services and the marches – we allow ourselves to live our lives as we would like – mates have reunions, families have gatherings, crowds will fill football stadiums.

And it is by living our lives, the way that we choose, in freedom, that we actually pay the greatest tribute of all to those service men and women – for it is our ability to do this that is their legacy to the nation. A legacy hard won, and constantly defended – and one for which no repayment is asked for – other than to make the most of it, everyday.

CONCLUSION

ANZAC Day stands like a beacon on our national landscape.
On no other day do Australians gather in such numbers and with such respect.
And if General Sir John Monash was here today, I am sure he would approve with the way in which we commemorate this most sacred of national days – OUR DAY.

Thank you – good morning – and have a good ANZAC Day.


*****************************

The following is a pictorial representation of the Service thanks to resident QURA photographer Trevor Luttrell
Bob Cavaye, Peter Morton, Phillip Bushell Guthrie chatting before the ANZAC Day ceremony at Sylvan Rd, Toowong

Rachel, Lucy, and Emma before the ceremony with proud father Michael Van Baarle

QUR guard marching up Sylvan Rd to the Toowong Memorial behind the Returned Servicemen and families

Rest of QUR guard marching ahead of the local scout contingent

Toowong Scout Association marching to honour ANZAC Day

Sandra and Frank Van Shagen at the ANZAC Day Service
Some of the QURA "Heavy Weights" at the ANZAC Day Ceremony.

From left, Garry Collins, Peter Morton, Trevor Luttrell and Mal Try

Jamie Underwood brought son Jack along to experience the ANZAC Day Service
Bob Cavaye (right) chatting with Wayne Barclay, wife Norelle and son Adrian
Mal Try (right) having a chat with Stacey Morton and Chris Wain after the ANZAC Day Service at Toowong
*****************************
Correspondence from Members
Please note: QURA receives emails/letters from time to time requesting contact details of members. The current policy is if a fellow member requests contact with another member, the contact details are given without contacting the relevant member.
Where contact is requested by a non-member, the contact is referred to the individual member to follow up the contact if they so desire.
==================================================================
From:- Bob O`Brien

To:- Peter Morton

Subject:-
The passing away of Deborah Jean Nielsen on 12 April 2010
Its with sadness that I inform you all that Deborah passed away this morning at the Mater Hospital after her long and brave fight with cancer.

Regards Rob

Robert O'Brien
Major
NFM ASLAV
Armoured Fighting Vehicles Systems Program Office (AFVSPO)
Land Systems Division
Defence Material Organisation


==================================================================
From:- Neil Munro


To:- Peter Morton


Subject:-

BTR

Hello Peter,

I regret that I will not be able to attend the BTR function as I will be in China at that time.

I hope that you have a most successful and enjoyable night of reminiscing, etc.

Cheers,

Neil.

==================================================================

From:- Trevor Luttrell


To:- Peter Morton


Subject:- Designer of QUR Badge

Can anyone shed any light on the answer to this question from the Uni Qld?

Trevor L





---------- Forwarded message ----------
From: Ellen Juhasz
Date: Thu, Feb 11, 2010 at 4:35 PM
Subject: Designer of QUR Badge
To: Trevor Luttrell



Dear Trevor,

The Squadron association members have been able to give me the name of the person who designed the squadron badge. He's a graduate of ours who is still an active alumni member.

I wondered if you know if the Regiment had a record of the designer of the regimental badge. It would be nice to acknowledge both at the unveiling ceremony if possible.

Regards, Ellen J

Ellen Juhasz | Executive Officer
UQ Centenary Secretariat



==================================================================

From:- Brian Smith


To:- Peter Morton


Subject:-

re BTR

G'day Peter,

We have just sold our house at Chapel Hill and bought another at Peregian Springs, so this may be my last BTR for some time...so definitely, I'll be there.

Regards

Brian



==================================================================
From:- Barry Hayne

To:- Peter Morton

Subject:-
Re BTR
Dear Peter:

I am sorry I will not be able to attend the Back to the Regiment Function on Sat. March 6th.

My wife and I will be away on a short trip to New Zealand.

Please keep me on your e-mail mailing list and I will hope to make the next function.

Best regards,

Barrie Hayne
==================================================================
From:- Judy Costello
To:- Peter Morton

Subject:- I thought I should make contact
Hello Peter

it must be getting close to 30 years since I was at QUR - but life in Canberra is like that! QUR popped up in a google search I was doing on someone so I thought I should make contact.

How the hell are you?? I am still doing the public service rounds in canberra and it is amazing how many QUR people are here. I had coffee with Col Green (ex ADJT) only last week

What should I do to become a member and keep in touch with what is happening?

I finally grew out of the Reserves about 5 years ago and have not been tempted to go back...

cheers

Judy Costello
==================================================================
From:- David FCreeman
To:- Peter Morton

Subject:- QUR BACK TO REGIMENT FUNCTION
Dear Peter,

I am now posted to Defence Legal Division in Canberra, so regrettably won't be able to make the function.

I wish you and all the members a successful evening.

regards

David Gower Freeman

LTCOL
==================================================================
From:- Paul Smith
To:- Peter Morton

Subject:- re BTR
Peter

Please pass on my apologies. Hit by a car whilst riding last week. Still on crutches. Fortunately no broken bones.

Paul E. Smith

Barrister-at-law
==================================================================

From:- Ian Harding

To:- Peter Morton


Subject:- re BTR
Hi Peter,

I recall cleaning the mud from the flood off the louvers in 75 and the Standfast Club in full swing in 76 after we got the Jukebox.

Unfortunately I am at a conference in Canberra over the weekend and my apologies.

Regards,

Pepper
==================================================================
From:- David Ross
To:- Peter Morton

Subject:- re BTR
Sorry Peter,

I will be in New York this week-end. Time zone and distance will be a problem ;)

Best of luck for the night.

- David.
==================================================================
From:- Trevor Luttrell
To:- Tim O`Brien; Russell Jacob
CC:- Peter Morton

Subject:- THANKS
Tim, Russell,

On behalf of QURA please accept our gratitude for hosting the BTR for another year. Although it is another inconvenience hosting "old farts" we really appreciate the efforts of you both and your soldiers.

Harry Standfast was particularly taken by the chance to once again visit. He was very moved by the presentation of the coin from you and a tie from QURA.

Brigadier Harrison was equally affected by the success of the night and by your support.

Thanks once again,

Trevor Luttrell

(for the Association)
==================================================================
From:- Tim O`Brien
To:- Trevor Luttrell
Subject:- RE - THANKS
Sir,

No need to thank us.
It is always our pleasure to host the Regimental family.
We are now looking forward to ANZAC DAY, and hope many of the family can come 'home' again.

Regards

Tim


==================================================================
From:- William Ridley
To:- Peter Morton
Subject:- QURA Membership
Dear Peter,

Thanks for the reminder. Will forward another 10 year subscription in a few days to be renewed when I turn 90?

All my personal details appear to be in order.

Cheers William.



==================================================================
From:- Laurie Smith
To:- Peter Morton
Subject:- QURA Newsletter - February 2010
G'day Peter

In the Feb edition, the interesting photos include one of the then Governor of Queensland, Sir Walther Campbell, with the caption QUR Camp Visit 1979 – is there any chance of finding out the exact date of that visit?

The reason I ask is that the photo prompted a memory that the Governor, myself and a GPMG featured in a photo in the Courier Mail the day after that visit – from memory Dick Palk was in charge of publicity on the day.

I'd really like to retrieve it out of the newspaper archives to show the kids, but I need at least an approximate date to start that process.

I'd appreciate any light you can shed – no sweat if you can't.

cheers

Laurie
Ed. Can anyone help Laurie out with the date?
==================================================================
From:- Neil Munro
To:- Peter Morton
Subject:- QURA Membership
Hello again Peter,

My email address is now munro.neil@yahoo.com The phone number you have there for me no longer exists. My house sitter's number is (07) ********; he passes messages on to me. I've been living in China for the past three years.

Cheers,

Neil.
==================================================================
From:- John Hammond
To:- Peter Morton
Subject:- Story of the Australian Flag
Although this is quite long - is is a MUST - If interested click on the website.

http://voiceoftheflag.wheylite.com.au/votf.htm

This website has a free copy of the story of the Australian Flag.

It is written and it is also spoken it's absolutely worth a listen.
Cheers

John
==================================================================
From:- Bob Donnelly
To:- Peter Morton
Subject:- Shave for a Cure 2010
Dear all,

Well, the day has come and gone, and so has my hair!

I raised nearly $3K this year, thanks to you.

Many thanks,

Bob

Bob Doneley BVSc FACVSc (Avian Medicine) CMAVA

Registered Specialist in Bird Medicine

==================================================================

From:- Trevor Luttrell

To:- Peter Morton




Subject:- Newsletter Photo

Peter,

Attached article from Army Newspaper about Major Chris Pyke who is currently an instructor in QUR.

He won a gong for long service in forces.

For the next newsletter.

Trevor

Maj Pyke (left), a QUR instructor, joined the Citizen military Force on March 2, 1966, aged 16.
"In those days they didn't check too hard and if your father signed the form, you were right," he said.
I joined 31 RQR as a digger and was commissioned as a 2Lt in March 1969."
He felt honoured and privileged to be presented with his Federation Star by the CA.
"It was great that my wife could be there with me because she has been a great support to me during most of my 44 years in the Army." He said.
Maj Pyke's postings have included instructional positions at 11 Trg Gp, OCTU, LWC, and 1 Trg Gp, as well as company commander and Battalion 2IC at 9 RQR.
He said he was still interested in remaining in the Army and would consider an overseas deployment if one was offered.
"I haven't considered retiring and will stay on as long as I can still contribute," he said.


==================================================================

From:- Paul deighton

To:- Russell Jacob

CC:- Peter Morton


Subject:- QUR Dinner

Dear Russell,

I am an Air Force Officer who is a member of the QUR Association. Thankyou for the invitation to the QUR Officers Mess Dinner on 08 May 10. Unfortunately I will be unable to attend the Dinner due to my current posting but I wish you and committee well and hope that the dinner is a success.

Regards

Paul Deighton

Squadron Leader

Assistant Defence Attache, Beijing, PRC

==================================================================

From:- Ruth Kassulke

To:- Peter Morton


Subject:- Life in the Army........

Text of a letter from a kid from Eromanga to Mum and Dad. (For Those of you not in the know, Eromanga is a smalltown, west of Quilpie in the far south west of Queensland )
Cheers
Ruth


Dear Mum & Dad,
I am well. Hope youse are too. Tell me big brothers Doug and Phil that the Army is better than workin' on the farm - tell them to get in bloody quick smart before the jobs are all gone! I wuz a bit slow in settling down at first, because ya don't hafta get outta bed until 6am. But I like sleeping in now, cuz all ya gotta do before brekky is make ya bed and shine ya boots and clean ya uniform. No bloody cows to milk, no calves to feed, no feed to stack - nothin'!! Ya haz gotta shower though, but its not so bad, coz there's lotsa hot water and even a light to see what ya doing!
At brekky ya get cereal, fruit and eggs but there's no kangaroo steaks or possum stew like wot Mum makes. You don't get fed again until noon and by that time all the city boys are buggered because we've been on a 'route march' - geez its only just like walking to the windmill in the back paddock!!
This one will kill me brothers Doug and Phil with laughter. I keep getting medals for shootin' - dunno why. The bullseye is as big as a bloody possum's bum and it don't move and it's not firing back at ya like the Johnsons did when our big scrubber bull got into their prize cows before the Ekka last year! All ya gotta do is make yourself comfortable and hit the target - it's a piece of piss!! You don't even load your own cartridges, they comes in little boxes, and ya don't have to steady yourself against the rollbar of the roo shooting truck when you reload!
Sometimes ya gotta wrestle with the city boys and I gotta be real careful coz they break easy - it's not like fighting with Doug and Phil and Jack and Boori and Steve and Muzza all at once like we do at home after the muster.
Turns out I'm not a bad boxer either and it looks like I'm the best the platoon's got, and I've only been beaten by this one bloke from the Engineers - he's 6 foot 5 and 15 stone and three pick handles across the shoulders and as ya know I'm only 5 foot 7 and eight stone wringin' wet, but I fought him till the other blokes carried me off to the boozer.
I can't complain about the Army - tell the boys to get in quick before word gets around how bloody good it is.

Your loving daughter,
Sheila
==================================================================
From:- Harry Standfast
To:- Peter Morton

Subject:- I'll gladly keep this going
Thought you might like to see this. James is a friend of the family.

Email from CPL James Harrison, John and Julie's Son.

James has done duty in Afghanistan.

James Harrison

CPL

Movements Clerk

RHQ

5 Avn Regt

RAAF Base Townsville
WHEN A SOLDIER COMES HOME
This email is being circulated around the world - please keep it going

<![if !vml]><![endif]>
When a soldier comes home, he finds it hard....
<![if !vml]><![endif]>
..to listen to his son whine about being bored.
<![if !vml]><![endif]>
....to keep a straight face when people complain about potholes.

<![if !vml]><![endif]>
...to be understanding when a co-worker complains about a bad night's sleep.
<![if !vml]><![endif]>
..to be silent when people pray to God for a new car.
<![if !vml]><![endif]>
...to control his panic when his wife tells him he needs to drive slower.
<![if !vml]><![endif]>
..to be compassionate when a businessman expresses a fear of flying.

<![if !vml]><![endif]>
....to keep from laughing when anxious parents say they're afraid to send their kids off to summer camp.

<![if !vml]><![endif]>
....to keep from ridiculing someone who complains about hot weather.

<![if !vml]><![endif]>
....to control his frustration when a colleague gripes about his coffee being cold.

<![if !vml]><![endif]>
....to remain calm when his daughter complains about having to walk the dog.

<![if !vml]><![endif]>
.....to be civil to people who complain about their jobs.

<![if !vml]><![endif]>
....to just walk away when someone says they only get two weeks of vacation a year.

<![if !vml]><![endif]>
....to be forgiving when someone says how hard it is to have a new baby in the house.


The only thing harder than being a Soldier..

<![if !vml]><![endif]>
Is loving one.



And Our Aussie Mates. Always There.

<![if !vml]><![endif]>

<![if !vml]><![endif]>


We "Band of Brothers".

<![if !vml]><![endif]>
If you agree......keep it going,
If not simply hit the delete button.
PROUD TO BE AN AUSTRALIAN!


<![if !vml]><![endif]>


I was asked to pass this on and I will gladly do so,
Will you???
==================================================================
*****************************
Winner of the Blamey Sword of Honour as the top cadet for the whole national graduating class was Adam Kelly

Winner of the QURA Prize for the most consistent, high achieving cadet for the entire course, for service to the cadet company and to the Regtiment - Ashley Baldry

Pictured - From LHS to RHS

Trevor Luttrell(President QURA), Andrew Hargreaves, Jonathan (Jack) Cawcutt, Adam (Ned) Kelly, Ashley Baldry, Tim O'Brien (CO QUR)

Not pictured above:

Annaliese Voss from the QUR Northern Company Townsville.

Postings:

Andrew Hargreaves - 2 CER (Engineers)

Jack Cawcutt - A Company 25/ 49 RQR

Adam Kelly - 141 Sig Sqn

Ashley Baldry - 41 RNSWR

MAJGEN John Pearn, Ashley Baldry (QURA Prize winner), LTCOL Tim O`Brien

from left:- Steve John, Ashley Baldry, Andrew Hardgreaves, Annaliese Voss,

MAJGEN John Pearn(Honorary Colonel), LTCOL Tim O'Brien(CO QUR)

John Cawcutt, Adam Kelly, Sgt Elona Drain

*****************************
Appeal for Donations Towards the
QUR Plaque for University of Queensland Centenary

Sculptured Badges on Great Court Columns, 3 July 2010.

This year is the Centenary Year for the University of Queensland. On the weekend 2-4 July 2010 the University will celebrate this milestone. As part of the celebrations the University Senate wishes to recognize the long association of QUR and the University of Queensland Squadron RAAF (now disbanded) with the University. This will be gained by having the badges of both units carved into the column capitals in the cloister of the heritage listed Great Court of the St Lucia campus. On Saturday morning 3 July 2010, the carvings will be unveiled by the Governor General of Australia. The exact timing of the unveiling will be notified to members when available.

As a project, QURA has undertaken to provide the funds for the carving of the Regimental Badge and the administrative costs for the unveiling ceremony. Dr Rhyl Hinwood, a well known artist will sculpture the badge. The location for the sculptured badges is seen in the photograph above.

QURA has had approved a Department of Veterans Affairs grant under the Australian Government commemorations program, "Saluting Their Service". Unfortunately the grant does not fully cover the costs of the project. Although the final costs are not accurately known at the present it appears that the shortfall will be in the order of approximately $3000.

At the Annual General Meeting of QURA in September 2009 a motion was passed to call for donations from members who would like to contribute to cost of the plaques. QURA is now appealing for donations to make up the funds needed to complete the project. All donors will be issued with a receipt from the University of Queensland, which may be used as a taxation deductible cost.

I now appeal to all for support to cover the cost of the sculptured badges.

Should you wish to seek advice regarding this campaign please contact me on Home 3345 2754, Mobile 0437 442 964 or Email trevor.luttrell@gmail.com) .

This is an exciting project where QURA can mark the contribution of members of QUR within the life of the University.

I encourage all to ensure that this opportunity is successful.

DONATION TOWARDS THE SCULPTURING OF THE QUR BADGE FOR UNIVERSITY OF QUEENSLAND

FULL NAME ___________________________________________________

CONTACT ADDRESS OR EMAIL TO SEND TAX DEDUCTIBLE RECEIPT:-

______________________________________________________________________________________

I wish to make the following donation towards the sculpture of the QUR Badge at the University of Queensland

Please find my donation of $200

Please find my donation of $100

Please find my donation of $50

Please find my donation of $20

Please find my donation of $ (please enter amount)

Signed __________________________________________

Donations may be made by direct deposit or by cheque.

If paying by Direct debit, the QURA Bank Account Details are:-

BSB 064 129, Account 0090 4500, Account Name QUR Association Inc. Please ensure your name is supplied in the payment details

If paying by cheque, please address the cheque to QUR Association, 24 Walcott Street, St Lucia Q 4067.
*****************************
QUR held its 2010 Regimental Dinner on 8th May at Cromwell College, Walcott St St Lucia. A highlight of the evening was the presentation of Brig Tom Parslow's ceremonial sword by his daughter Dr Judy Parslow to LTCOL Tim O`Brien, CO QUR. The dinner was well attended by current serving officers as well as former officers of QUR.

For those that were unable to attend and missed the excellent meal, the menu has been included below as well as photos of some of the attendees.
Brad Shillig, Peter Morton and Dave Woodrow catching up prior to dinner
Bruce Maughan, Neil Heather and Sam Harrison sharing a drink
Garry Collins, Rob Byrne, Rhys Thomas discussing how Brian Venz can still fit into his mess uniform
Current members of QUR - John Eiby, Peter Walsh and Matthew Wilson

Current QUR members Adam Christensen and Chris Pyke chatting with new QURA member

Brent Common (centre)

QUR officers Ben Mackie and Mal Bishop talking with (RHS)QURA members Rob Cumming and Peter Sharwood

Current QUR members (from left) David Fagan, Roxanne Scott, Dominic O'Connell, Melanie Wilkins

QUR members (from left) Peita Foster, Peter Tuton, Paul Petter, Les Tobin

QUR members Toni Clews, Tony Smith, Steve John

David Woodrow, Brad Shillig, Peter Jeffrey having a chat before dinner

Dr Jennifer Parslow presenting CO QUR Tim O`Brien with her father's sword

CO QUR, LTCOL Tim O'Brien expressing the Unit`s gratitude in receiving BRIG Tom Parslow`s ceremonial sword

LTCOL Tim O'Brien presenting QUR Honorary Colonel medals to Dr Jennifer Parslow, MAJGEN John Pearn and BRIG Sam Harrison

MAJGEN John Pearn (on behalf of Dr Parslow and BRIG Sam Harrison) accepting the QUR Honorary Colonel medals
*****************************
Back to the Regiment Photos
The Queensland University Regiment invited the Association to enjoy their hospitality at the "Back to the Regiment" function on Saturday, 6 March 2010.
Highlight of the evening was the presentation by LTCOL Tim O`Brien of a QUR ceremonial badge to LTCOL Harry Standfast after whom the Other Ranks Mess was named some 30 years ago.
Also in recognition of LTCOL Standfast, BRIG Trevor Luttrell presented Harry with a QURA tie to commemorate the event.
| | |
| --- | --- |
| | From the left, Rod Hardaker, Dave Sallows, John Pearn and Serge Voloschenko enjoying a chat at BTR March 2010 |
| | |
| Mal Try having a "close" chat with Andrea Wilson | |
| | |
| | QURA President Trevor Luttrell with his halo slipping just a little |
| | |
| Man of the night Harry Standfast (left) with Bruce Davis, Brian Smith and Terry Gygar | |
| | |
| | Dorothy Willis looking admiringly at a rather coy Bill Beach |
| | |
| Brad Shillig catching up with Chris and Sue Goodhew | |
| | |
| | Col Ahern looking rather pleased to have caught up with Melanie Bates-Smith and Donna-Lee Greaves |
| | |
| Garry Collins and Rod Hamilton with Sam Harrison(right) | |
| | |
| | Peter Morton (right) surprised at being caught talking with Ruth Kassulke while Chris Goodhew (left) lurks in the background |
| | |
******************************
War Quotes
My headquarters will be in the saddle.

Major General John Pope, taking charge of the Army of the Potomac, June 1862

You will be home before the leaves have fallen from the trees.
Kaiser Wilhem II, addressing German troops leaving the Front, August 1914.

The trenches were the concentration camps of the First World War.
Robert Kee, 1976

Hard pressed on my right. My centre is yielding. Impossible to manoeuvre. Situation excellent. I am attacking.
Ferdinand Foch on the eve of the Battle of the Marne 1914.

I have not got an Army in France, really, but a collection of divisions untrained for the field. The actual fighting Army will be evolved from them.
Douglas Haig, March 1914

It is not an army that we must train for war; it is a nation.
Woodrow Wilson 1917

Our most vulnerable point is our food and oil supply. The submarine has introduced a new method of attacking these supplies. Will feelings of humanity restrain our enemy from using it?
Sir Percy Scott, 1914

Among the men who fought on Iwo Jima, uncommon valor was a common virtue.
C. W. Nimitz, March 1945

In the near future, if nuclear weapons are unleashed there will be no front and no rear.
Nikita Khrushchev 1961

Things to Think About
If electricity comes from electrons, does morality come from morons?

Plan to be spontaneous, tomorrow.

The hardness of butter is proportional to the softness of the bread.

A good pun is its own reword.

Always borrow from a pessimist, he never expects anything back.

Dancing cheek to cheek is really a form of floor play.

Banning the bra was a big flop.

One hundred per cent of all non- smokers die.

If a truckload of tortoises collided with a lorry full of terrapins, would it be a turtle disaster?

If a first you don't succeed, redefine success.

If quizzes are quizzical, what are tests?

If you fell into an upholstery machine would it take long to be fully recovered?

The easiest way to find something you have lost around the house is to buy a replacement.

If you chopped off the bottom of one of your trouser legs and put it in a library, would that be a turn up for the books?

If you can survive death, you can probably survive anything.

If it is the thought that really counts very few of us would ever get presents.

The man who forgets his wife's birthday will get something to remember it by.

A diplomat is the man who sends 25 roses to a woman on her 31st birthday.

My dog took first prize at a cat show. He took the cat.

All is fair in love and the war which follows.

May you never have to eat your hat.

May your luck like the capital of Ireland, always Dublin.

I'll be seizing you, in all the old familiar places.

Here's to the volcano song: Larva come back to me.
If you pulled the wings off a fly, would it be called a walk?

Adamant: The very first insect.
Ability: What you need if the boss has no daughter.
Absentee: A missing golf accessory.
Abundance: A local hop usually staged in a barn.
Adolescence: When a girl's voice changes from no to yes.

Quotable Quotes
I was so na´ve as a kid I used to sneak behind the barn and do nothing.

Johnny Carson

You can't expect to be depraved until you has been to a good school.
IH.H. Munro

Everyone is in awe of the lion tamer in a cage with a half a dozen lions – everyone but a school bus driver.
Laurence J. Peter

If you want to recapture your youth, cut off his allowance.
Al Bernstein

Youth is such a wonderful thing. What a crime to waste it on children.
George Bernard Shaw

Life is far too important a thing ever to talk seriously about it.
Oscar Wilde

There is nothing new under the sun but there are lots of old things we don't know.
Ambrose Bierce

Even in civilized mankind faint traces of monogamous instinct can be perceived.
Bertrand Russell

Divorce is a game played by lawyers.
Cary Grant

Do you realize if it weren't for Edison we'd be watching TV by candlelight?
Al Boliska


*****************************
FUNCTIONS - 2010

Back to the Regiment

Saturday 6 March 2010 (1800Hrs)
Anzac Day Sunday 25 April 2010 (Gunfire breakfast at Walcott St, St Lucia)
Regimental Dinner Saturday 8 May 2010 (TBC) - By Invitation from QUR
Unveiling of QUR Plaque Saturday 3 July ( Morning Function in U of Q Great Court)
AGM Friday 10 September 2010 - ( 1900Hrs for 1930Hrs)
Christmas Function Thursday 2 December 2010 - 5.30 PM (Victory Hotel)

*****************************

Please check the Members Page to ensure that your membership is current.

If you pay your membership fees on a year by year basis

payment is now due for 2010.

PLEASE TAKE THE TIME TO PERUSE THE Members Page AND CHECK THE ENTRIES WITH AN ADDRESS FLAG OF `N`. WE HAVE LOST CONTACT WITH THESE MEMBERS AND REQUIRE EITHER AN EMAIL ADDRESS OR POSTAL ADDRESS TO RE-ESTABLISH CONTACT

Membership status codes are:
SMEMB - Special Member (no fees)

LMEMB - Life Member (no fees)

PUOM - Paid Up Ordinary member (no fees but can transfer to 10 year membership for $50)

NEW - New member (no membership fees received as yet)

2005 - 201? membership fees paid to year indicated

199? - 2000 membership fees due for 2010
Annual dues are $10 and a 10 year paid-up membership can be had for $70.
Cheques should be forwarded to:
The Treasurer

QUR Association

24 Walcott Street,

St Lucia 4067
For those members with internet banking, payments may be made direct to the QURA Bank Account.
Details are BSB 064 129, Account 0090 4500, Account Name QUR Association Inc
Please ensure your name is supplied in the payment details.
*****************************

EMAIL ADDRESSES
The Executive Committee encourages all members to provide a current email address to allow quick and easy communication of important notifications and reminders of upcoming events.
If you know of any ex-members of QUR who are not in the association, please contact the Membership Registrar (Peter Morton) with any contact details that you have.
THE ASSOCIATION WILL ONLY CONTINUE TO EXIST BY RECRUITING NEW MEMBERS
For members wishing to provide a new email address, please send an email to Peter Morton to ensure your address is received and entered onto our contact list.
*****************************

HISTORY OF QUR

Have you considered purchasing a copy of the History of QUR magnificently complied and edited by Paul Smith?

It contains 128 pages of stories, photographs and has a coloured badged cover.

COST : $15 per copy.

What about a CD containing over 100 images of the history of the Regiment.
COST : $10 per copy.
Why not treat yourself to a copy or buy copies for your friends. These are collectors items so don't miss out.
How to purchase copies:
Ring Trevor Luttrell
0437 442 964

Email

trevor.luttrell


Send your payment to:

The Treasurer, QUR Association, 24 Walcott Street, St Lucia Q 4067.

For those members with internet banking, payments may be made direct to the QURA Bank Account.

Details are BSB 064 129, Account 0090 4500, Account Name QUR Association Inc

Please ensure your name is supplied in the payment details.

*****************************