| | |
| --- | --- |
| Volume 21 Number 4 | November 2009 |

What's in this Issue

(Click on link to read article - Press `Home` key to return to here)

The end of the year is upon us again. In September we celebrated the 25th Anniversary of the Association at the Annual General Meeting and Dinner at the United Service Club. The Executive Management Committee were re-elected unopposed (it is very difficult to resign from the committee). We were again pleased to dine with over 30 members. It was great to welcome back some of the 'old and bold' from QUR. The highlight of the evening was the song and dance team presentation of Sam Harrison, Len Eacott and Ian Bunce who spoke of the formation of the Association 25 years ago. A suitably iced 25th birthday cake was enjoyed by all.

Recently we learnt that Bruce Davis received a CA Commendation for his work as the Director of Reserves - Army whilst he was on full time service in Canberra. Congratulations to Bruce.

At the AGM in 2008 Major General Steve Golding alerted us to a proposal that a memorial was to be constructed in the Great Court of the University of Queensland, St Lucia Campus, to recognize the long association of QUR and the RAAF University Squadron with the University. During the AGM this year the Commanding Officer confirmed that the project was to be completed in 2010 as part of a greater anniversary celebration by UQ. Although specific details are still unconfirmed it is understood a plaque/ badge would be sculptured in same stone as the Great Court. The Commanding Officer asked that QURA consider assisting financially with the cost of the construction and sculpturing. The concept was immediately and enthusiastically accepted by the members present at the AGM and a motion was passed to cover the costs of the plaque/ badge. It would appear that the cost might be around $4000. Members attending the AGM suggested that we ask for donations from members to assist with the costs. We are negotiating with UQ to gain more details but when we do we will appeal to members to contribute to the funding for the project. It was pleasing to receive information from several members who already promise financial support the project. This is a great opportunity for the Association to make a permanent mark in history.

The unit will be asked to participate in a military ceremony as part of the UQ celebration in 2010 and members will be invited to attend. On behalf of the Association I have informed the CO that we will guarantee support to the project. On behalf of the Association I have been investigating the possibility of obtaining a grant funding from the Commonwealth Government (Department of Veterans Affairs) for defence memorials. We will submit an application when we receive the specific details of the project. It is pleasing that the contribution which QUR has made in the history of UQ will be formally and permanently recognized.

Later in this newsletter you will read about a gentleman (Peter Nightscales) in Victoria who found an original Certificate of Discharge for the late LTCOL Peter Charlton in a second hand book, which he purchased from a small book store in Victoria. Peter Nightscales "Googled" QUR and found our website. He then contacted us and sent the certificate for us to forward to Peter Charlton's family. The action by Peter Nightscales demonstrates a great respect for members of the Defence Force. Additionally it demonstrates the value of our website in preserving the history of QUR. As we are having difficulty in locating the family of Peter Charlton we are appealing to all to assist us with contact information.

Recently the Association again presented mid-year graduates, on commissioning, with some military historical books and honorary membership of the Association.

On Thursday, 3rd December we will be return to the Victory Hotel to share a Christmas season drink. Everyone is welcome. Just drop in on your way home from work and spend some time catching up with others. Stay as long as you wish. As usual the Association will provide some finger foods. Please take the time to drop in. Full details are enclosed later in this newsletter.

We are continuing our work in checking the accuracy of our membership records so we can maintain contact. We welcome any information of any ex member of QUR to add to our contact list.

We all know our mythical super heroes Superman, Spiderman, The Phantom, Wonder Woman etc. Well one of our members has been attempting to take the honours from Superman. Our own "man of steel" Peter Morton recently visited the hospital to have a replacement shoulder joint. This nearly completes the "full house" of steel replacements. With his two knees and one hip already replaced he definitely cannot travel by plane without drawing a lot of attention at the entry gate. We wish Peter a speedy recovery.

Don't forget we have for sale some QUR memorabilia which would make a fine Xmas present for your friends. The details on how to purchase the items are at the end of this newsletter. The small profits we make on sales go towards our funding for projects. Now is a good time to help us especially with the major project in 2010 looming.

The next newsletter will be published in early February 2010 before the first Association activity of the Back to the Regiment function. This activity will be important as we will celebrate another milestone of what appears to be the 30th anniversary of the Standfast Club. If anyone has any photos, stories etc from the history of the Club we would like to borrow them for a display on the night. Members should be aware that the CO and members of QUR contribute a great deal of time and effort to ensure the successful conduct of the Back to the Regiment. The Association thankfully acknowledges the work and assistance of the unit.

I wish you all the best for the festive season and trust you enjoy a safe and restful seasonal break.


Editors Note:- Since Trevor wrote this article he has had a back operation himself and is now on the way to recovery after a few dicey moments with the anaesthetics. Trevor hopes to be well enough to greet members at the Christmas drinks function at the Victory Hotel on the 3rd December
CO's Report August 2009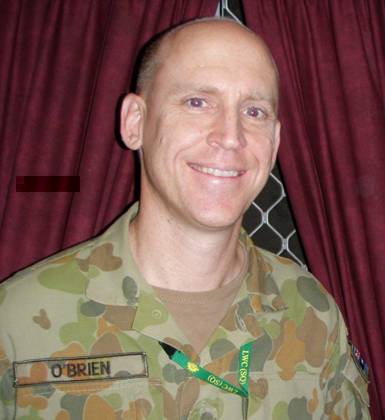 When I took up my posting early this year, I made the statement that "QUR will continue to do all that the Army asks of it, and it will continue to do it well". As we now approach the end of the year, I am proud to report that QUR has done just that.
The Regiment has well and truly settled into its 'battle rythmn' of delivering a wide range of training, to build the capability of the Army Reserve in Queensland and Australia. The Regiment now conducts all Infantry IET and Driver training for Queensland and all Officer Grade 2 and Grade 3 training for Australia. This is on top of the traditional responsibility of training all of Queensland's Officer Cadets for commissioning.
The Alumni of the Regiment have every reason to be proud of those currently serving in the Unit. It has not been a simple task to bed down all the new courses, governance systems and support functions. At times, there has been very little respite, but no one has shirked their duty. They have not taken a backward step in transforming QUR into one of the largest and most important training establishments in the Army. They have done the Regiment proud.
Amidst the focus on our new responsibilities, it was very pleasing to also enjoy success within our traditional realm, with QUR Cadets taking the Student of Merit awards on two of the most recent national training blocks in the First Appointment Course.
The challenges for QUR will continue in 2010, and indeed will grow further, with the Regiment picking up the responsibility for training the Ready Reaction Force. In all QUR will deliver 25 separate 2 week courses and up to 5 other one week courses; a total of over 430 course training days, plus the Officer Cadet training.
Although 2010 will be very busy training year, the Regiment will still make time to take part in a significant ceremony. The University of Queensland offered QUR the opportunity to have its crest engraved on a sandstone plaque within its historic Great Court, as part of its centenary celebrations,. The Regiment, of course, grasped this opportunity as a way to give permanent recognition to all those who have served in the Unit and to the historic bond that exists between both organizations. When I announced this to the QURA AGM in September, I was humbled by the immediate support offered by the Association. Funding needs to be raised to pay for this project, and the Association gave QUR the freedom to get on with planning the event, knowing that the funding would be taken care of. As Commanding Officer, I would like to sincerely thank the Association, on behalf of the whole Regiment, for this overwhelming support. As the details of the event take shape, we will keep the Association fully informed.
I am pleased to report that the Honorary Colonel, RSM and myself recently had the great pleasure of attending the Dining-In of the Regiment's North Queensland Company, in Townville. The Regimental Colours were taken north for the occasion, which I understand is the first time they have been taken outside of Brisbane. The dinner also demonstrated the wide reach of QUR's Alumni, with several former members attending the function, and, by late in the night, talking of forming the NQ Chapter of the QURA.
Finally, I would again like to thank the QURA for its continued support of the Regiment throughout 2009, and to wish all if its members a safe and happy Christmas.
It remains an absolute privilege to serve in the Regiment, and I look forward to 2010.
Scientia ac Labore
Tim O'Brien
Lieutenant Colonel
Commanding Officer
Queensland University Regiment
*****************************
Photos from 2009 QURA A
GM
The 25th QURA AGM was held on September, 2009 at the United Service Club on Wickham Terrace Brisbane. Approximately 30 members attended including new members Norman Hoffman (QUR 1954 - 1958) and Bob Cavaye (QUR 1978 - 1986). President Trevor Luttrell introduced the after dinner trio of Sam Harrison, Len Eacott and Ian Bunce who were the main instigators in the creatin of the QUR Association.

The following is a pictorial representation of the night thanks to QURA photographer Col Ahern.
Sam Harrison (1948-1968) and William Ridley (1948-1954) sharing old times

Left to Right


David Ross, MAJ Kerry

Tscherepko(2IC QUR) and
LTCOL Tim O'Brien (CO QUR)
Neil Heather and Viv Hawke

Peter Morton (left) and John Hammond (right) giving Trevor Luttrell final pointers on his speech

Brad Shillig and Steve Golding discussing Main Roads business

The long and the short of it!

QUR CO Tim O'Brien catching up with, a soon to be posted to Brussels, Dick Palk

Geoff harley, Bob Cavaye and Rod Hardaker sharing a pre-dinner drink

Denis Luttrell and David Ross before the dinner

A relaxed Peter Sharwood (right) with Sam Harrison after the dinner

Sam Harrison and MAJ Kerry Tscherepko cutting the 25th anniversary cake

Graeme Ridlley, Geoff Harly and george Fryberg having an after dinner port

Bob Cavaye making a point to Peter Wall (left) and peter Jensen (right)

Len Eacott and Denis Luttrell in deep after-dinner conversation whilst on the left is a thoughtful Peter Wall

Rod hamilton (top) with Neil Heather and Viv Hawke chatting with Steve Golding (left)

Kojak (alias Garry Collins) and george Fryberg making sure Geoff Harley doesn't drink all the port
*****************************
Correspondence from Members
Please note: QURA receives emails/letters from time to time requesting contact details of members. The current policy is if a fellow member requests contact with another member, the contact details are given without contacting the relevant member.
Where contact is requested by a non-member, the contact is referred to the individual member to follow up the contact if they so desire.
==================================================================
From:- George Fryberg

To:- Peter Morton

Subject:-
Simplicity
This has possibly been sent to you - it appears to have originated with Adrian Cran - but here it is in case not.
IT IS REALLY QUITE SIMPLE
Dumb civvy, I thought to myself when he asked the question, but openly I said, "The system is really quite simple." You see, all people in the Army are soldiers, all privates are soldiers, but not all soldiers are privates.
Some are officers who are commissioned, but some are officers who are not commissioned. Obviously if every private was called private it would be confusing, so some privates are called things like trooper, driver, gunner, craftsmen, sapper or signaller. Not all of the drivers actually drive because some of them cook, but we don't call them cooks, for that matter, not all drivers are called drivers - some of them are privates or gunners. Gunners as I'm sure you know are the guys that fire guns, unless of course they are drivers or signallers in which case we call them gunners rather than drivers or signallers just to make it clearer. All gunners belong to the artillery, except that in the infantry we have gunners who are called privates because they fire a different sort of gun, for the same reason we call our drivers and signallers private as well.
A Lance Corporal is called Corporal, unless he is a Lance Bombardier then we call him Bombardier to distinguish him from a full Bombardier, who is just like a Corporal.
All other ranks are called by their rank for the sake of simplicity except that Staff Sergeants are called Staff, but they are not on the staff, some Warrant Officers, who are not officers, are called Sergeant Major although they are not Sergeants or Majors. Some Warrant Officers are called Mister which is the same thing that we call some officers but they are not Warrant Officers.
A Lieutenant is also called Mister because they are subalterns, but we always write their rank as Lieutenant or Second Lieutenant, and second comes before first.
When we talk about groups of soldiers there obviously has to be clear distinction. We call them Officers and Soldiers although we know that officers are soldiers too, sometimes we talk about officers and other ranks which is the same as calling them soldiers. I guess it is easiest when we talk about rank and file which is all the troops on parade except the officers and some of the NCOs - and a few of the privates - and the term is used whether everyone is on parade or not.
A large unit is called a battalion, unless it is a regiment but sometimes a regiment is much bigger than a battalion and then it has nothing to do with the other sort of regiment. Sub-units are called companies unless they are squadrons or troops or batteries for that matter. That is not radio batteries, and don't confuse this type of troop with the type who are soldiers but not officers.
Mostly the Army is divided into Corps as well as units, not the sort of Corps which is a couple of divisions but the sort which tells you straight away what trade each man performs, whether he is a tradesmen or not. The Infantry Corps has all the infantrymen for example and the Artillery Corps has all the gunners. Both these Corps also have signallers and drivers except those who are in the Signals or Transport Corps. Both these Corps provide a special service and that's why the Transport Corps provides cooks. The Signals Corps provides a special service, too, except that it is not a service at all because it is an Arm. Arms do all the fighting, although Signals don't have to fight too much, rather like the Engineers who are also an Arm but they don't fight too much either, except between themselves . . .
For us in the know, it's really quite simple.
==================================================================

From:- Bill Beach


To:- Peter Morton


Subject:-

WISDOM - FROM THE MANUAL

Peter,

a couple maybe of worth for the newsletter


"If the enemy is in range, so are you."
Infantry Journal
------------ --------- --------- ---------
"It is generally inadvisable to eject directly over the area you just bombed."
U.S. Air Force Manual
----------- --------- --------- ---------
"Whoever said the pen is mightier than the sword obviously never encountered automatic weapons."
- General MacArthur
------------ --------- --------- ---------
"You, you, and you ... Panic. The rest of you, come with me."
- U.S. Marine Corps Gunnery Sgt.
------ ------ --------- --------- ---------
"Tracers work both ways."
- U.S. Army Ordnance
------------ --------- --------- ---------
"Five second fuses only last three seconds."
- Infantry Journal
------------ --------- --------- ---------
"Any ship can be a minesweeper.. Once."
------------ --------- --------- ---------
"Never tell the Platoon Sergeant you have nothing to do."
- Unknown Marine Recruit
------------ --------- --------- --------- ---------
Clean it, if it's Dirty.
Oil it, if it Squeaks.
But: Don't Screw with it, if it Works!
USAF Electronic Technician - Woo Hoo
------------------------------------------------------------------

"If you see a bomb technician running, keep up with him."
USAF - Ammo Troop
------------ --------- --------- ---------
"Yea, Though I Fly Through the Valley of Death , I Shall Fear No Evil.
For I am at 80,000 Feet and Climbing."
------------ --------- --------- ---------
"You've never been lost until you've been lost at Mach 3."
- Paul F. Crickmore ( test pilot )
------------ --------- --------- ---------
A Navigator's Definition of Latitude & Longitude:
Latitude is Where We are Lost, & Longitude is How Long We've been Lost There!
USAF Navi-guesser - Woo Hoo
---------------------------------------------------------------
"The only time you have too much fuel is when you're on fire."
------------ --------- --------- ---------

"If the wings are traveling faster than the fuselage, it's probably a helicopter -- however, it's probably unsafe in any case ."

------------ --------- --------- ---------
"When one engine fails on a twin-engine airplane you always have enough power left to get you to the scene of the crash."
------------ --------- --------- ---------
"What is the similarity between air traffic controllers and pilots?
If a pilot screws up, the pilot dies;
If ATC screws up, .... The pilot dies."
------------ --------- --------- --------- ---------
The three most common expressions (or famous last words), in aviation are:

"Why is it doing that?"
"Where are we?"
And
"Oh Shit!"

----------- --------- --------- ---------
" Airspeed, altitude and brains.
Two out of three are needed to successfully complete the flight."
------------ --------- --------- --------- -
"Mankind has a perfect record in aviation;
We never left one up there!"
----------- --------- --------- ---------
"Flying the airplane is more important than radioing your plight to a person on the ground incapable of understanding or doing anything about it."
------------ --------- --------- ---------
"The Piper Cub is the safest airplane in the world; it can just barely kill you." - Attributed to Max Stanley (Northrop test pilot)
------------ --------- --------- ---------
"There is no reason to fly through a thunderstorm in peacetime."
Sign over squadron ops desk at Davis-Monthan AFB, AZ, 1970
(FAA FSS sez: VNR INVOF TSTMS!!!)
------------ --------- --------- ---------
"If something hasn't broken on your helicopter, it's about to."
------------ --------- --------- ---------
"You know that your landing gear is up and locked when it takes FULL Power to taxi to the terminal."
------------ --------- --------- ---------
As the test pilot climbs out of the experimental aircraft , having torn off the wings and tail in the crash landing, the crash truck arrives; the rescuer sees a bloodied pilot and asks, "What happened?" The pilot's reply: "I don 't know, I just got here myself!"
==================================================================
From:- Maj Kerry Tscherepko

To:- Trevor Luttrell, Peter Morton

Subject:-
Re QURA August Newsletter
Please find attached a photo of QUR's most recent graduates with the CO, LTCOL T.C. O'Brien; LT John, Patrick (Jack) Owens and LT Alice Rebecca Grant. Both members successfully completed Training Block 5 at RMC and where appointed on 22 Aug 09. LT Owens has been posted to 9RQR - Corps of Infantry and LT Grant is posted to the 7th Combat Service Support Battalion (7 CSSB) - Corps of Transport. The mbrs were congratulated by the Unit on 25 Aug with a presentation being made to both of them by the CO and BRIG Luttrell on behalf of the QURA. The Brigade Commander was in attendance to congratulate both members.

It would be appreciated if you could this information in the next news letter.
==================================================================
From:- Bruce Davis

To:- Peter Morton

Subject:- About those Taliban

Canadian troops in Afghanistan proved they have retained their sense of humor by creating

"YOU MAY BE A TALIBAN IF..."



1. You refine heroin for a living, but you have a moral objection to beer.
2. You own a $3,000 machine gun and $5,000 rocket launcher, but you can't afford shoes.
3.. You have more wives than teeth.
4. You wipe your butt with your bare hand, but consider bacon "unclean."
5. You think vests come in two styles: bullet-proof and suicide.
6.. You can't think of anyone you haven't declared Jihad against.
7. You consider television dangerous, but routinely carry explosives in your clothing.
8. You were amazed to discover that cell phones have uses other than setting off roadside bombs.
9. You have nothing against women and think every man should own at least two.
10. And finally...You've always had a crush on your neighbor's goat.


Regards
==================================================================
From:- Neil Munro
To:- Peter Morton

Subject:- Re QURA 2009 AGM
Hello Peter,
I'll be returning to China on September 8, so regretfully I won't be able to
attend the dinner.
I hope that the 25th anniversary dinner will be well attended and a great
success

Cheers,
Neil
==================================================================
From:- Dennis Rounsefell
To:- Peter Morton

Subject:- AGM
I am not a member, and shall not be attending on this occasion.
I did have a look at the Association's website after Geoff Haigh gave you my email address,
and there are aspects of the group's activities which I consider unattractive to me.

This far down the track, to have dinners which some members are not entitled to attend indicates to me the continued truth of Groucho Marx's observation that he would not join a club which was prepared to accept him as a member (and more particularly here, a member without full playing rights).

I look back on my QUR days with mixed memories, and emerged undamaged despite significant workplace health and safety shortcomings in the outfit.

I wish you well in enjoying the fraternity of like-minded members.

Dennis Rounsefell

Ed. Trevor Luttrell sent the following reply

Dear Dennis,

Thanks for contacting the Association. I note that contact with you was made via Geoff Haigh who forwarded your Email address to us.

Our Association aims to maintain contact with current and past members of QUR irrespective of financially supporting us or not. Because we received you contact email from Geoff we added you to the list. We endeavour to keep you informed of what our Association is doing. Any person in the world may be a member of QURA. All they have to do is to list their interest and provide us with a contact / email address. Note that you are a member of QURA, being an ex member of QUR. Through the good will of Geoff Haigh we added you to our list of contacts as being someone who might be interested in the activities of QUR members. That is what an "association of people" do. Should you wish for us not to include your name/contacts on our list of ex members we will ensure that your name is removed.

You will note that we publish a website which is available to anyone free of charge. This is a deliberate action as looking after our Regimental family is vitally important to the Association.

I am concerned as to where you formed the opinion of not being entitled to attend the AGM/Dinner. Any person in the world is welcome to the AGM and dinner. There is no indication anywhere that any activity is restricted. We address correspondence to "members" and as you see above members do not have to have supported the Association financially. Please note that your invitation was addressed to you personally. Should you wish to attend the AGM / Dinner you would be most welcome but I would ask that you confirm your attendance by no later than Wednesday 9 September 2009.

That said, we do encourage those interested to support us financially ($10 per year or $70 for 10 years) so we can continue the objectives of the Association. We use the money to assist us to preserve history, support the current Regimental members, provide prizes to QUR members for excellence in military studies, and for support to our members. In past we have financially supported ex members of QUR who have suffered loss (cyclones, house fires etc) by forwarding some funds to help them overcome their loss. It is similar to us supporting members of our regimental "family". We have also provided support to the band for the purchase of music. We also take a vital interest in the role of the Regiment by supporting the Commanding Officer with the occasional letter to interested Governmental authorities.

You will note that the invitation to attend the AGM/Dinner was addressed to you as you are a "member." If the pasing on of your email address by Geoff Haigh was against your philosophy I suggest that you might care to address that with him. He was reacting to our aim to keep in contact with our family members.

Should you find some activities to be unattractive to you I would encourage you to firstly read the "Constitution" of the Association as registered with the Government and then forward to me your thoughts so we can only benefit from your views. We are always looking for comments and perspectives with which we can maintain contact with our Regimental family and to improve our support to all.

I would welcome you email, letter, phone call at any time so we might discuss your thoughts.

Your "Association" with our Regimental family is important to us.

Trevor Luttrell
Brigadier
President
Queensland University Regiment Association.
==================================================================
From:- Donna-Lee Greaves
To:- Peter Morton

Subject:- Re QURA 2009 AGM
Hi Peter,

I'm sad to say that I will be unable to attend the AGM this year. No matter how hard I tried, I couldn't wriggle out of having to stay home for the entire Tech Challenge weekend (Maryborough Technology Challenge - MTC). Lawrence not only has a Solar Powered Boat entered, as his Year Nine Science project, he has also managed to entrench himself into an HPV (Human-Powered Vehicle) team. The HPV race is conducted over 24hrs, with only eight riders, this means he will be doing a minimum of three hours in that period, but I know if I'm not there to supervise in some way, he will push (as he's stronger and fitter than the majority of his team-mates, who are mostly 18 - 24 months younger) beyond the limits of his body. Basically, I need to set the limits for him, so that he can still walk/run on Monday night, when it's likely that his Futsal team will be playing a grand final game, and beyond that, he is doing Phys Ed as a subject and needs to be well to participate for assessment purposes. So much for him, I have a ship-load of study to fit in around all his activities - this is my third semester (doing three subjects at a time) and I have so far managed a GPA of 6, and I have no desire to let that slip. Would it be unmotherly, do you think, for me to say that I'm looking forward to the one week break I will get, when he comes down to Bulimba for 2-Wing Band Music camp (Air Force Cadets), during the school hols?

Please pass on my best to everyone, I will miss not being there, but plan to make the Christmas do.

Fond regards,

Donna-Lee


==================================================================
From:- Bruce Davis
To:- Trevor Luttrell

Subject:- Now this is what I call a motorbike!!
Talk about 'road rage!' Just what a motorcyclist needs for riding on the Freeway. Designed as an equalizer.
Inconceivable and unpredictable lane changes and other traffic related idiotics perpetrated by cell phone using SUV
and taxi driving morons in the city (and elsewhere) on the rest of us.

The below pictured machine was designed for that purpose. Each mini gun fires at a rate of 3000 rounds per minute (6000 total).
During initial test and evaluation it was demonstrated that a single 2 second burst would and did blow a 40 foot RV with tow car clean off the road leaving an open and unobstructed route ahead. It will vaporize an SUV in seconds! Tests further indicated that after two or three taxis/SUV's in a row were eliminated, others voluntarily pulled off the road and became a "non threat"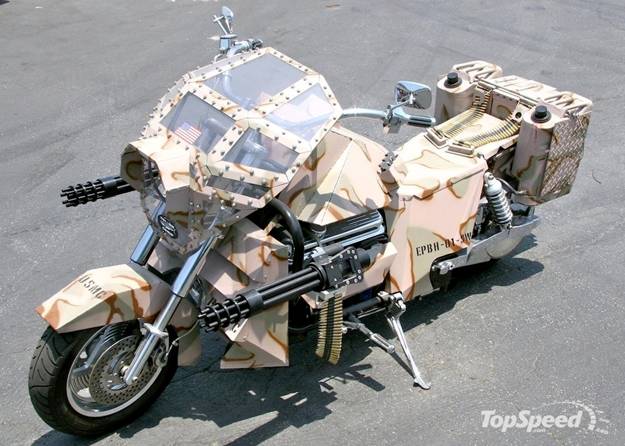 ==================================================================
From:- Trevor Luttrell

To:- Peter Morton
Subject:- Application Form

Peter,

This one may be worth putting in the newsletter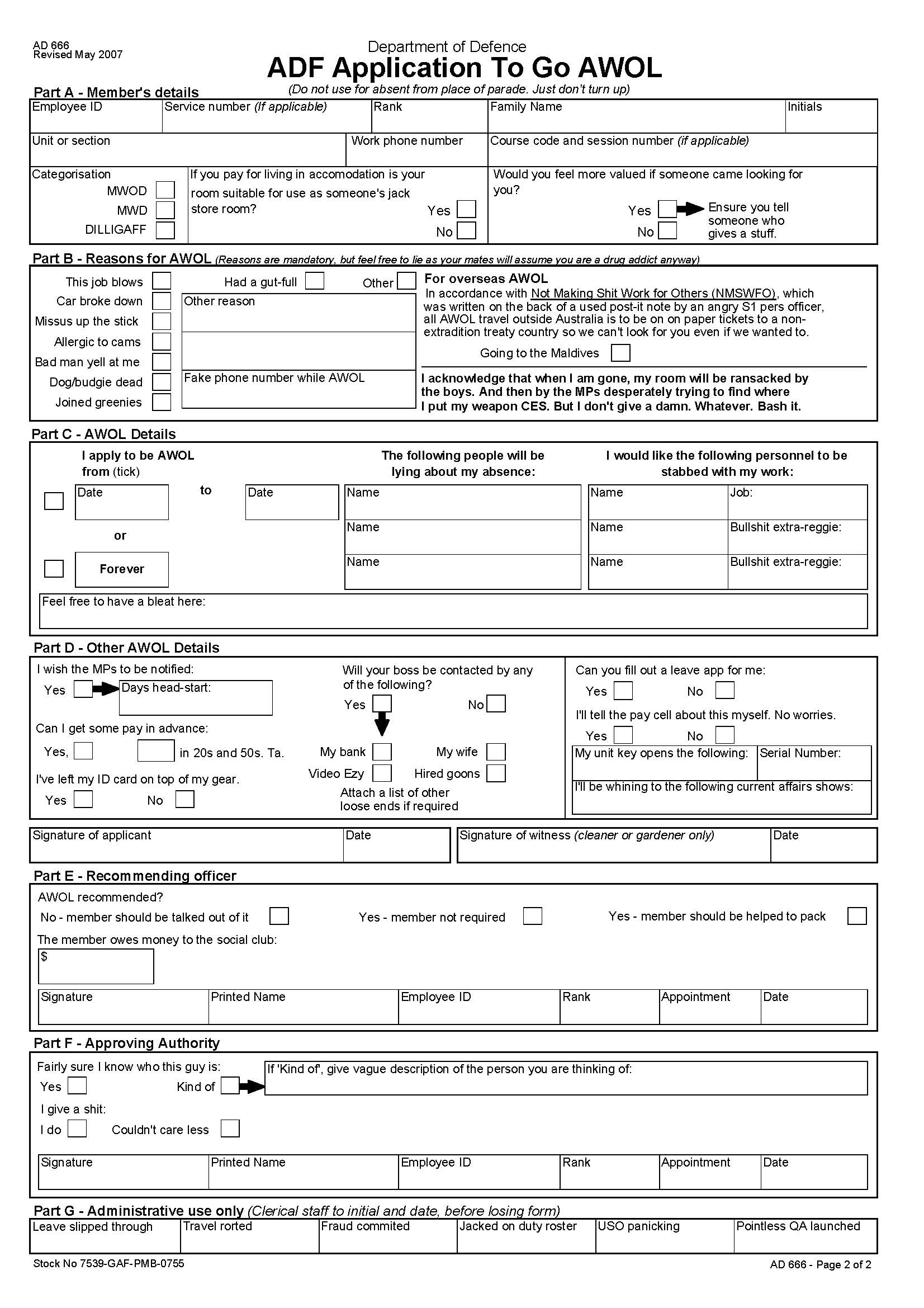 ==================================================================
From:- David Sallows

To:- Peter Morton
Subject:- Re QURA - date Claimer
Thanks for the invitation, and the chance to dance in the ashes!
Unfortunately this year I will be elsewhere - UK, Cologne and Lisbon to be precise, which will be a darn sight less cosy than the back bar of the Victory I would suggest.
A Merry Christmas to all.
All the best ( and see you maybe at Back to The Regiment next March? )
==================================================================
From:- Rob Cumming

To:- Peter Morton
Subject:- Re QURA - date Claimer
Dear Peter

Thanks for the invitation. Unfortunately, yet again I must send my apologies.

I have just deployed on OP MAZURKA to the Sinai in Egypt to work as part of the 25 strong Australian Contingent to the Multinational Force & Observers (MFO) as the Staff Officer Plans in the Ops Branch and as OPSO for the Australian contingent. The posting is for six months and I return just before Anzac Day 2010. I'm sure I'll have a few stories to tell on my return.

Please pass on my best wishes to all those attending what I'm sure will be a great Christmas function.

Cheers

Rob Cumming


==================================================================
From:- Neil Heather
To:- Peter Morton
Subject:- Re QURA - Hale St Bridge
Can you help out with Pat O'Keefe's email address please?

I want to check whether he has the 1 Trg Gp video by Prof Mahoney on Milne Bay which I have commenced to transcribe to text. Alternatively you might prefer to just copy this to him.
==================================================================
From:- Graeme Cannell
To:- Peter Morton
Subject:- Re QURA 2009 AGM
Unfortunately we can't attend as we fly to New York on Wednesday. There were some ultra cheap flights a while back and we took two. Hope the function goes well.

Cheers

Graeme
*****************************
On 16 March 1968, the late Lieutenant Colonel Peter Charlton enlisted into the CMF into QUR. He was later discharged from the CMF on 10 October 1969 at own request. Peter later re-enlisted into the Reserves in 1975.
The Commanding Officer of QUR, Ken Gaulton, signed a Certificate of Discharge for Peter Charlton in 1969.

Recently we received correspondence from a Peter Nightscales, a resident of Victoria who purchased a second hand book in Echuca, Victoria. Peter was later surprised to find the Certificate of Discharge in the book. He used the internet ' Google' and searched for QUR. This directed him to the QURA website. Peter contacted us and kindly sent the Certificate to us so we could take action to return it to the family.
On behalf of all the members of QURA I extended our great appreciation for his generosity and respect for the history of the Charlton family.

So far all my efforts, through military sources, to locate Peter Charlton's family have proved unsuccessful. I am sure that one of our QURA members, especially someone who might have been closer to the family, might have more up to date information to assist us to locate his family. If any member can help me with contact information for any of Peter Charlton's family I would be greatly appreciative.

The action which Peter Nightscales has undertaken to honour the memory and the Army Service of Peter Charlton demonstrates great respect for a fallen comrade. I will be passing the contact details for Peter Nightscales to the family of Peter Charlton.

Please ring me (0437 442 964) or contact me by email Trevor Luttrell if you can help me return the Certificate of Discharge to the family.

NOTE:
This is another example of the value of QURA in its "Association" aims for members. Regularly we are contacted by ex QUR members and civilians who have visited our website. We feel it is important to maintain contact with members and to encourage all to give us contact information of people who may be interested.


*****************************
Chief of Army Commendation

Published in the Army Newspaper October 1, 2009

"Lt-Col Bruce Davies for exemplary initiative, energy and dedication to duty during his appointment as the Director of Reserves- Army"

Congratulations Bruce.
*****************************
As a follow-up to the last newsletter, Barry O'Callaghan and Geoff Harley were able to put names to some of the missing details on the QUR course. If any other members can shed some light on the still missing details please contact Trevor Luttrell or Peter Morton with names and contact details (where and when was the course?)
John Thompson
Dick White (Member)
John Story
(Chancellor of UQ)
John (JE) White
(Deceased)
?? Wills
John (JDL) White
Denis Rounsefell
(see email in correspondence from members)
Peter Reid
(Brisbane Vet - specialising in horses)
Mike O'Neil
(Mike went FTD in 1969 and to Vietnam 1970 with 4RAR - ex Major)
?? O'Rourke
?? Porter
John Porter
(With Porter Davies Lawyers - Indooroopilly)
Charlie Brabazon
(District Court Judge - Brisbane)
Robert McDonnell
(Partner Gilbert & Tobin, Sydney)
Tony Tobin ex QUR is a consultant & co founded the firm
?? Kay
Geoff Haigh
(Non Current member)
?? Long
?? Hooper
Terry Gygar
(Member)
?? Davies
?? Anderson
?? Marken
?? Kaleski
?? Hargreaves
?? Dinnen
?? Buckridge
Neil Munro (Member)
Ian Kayler-Thompson
Richard Holroyd
?? Carroll
?? Glynn
Tony Glynn
(Barrister - Brisbane)>
John Chapman
(Pharmacist)
Derrick Murphy
(Barrister/Solicitor in UK)
?? Lavery
Steve Hood
(Solicitor)
Rodney Oliver
(Was at Gregory Terrace with Barry O'Callaghan)
Frank Quinton
*****************************
QURA CHRISTMAS PARTY - 2009
The Annual Christmas get together will be held at the Victory Hotel, Cnr Charlotte & Edward Streets, Brisbane on the evening of Thursday 3rd December 2009 from 1730 hours.

Please feel free to bring along partners and friends to help us celebrate. The Assosiation will provide finger food through-out the evening, however, members will be required to purchase drinks from the bar..

RSVP 25 Nov 09


EMAIL reply to the membership Registrar (Peter Morton ).

Name: ________________________________________________________________

I will be attending the Association's Christmas Party to be held at the Victory Hotel, Charlotte Street, Brisbane on the evening of Thursday 3rd December 2009 from 1730 hours.
******************************
War Quotes
The next war may well start in the air, but in all probability it will wind up, as did the last war, in the mud.

(Report of the President's Board to Study Development of Aircraft for the National Defense 1925)

Every development or improvement in firearms favours the defensive.

(Giulio Douhet, 1869-1930)

War is unmitigated evil. But it certainly does one good thing. It drives away fear and brings bravery to the surface.

(Mahatma Ghandi, 1869-1948)

In war, whichever side may call itself victor, there are no winners, but all are losers.

(Neville Chamberlain, 1869-1940)

It is the greatest possible mistake to mix up disarmament with peace. When you have peace, you will have disarmament.

(Winston Churchill, 1874-1965)

History shows that there are no invincible armies,

(Joseph Stalin, 1879-1953)

Nationalism is an infantile disease.

(Albert Einstein, 1879-1955)

If man does find the solution for world peace it will be the most revolutionary reversal of his record we have ever known.

(George C Marshall 1880-1959)

There is no security on earth. Only opportunity.

(Douglas MacArthur, 1880-1964)

Speed is unfortunately a most expensive commodity: alike in battleships, motor cars, racehorses and women, a comparatively small increase in speed may double the price of the article.

(Archibald Percival, Lord Wavell, 1883-1950)



Things to Think About
Reading while sunbathing makes you 'well red'.


When two egotists meet, it's an 'I for an I'


Sea captains don't like 'crew cuts'.


If you went to a bookstore and asked where the self help section was, would that defeat the purpose?


When you dream in colour, it's a 'pigment of your imagination'

You will feel stuck with your debt if you can't 'budge it'.

If an optometrist fell into a lens grinder, would he make a spectacle of himself.

If a doctor cloned a larger version of himself, would he be charged with 'bigger me'.

If a deaf person swears does his mother wash his hands with soap?

If a friend works in oil exploration, should you send him a 'get well' card?

Is it OK to use your AM radio in the afternoon?

When dog food is new and improved in taste, who tests it?

If at first you do succeed, try not to look astonished!

Which is the other side of the street?

If flying is so safe, why do they call the airport the terminal?




Quotable Quotes
If Hitler invaded Hell, I think I would find a good word to say about the Devil in the House of Commons.
Winston Churchill, 1874-1965, replying to those who criticized him for siding with Stalin during WWII


Does the name Pavlov ring a bell?
Anonymous


We are here on earth to do good for others. What the others are here for, I don't know.
W.H. Auden (1907-1973)


Glory is fleeting, but obscurity is forever.
Napoleon Bonaparte (1769-1821)

There go my people. I must find out where they are going so I can lead them.
Alexandre Ledru-Rollin (1807-1874)

I have left orders to be awakened at any time in case of national emergency, even if I'm in a cabinet meeting.
Ronald Regan


I must decline your invitation owing to a subsequent engagement.
Oscar Wilde (1854-1900)

I just got news from my real estate agent in Florida. The found land on my property.
Milton Berle

*****************************
FUNCTIONS - 2009
Back to the Regiment Friday 6 March 2009
Anzac Day Saturday 25 April 2009
Regimental Dinner Saturday 9 May 2009 (TBC) - By Invitation from QUR


AGM Friday 11 September 2009 - ( 1900Hrs for 1930Hrs)
Christmas Function Thursday 3 December 2009 - 5.30 PM (Victory Hotel)

*****************************

Please check the Members Page to ensure that your membership is current.

If you pay your membership fees on a year by year basis payment is now due for 2009.

PLEASE TAKE THE TIME TO PERUSE THE Members Page AND CHECK THE ENTRIES WITH AN ADDRESS FLAG OF `N`. WE HAVE LOST CONTACT WITH THESE MEMBERS AND REQUIRE EITHER AN EMAIL ADDRESS OR POSTAL ADDRESS TO RE-ESTABLISH CONTACT

Membership status codes are:
SMEMB - Special Member (no fees)

LMEMB - Life Member (no fees)

PUOM - Paid Up Ordinary member (no fees but can transfer to 10 year membership for $50)

NEW - New member (no membership fees received as yet)

2005 - 201? membership fees paid to year indicated

199? - 2006 membership fees due for 2007
Annual dues are $10 and a 10 year paid-up membership can be had for $70.

Cheques should be forwarded to:
The Treasurer

QUR Association

24 Walcott Street,

St Lucia 4067
For those members with internet banking, payments may be made direct to the QURA Bank Account.

Details are BSB 064 129, Account 0090 4500, Account Name QUR Association Inc

Please ensure your name is supplied in the payment details.

*****************************

EMAIL ADDRESSES

The Executive Committee encourages all members to provide a current email address to allow quick and easy communication of important notifications and reminders of upcoming events.

If you know of any ex-members of QUR who are not in the association, please contact the Membership Registrar (Peter Morton) with any contact details that you have.

THE ASSOCIATION WILL ONLY CONTINUE TO EXIST BY RECRUITING NEW MEMBERS

For members wishing to provide a new email address, please send an email to Peter Morton to ensure your address is received and entered onto our contact list.

*****************************

HISTORY OF QUR

Have you considered purchasing a copy of the History of QUR magnificently complied and edited by Paul Smith?

It contains 128 pages of stories, photographs and has a coloured badged cover.

COST : $15 per copy.

What about a CD containing over 100 images of the history of the Regiment.
COST : $10 per copy.
Why not treat yourself to a copy or buy copies for your friends. These are collectors items so don't miss out.

How to purchase copies:

Ring Trevor Luttrell

0437 442 964

Email

trevor.luttrell


Send your payment to:

The Treasurer, QUR Association, 24 Walcott Street, St Lucia Q 4067.

For those members with internet banking, payments may be made direct to the QURA Bank Account.

Details are BSB 064 129, Account 0090 4500, Account Name QUR Association Inc

Please ensure your name is supplied in the payment details.

*****************************