| | |
| --- | --- |
| Volume 20 Number 2 | May 2008 |
What's in this Issue
(Click on link to read article - Press `Home` key to return to here)

Since our last newsletter a lot has happened.

The Association again presented awards for Military Excellence in the Graduating Class for 2007.

The Back to the Regiment was an outstanding success. We continue to meet new attendees. Due to the departure of the unit caterer arrangements were made to utilize the services of a professional caterer. Once again the Association would like to thank the Commanding Officer and members of the unit for their support. A special thank you to the 2IC for all the administrative support.

Members of the Association attended the Anzac Day Ceremony. Photos from the ceremony are enclosed within this newsletter.

The Unit Regimental Dinner was supported by Association members. The after dinner speech was presented by the Chief Justice for Queensland, Paul de Jersey. Paul was kind enough to make a copy of the speech available and can be seen within this newsletter.

The next and major activity for the Association will be the Annual General Meeting. The function will be held at the United Service Club on Friday 12 September 2008. Peter Jeffery and Ross Williamson have agreed to talk about their experiences in overseas postings. I look forward with great interest to their presentation. As usual we are required to pay for the number attending, as at the Tuesday before so any member who finds that they cannot attend within the week before will be expected to honour the debt. It would be greatly appreciated if members could pay prior to the function.

It is again time for the Executive Management Committee to step down at the AGM. We are looking for nominations for President, Vice President, Membership Secretary, Secretary / Treasurer, Committee Members. We need to ensure the effective continuity of the management so members should seriously consider offering their support.

Again I appeal to all to send in stories, photos, news clippings to allow us to continue presenting a variety of reading.

I look forward to again meeting you at the 2008 AGM which will be held on 12 September at the United Service Club. I would ask you all to contact members and encourage them to attend.

*****************************
CO's Report May 2008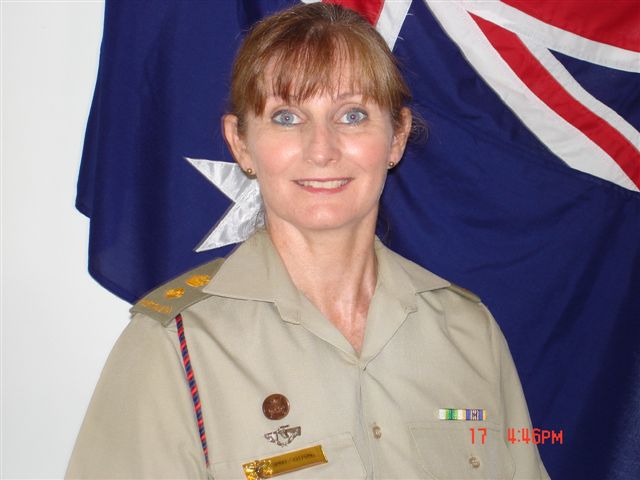 The first 5 months of the QUR year has been rather hectic. The revised Army Reserve GSO First Appointment Course (FAC) has been bedded in, and Jacka Coy have been very busy in creating Electronic Competency Log Books for each SCDT as a record of their level of attainment. These Competency Log Books will follow the SCDT as they graduate and move onward and upward in the Officer Training Continuum. I must thank several QUR staff for their dedication and hard work in getting these books ready for each module. CAPTs Hughes, Peach, Revell, LT Finney, WO1 Clayton and SGT Grienke worked tirelessly for two solid weeks to make sure that QUR were the best prepared UR in sending the CLB to the different modules.

QUR was successful in sending 14 SCDT to Module 1 in Jan/Feb 08. As you are aware, we also graduated 14 SCDT from Module 5 in February with LT Tyson Brock being the recipient of the Peter Stuckey Mitchell Award for excellence in leadership. Tyson has been posted into the Royal Australian Corps of Infantry. In April, we managed to get 11 candidates away to Module 2 conducted in Adelaide. Although we had one returned because of injury, he remains positive about attending the next Module in September. Only one SCDT attended Module 4 in April, but we have several SCDT ready for
Module 5 in August this year. This will be the first year in many where SCDT have two opportunities to graduate – February and August. We will also be sending several new SCDT to Module 1 in July and several SCDT to Module 3 in June. While the changes have been challenging, I am proud to say that QUR SCDTs are coping extremely well and are certainly up to the challenge.

While my challenge has been to keep the 'day to day' operations of SCDT training ticking along, I have also been working hard to develop the strategies to implement the Army Reserve Regional Command and Control (ARRC2) initiative. There are two components to this initiative. First, Regional Training Battalions are being created (or should I say re-created) under the command of the local Brigade. For QUR that means that we will come under command 11 Bde with effect 1 July 2008. QUR will celebrate this transition on Saturday 28 June with a parade at the Oval opposite the Regiment. Comd 11 Bde, BRIG Bruce Scott, and the Director Army Reserve Training from RMC-A COL David Grierson will be in attendance. I encourage all of QURA to attend this occasion and join us for afternoon tea at the conclusion. More information will be provided soon.
Further, as part of the Regional Training Battalion, QUR will assume more of the training for Army Reserve soldiers and officers. Land Warfare Centre (SQ) will be disbanded in November 2008, and many of their functions will be assumed by QUR. From January 2009, QUR will continue to train SCDT in the non-continuous component of the FAC and pick up Grade 2 and Grade 3 of the officer training continuum (previously known as Intermediate Staff and Operations Courses), Infantry IET modules 1 and 2, Driver training, and Reserve Reaction Force (RRF) training. While the Unit establishment will grow with
both ARA and ARES personnel to meet the need, there will be some adjustment period as QUR rise to the challenge to meet the training needs of both National and Regional Reserve requirements.

The Second part to the initiative is the creation of Brigade Operational Support Centres – brigading of logistic support into a central location. This initiative will not occur until January 2010.

I look forward to seeing many of the QURA at our parade on 28 June.
Regards

Jenny Cotton
Lieutenant Colonel
Commanding Officer
Queensland University Regiment