QUEENSLAND UNIVERSITY REGIMENT

ASSOCIATION Inc

NEWSLETTER
| | |
| --- | --- |
| Volume 18 Number 3 | August 2006 |

This is the third newsletter for the year and one of its main purposes is to remind all members of the Annual General Meeting to be held at the United Services Club on Friday 15 September 2006. Members are asked to advise QURA by return email to our Membership Registrar (Peter Morton ).

This year at the AGM, George Fryberg has kindly accepted an invitation to offer us some words of wisdom. I am confident it will be enjoyable. Bruce Davis currently serving full time in the Office of the Office of Reserves in Canberra has also offered to present a quick update of things "Reserve" in Australia.

Being the AGM there will be the election of office bearers for 2006/2007 year. Any member who wishes to offer his or her name to assist with the operational activities of the Association are welcome to put their name forward. I will be only too happy to ensure that the volunteer's nomination is accepted. Members are urged to consider this way of assisting the Association. A copy of the nomination form is available on the QURA website (click here ).

Work is currently underway on changing the management of the QURA website to one which is not so affected by changes in the Executive Committee. Currently Peter Morton has generously managed the website at his own personal cost. The changes will ensure that the website can be managed by any authorized member so it is not so reliant on just one member. I wish to extend the gratitude of all members to Peter for his generosity both in money and time.

Work is still continuing on the collection and preservation of historical items. QURA has been advised that it is soon to receive some photos and historical items formerly belonging to Alex Freeleagus. We look forward to receiving them and will publish them onto the website as soon as they can be processed. I appeal to all members to make their photos and any articles available. I appeal to all to check their storage for anything relating to QUR so they can be published on the website. I am mostly interested in any copies of the old camp newsletter "CONTACT". I am eager to get some old copies so they can be copied and displayed at the regiment in the new display cases. I remind all members that a significant part of the history of the regiment was lost in the floods so gaining access to personal historical items is extremely important.

Members will recall an article in the last Newsletter about BJ Price's ordeal from Cyclone Larry. Under the rules of the QURA Constitution, which provides the Association with the power to financially support any member in exceptional hardship, the executive exercised this power on behalf of members and provided some financial assistance to BJ to help, in some small way, in overcoming his misfortune at the hands of Cyclone Larry.

I look forward to meeting you all at the forthcoming AGM in Spetember.

*****************************
CO's Report
Again this has been a busy time for the unit. Over the past six weeks or so the staff have conducted 6 courses. It has felt a bit like a sausage factory with staff fronting up for day one of a course while other staff are packing up at the end of their two week stint. We have conducted an induction course, an Officer of Cadets introductory course and Officer's course, and modules IIB, IIIA1 and IIIA2 of First Appointment Course.
The administrative and instructional load has been huge and I'm pleased to say we have faired very well without any major dramas at all. We have been very excited to welcome LTCOL Graeme Ramsden as the QUR padre, and he has been a great support to SCDTs and staff during this intensive
block training period. We are farewelling CAPT John Skalij and WO2 Brendan McLean, two of our ARA cadre, who have both decided to leave the ARA and pursue civilian careers. Holding the fort has been CAPT Andy McCarthy who has taken on Full Time Service for the next year to give day to day support. We are all looking forward to the clear skies at the other end of this training block period where we will be able to settle back, consolidate and prepare for the next set of challenges.

All the best and thank you all for your ongoing support of the Regiment.
Nan Bahr
Lieutenant Colonel
Commanding Officer
Queensland University Regiment
*****************************
"Did you know about...", Did you ever"
At the presentation of the colours to QUR 19 July 1959 the following officers made up part of the Regiment:

Lieutenant Colonel T. Parslow (CO)
Major P. D. Connolly (2IC)
Major J.P Shanahan
Major R.I. Harrison
Captain Heather
Captain P.R. Gargett
Captain J.C. Murphy
Captain I. Mathers
Captain R.C. Neilsen
Captain P.I. Wornham
Captain J.B. Pozzi
Captain P.A.M. Pozzi.

In the guard minute book a photocopy of a cheque exists addressed to LTCOL RI Harrison. Sam was sent $14.25 for meals and accomodation for attending a QUR TEWT. Had the Army paid what was asked for it would have cost around $2 for a traveling allowance. The guard book caption is "An example of Formation Bloody Mindedness".
Quote from a platoon Commander over the radio from an 1967 exercise " Get off the net enemy, we haven't eaten for two days and you're stuffing the exercise".
Mentioned in Dispatches in the Camp Newsletter CONTACT 1967 :-
John Pearn – Died of infected blisters
L/Cpl Patching – Died in pitched battle after killing more enemy than Audie Murphy.
Peter Morton – Suffocated when his pile of blankets fell on him.
When the colours were trooped 29 May 1960 one of the colour sergeants was Phillip Bushell- Guthrie.
Quote of the day:- Sam Harrison as quoted in the Regiment Newspaper May 1968 from a camp at Wiangaree as saying "When you get lost men, follow a river to the sea"
Routine Order 24 March 1949 issued by 9 Battalion Commanding Officer (LTCOL Jack Amies OBE) who administered the command of QUR , took the following recruits to form QUR ….
"The twenty eight originals"
Paul Hegerty, John Waring, Edward Bourne, Joseph Borzi, Austin Loveday, James Mathers, Alan Seawright,
John Freney, Cedric Axelsen, Allan Kerr, John Pozzi, Brian Carroll, Philip Pozzi, William Catchpoole,
William Ridley, Sam Harrison, Alexander Freeleagus, John Jamieson, Peter Hollingsworth, Robin Brown,
Pat Shanahan.
Taken as adult recruits:- James See, Guy Ethell, Salvatore Vitale, Arthur Kruger, Lindsay Tompkins,
Brian Tomason, Clyde Robertson.
Quotes from the 1968 camp newsletter
" Never in the history of QUR camps has so much confusion been caused to whole bloody Regiment by so few" Capt Phil Cole talking about the Royal Australian Corps of Signals"
"I am here to check your voice procedure….. Have you any?" Lt D. McKeown (4 Sig Regt)
"I'm here on a sentimental journey!" LTCOL J.A Springhall
"Do all enemy wear black shirts? We have captured two with green. Have they been issued with them?" - From a transmitted signals message form A company.
"Alpha Company is poaching on our area, Platoon sited at GR 037613"- An example of good wireless security from B company.
During an enemy attack a certain corporal called out "Bang Bang ! You're dead". Enemy DS asked : "What's the matter sonny, won't your gun work?" "No sir", came the reply, "Its an OMC." DS: "Bad luck sonny, maybe you'll graduate to an SLR next year".

Quotes from the 1969 Camp Newsletter
Facts and Figures:
Officers 71, WO/SGT 68, OR 280, Total 419
Amount for camp $260,000
Total Pay $43000

Why not provide some little snippets for publication in this section?
Why not share some secrets?
Remember no names no pack drill!


****************************

FUNCTIONS IN 2006

Back to the Regiment 17 March 2006
Anzac Day 25 April 2006
Regimental Dinner 6 May 2006 (By Invitation from QUR)


AGM 15 September 2006 - ( 1900Hrs for 1930Hrs)
Christmas Function 1 December 2006 (To be confirmed)

*****************************

COMING UP IN FUTURE NEWSLETTERS

As mentioned in the previous newsletter, some of our members are busy training and preparing to walk the Kokoda Track in the middle of this year. They have promised to write an article for us and to take many photos. We look forward eagerly to their contribution.


STOP PRESS

Just received:- following email from Chris Backstrom:-

KAKODA 1 BACKSTROM 0

Hello all.
This is a quick note to let you know that, at lunch on the second day, and after discussions with the trek leaders, I decided to drop out of the Kokoda trek.


The conditions were much darker under the canopy than I could work with, and the mud made everything the same colour. I had a great deal of trouble seeing where I could safely put my feet, and I was probably lucky to get as far as I did doing myself a serious injury, or worse, injuring someone else. The porter who was looking after me certainly should have been in fear for his life.


I made it as far as Isurava, and I was taken back to Port Moresby in a helicopter on Monday morning. I returned to Brisbane on the Tuesday.

The rest of the group moved on to Eroa Creek and beyond, and I dare say they are making much quicker progress without me.
Thanks to all of you for your good wishes prior to the trip, and I will try to get in touch with you individually in the near future.


Cheers
Chris


(For those members who haven't met up with Chris Backstrom for a while, Chris is legally blind but still continues to pursue a full and active life. - Ed)


Why don't you also write something for us………


REMEMBER THE NEWSLETTER NEEDS YOUR CONTRIBUTIONS!!!


*****************************
QUR Association 2006 AGM Dinner
The Annual General Meeting for the QUR Association will be held at United Service Club, Wickham Terrace, Brisbane on the evening of Friday 15 September 2005 at 1900 for 1930 hours. The cost of the AGM will be $75.00 which includes pre-dinner drinks and a three course meal including wine and port.
The guest speaker will be The Honourable Justice George Fryberg talking about life and his memories of QUR. Bruce Davis, who is currently serving full time in the Office of the Chief of Reserves in Canberra will also give us a heads up on current matters , Reserve.

Attendance Reply Form – RSVP 1 Sep 06

EMAIL reply to the membership Registrar (Peter Morton ).

Name: ________________________________________________________________

I will be attending the Association's Annual General Meeting Dinner to be held at the United Service Club, Wickham Terrace, Brisbane on the evening of Friday 15 September 2006 at 1900 for 1930 hours.
I regret that I am unable to attend. Please tender my apology.

For those members with internet banking, a payment of $75.00 may be made direct to the QURA Bank Account.
Details are BSB 064 129, Account 0090 4500, Account Name QUR Association Inc. Please ensure your name is supplied in the payment details.
If you wish to pay by cash or cheque, please pay on the night.

IF YOU WISH TO ADD A BIT OF NEW BLOOD TO OUR AGEING EXECUTIVE COMMITTEE, NOW IS YOUR CHANCE!!
NOMINATE TO BE A PART OF THE QURA MANAGEMENT COMMITTEE
Fill out the Management Committee Nomination form (Click here) and email to Peter Morton
*****************************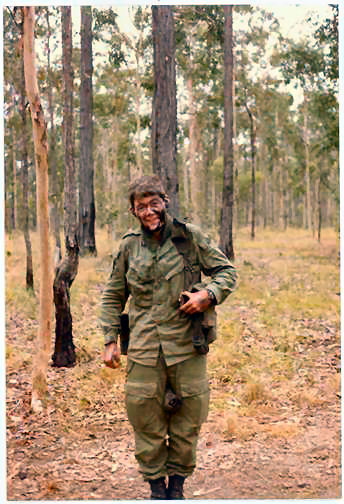 Treasurer Andrew Luttrell preparing for the QURA Annual Financial Audit
*****************************
PRESENTATION OF COLOURS - JULY 1978
Part of the speech given by Sir Zelman Cowan at the Presentation of new Colours.
When her Majesty The Queen presented new Colours to the Royal Military College in 1970, she said:

"In handing you these colours I charge you to remember what they stand for; to guard them well, to honour them through your conduct and example, and to pass them on untarnished to your successors."
In presenting these colours to the Queensland University Regiment, may I respectfully adopt those words.

His Excellency addresses the parade after presenting the New Colours.

(Right to Left)
Lt Peter Jones, His Excellency, Honorary Colonel Brigadier Tom Parslow, Governor General's Aide, Major Dennis Luttrell
The reply to the address given by the Governor General Sir Zelman Cowan, presented by LTCOL Merv Littmann.
Your Excellency,

We, the men and women of the Queensland University Regiment, are honoured today by your presence and participation in what is for us, an occasion of significance and history.
You have honoured us in the past, with your interest. That association with us today matures and becomes forever inscribed in out history.
As Your Excellency has indicated, the Queensland University Regiment has varied in numbers in recent years. Yet there has been, and is a regimental spirit, steady and strong, in former, as well as present members, which has sustained us on more than one occasion, in times of need.
The Colours we received today, are received with pride; with pride they will be bourne. In the words of Her Majesty to which you referred, we will always strive to honour them through our conduct and example, and to pass them on, un- tarnished, to our successors.
The Commanding Officer LTCOL M. Littmann leads the Regiment in a service of dedication in which all the members reaffirm their allegiance to their Queen and Country.
Major Dennis Luttrell (Left) and Major John Byrne (Right). Number 3 guard in the background.
A letter from General Sir Arthur MacDonald KBE ,CB following the Colours Parade to the Honorary Colonel, Brigadier Tom Parslow.
"I thought the presentation of the Colours yesterday was extremely well done under difficult circumstances.
It is always a rather complex ceremonial and that, added to the fact that it was done on a grass surface – and a wet one by the end of the parade – must have made it more difficult than ever.
The Commanding Officers and the other members of the Regiment should be proud of their effort."


Inside Emmanuel Chapel for the laying up of the old Colours.

The colour party (Left to Right) LT Harry Gauvin, 2LT Graham Raymond.

Seated in the foreground are Brigadier Tom Parslow (Honorary Colonel) and LTCOL Harry Standfast previous CO of the unit. On other side is the CO LTCOL Merv Littmann and behind him Brigadier John Springhall.

From the Unit Newsletter "Colours" edition July 1978

Questions not to ask:

- of the OC "Why no bush exercise this camp, Sir"
- of the ex 2IC " What's posting turbulence, Sir?"
- of the CSM " What happened on the January Trooping the Colour, that your medals are now riveted to your shirt, Sir?"
- of the SI "What's a package, Sir"
- of the Pl Sgt " What are Hooks Belt Brass, Sergeant?"
- of the CQMS "Where do I get some Hooks Belt Brass, Sergeant?"
- of AnyOne "How many paces in the Advance in Review Order?"
(A hint for 9th July, if you take the wrong number of paces, take preventative action: drop dead before the Guard Commander gets to you!)

From the guard book regarding the preparation for the colours parade July 1978:-
University Goal Posts
When it was decided that these needed to be removed and approval was received from the University, a crane was produced from 2 Div Engr Spt Sqn to lift them out, concrete and all and placed near and to the river side of the grandstand. This became a simple job easily executed.
Their replacement however created a few extra problems. The day arrived for the task arrived, so did the crane but the oval was too wet to do the job. Four days later, Lt Peter Jones (Chemical Engineer Extraordinaire), a small work party, some rope, star pickets, a mini mix concrete truck, a level and a keen eye had the posts replaced.
Officer Sword Drill
For the two Sunday mornings prior to camp, officers to be on the parade attended some sword drill at the Depot to remove the cob-webs. The afternoons were spent with paint brushes, etc, at the ready, finishing the improvements to the mess.
Items the unit had to produce:
There were a number of things needed to assist in the parade which the unit could not obtain from other sources. The talents of a number of people were exercised.
Presentation stools were made by Captain Trevor Luttrell in his home workshop. (These stools were presented one each to the Officers and Sergeants Messes after the parade.)
Barrier posts, traffic and information signs were produced and painted by LT Peter Morton in his anxious moments awaiting the birth of his first daughter.
Rope for the barrier posts was acquired by WO2 Spike Jones and dyed blue to match the dais canopy by his storeman LCPL Bob Kyte.
Mrs Coleman, the RSM's wife sewed up small flags for the parade ground markers while a group of soldiers were armed with paint brushes virtually with the order "if it doesn't move, paint it white". In this way the dais, the unit flag pole were each included in the face lift.
Items of General Interest

A teaset from the Parliament House dining room was borrowed for the afternoon tea to the official guests. A truck load of green plants were made available by the City Council to decorate the Depot Hall.

The transport officer had great difficulty obtaining enough stars for the star plates for all the official vehicles for the Colours Parade.

The new Regimental Colour at the 1978 Colours parade was carried by Lieutenant Chris Manktelow. Lieutenant Peter Jones carried the Queens Colour.

The door attendants at the 1978 Colours parade were Sgt Costello, Sgt Miles, LCpl Jones, Pte Kilworth.

Chaplain General Hulme- Moir consecrated the new Colours .

The old Queens and Regimental Colours were laid up at Emanuel College Chapel, St Lucia on the last Sunday of the July Annual Camp in 1978. The lessons read were by the CO and LCPL MacCallum ( a theological student in the unit).

A Regimental Ball was held on 18 July 1978 at the University Refectory. It was an excellent evening, brilliant band and good food.

QUR Order of the Day 12 July 1978 Issue Number 13 RO Number 43.
All members of QUR are to be congratulated on their standard of drill on the presentation of the Colours Parade, on 9 Jul 1978.

The Regiment can be proud of its achievement. The parade was, by all accounts, a moving and spectacular ceremony and I have received nothing but congratulatory comments from all visitors, including Senior Service Officers.

By your efforts, you have made this historical Parade a day that will be remembered with pride, by us all.

Congratulations!

M.D. Littmann
Lieutenant Colonel
Commanding Officer.
*****************************
Correspondence from Members
Received from Rod Hardaker:-
To: Peter Morton
Subject: RE: TONY ENGLISH

Dear Peter,
Did you see that Tony English got an AM(civil) in the Queen's Birthday Honours? See Courier Mail of 12 June, page 23.
He joined QUR in 1962, graduated to RAA and retired from the ARES as a Colonel (I think).
Rod
==================================================================
Received the following email from BJ Price following a donation from QURA re Cyclone Larry

To:- peteramorton@bc.wbs.net.au.au

Subject:- QURA
Hello Peter,

Yes you most certainly can make mention of the donation in the Newsletter in whatever way you deem appropriate. I hope Trevor Luttrell received the short note of thanks I mailed last week, in it I endeavoured to make mention of the emotional impact the donation and his letter made.
Peter, it is strangely wonderful when you are unexpectedly down on your luck through an act of God, to be the recipient of such unexpected unmitigated generosity. Descartes once opined that it is only through malaise that we know how good it feels to be well. Such an epiphany we have experienced emotionally thanks to QURA and other good folk who have rallied to our defence.
That letter and its contents provoked an intense feeling of gratitude and humility, mixed with embarrassment and love of your fellow man, if that makes any sense.
You see diasters of whatever nature, bring out the best and the worst in humankind and I think the entire population who've survived this tragedy have seen both sides. We certainly have; the light and the dark, the good and the bad and the ugly (that's me in the attached pic!).
Such sights, sounds and actions we cannot and indeed should never forget.
Now at last, with the weather turning fine and with some four months of hard labour behind us, we can plainly see our efforts and the progress we have made. There are still many months of hard work ahead of us but I believe we have crossed that psychological divide and can now look forward to forging ahead and getting on with life. Thanks to the support of our dear friends we will win through and carry on.

God bless you cobbers.
BJ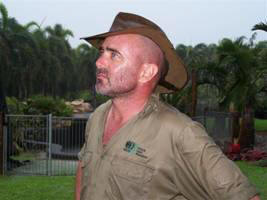 PS I attached a couple of pics. One: of me the day after the Cyclone, you can see our Foxtail Palms in the background still appear green and not too badly affected by the big blow.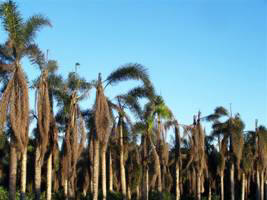 And the second: our Foxtail Palms now after four months, most have unfortunately succumbed to the ravages of that fateful day in March. Such is life.

I tell you Peter one day in the not too distant future when this bloody Cyclone is but a fading memory, I shall make it down to one of the Regi dos and it shall be my honour to buy the first round...or three.
BJ



==================================================================
Received the following email from Dave Sallows

To:- peteramorton@bc.wbs.net.au.au

Subject:- From the Quarries, etc
Dear Peter,


Just had a few moments to read the newsletter - click here it said!

Took ages and I enjoyed reading all the bits and pieces. Might add a couple of anecdotes in due course - ie, after the persons concerned have attended their last and final parade!!
Saw the photo of Brian Smith which is most topical - being an old Foreign Legionnaire, he has been a tower of strength in helping us Nashos (Aged, that is!) from the Redlands Branch in organising a trip to Noumea to march in their Bastille Day celebrations. Should be a great occasion, and we look like scoring an invitation to the official reception afterwards. Will be 14 of us in the march, cheered on by our respective tax deductibles.
All this really came to fruition when, during the last Back to the Regiment evening ,when after a quantity of tubes, we got to talking about some difficulties and delays we were experiencing (not on their side either!) and these were swept away by some quick and decisive communications. Great stuff! Just as well I served with him!

Might send you some pikkies in due course.

Cheers and all that stuff

Dave
*****************************
COLLAGE OF PHOTOS 1977 - 1979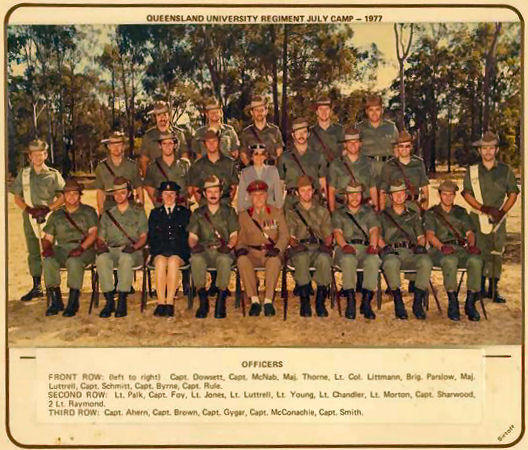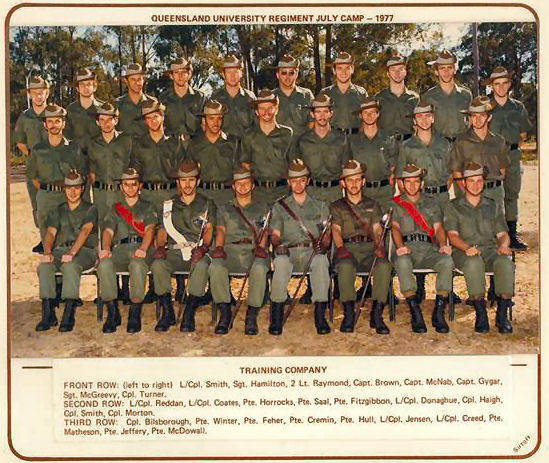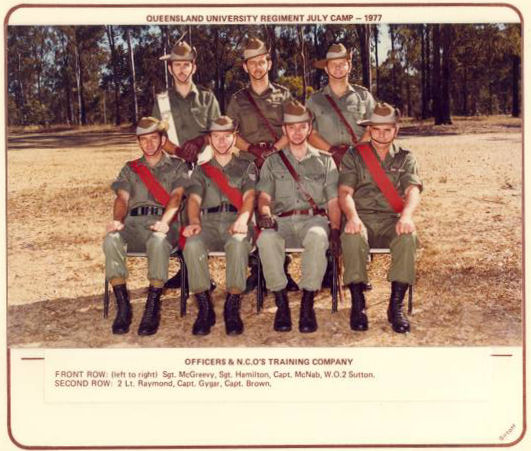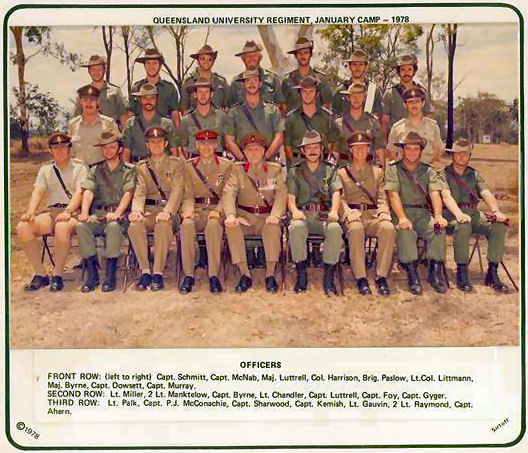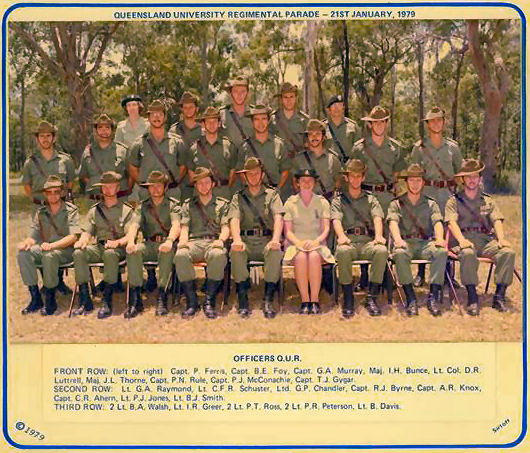 Do you have any old photos from QUR?
If so, please forward to Trevor Luttrell so they can be scanned for inclusion in our compilation of QUR's History.
*****************************
War Quotes
Kusunoki Masashige 1294 – 1336
The outcome of a battle depends not on numbers, but upon the united hearts of those who fight.

Desiderius Erasmus 1467 – 1536
The most disadvantageous peace is better than the most just war.

Francesco Guicciardini 1483-1540
It is fighting against a great disadvantage to fight against those who have nothing to lose.

William Cecil, Lord Burghley 1520 – 1598
Soldiers in peace are like chimneys in summer.

Oliver Cromwell 1599-1658
A man of war is the best ambassador

Marshal Turenne, Henri de la Tour d'Auvergne 1611-1675
Speak to me of a general who has made no mistakes in war, and you speak of one who has seldom made war.

William Penn 1644-1718
No man is fit to command another that cannot command himself.

William III of England 1650-1702
Every bullet has its billet.

John Churchill, Duke of Marlborough 1650-1922
No man can fight unless he is properly fed on beer and beef.

Richard Steele 1672 – 1729
There is no weapon too short for a brave man.

Frederick the Great (Frederick II of Prussia) 1712-1786
Diplomacy without arms is like music without instruments.

Jacques Antoine Hyppolite, Comte de Guibert 1743- 1790
What I want to avoid is that my supplies should command me.

Napoleon Bonaparte (Napoleon I) 1769-1821
War is made possible by biscuits.

Arthur Wellesley, Duke of Wellington 1769 – 1852
A great country cannot wage a little war.

Grand Duke Constantine of Russia (Konstantin Pavlovich) 1779 – 1831
I detest war. It ruins armies.

Antoine Henri de Jomini 1779 -1869
A general should be capable of making all the resources of the invaded country contribute to the success of his enterprise.

Karl von Clausewitz 1780 – 1831
According to our classification ……. Tactics is the theory of the use of military forces in combat. Strategy is the theory
of the use of combats for the object of war.

Helmuth von Moltke (the Elder) 1800-1891
You will usually find that the enemy has three courses open to him, and of those he will adopt the fourth.

Helmuth von Moltke (the Elder) 1800-1891
An order that can be misunderstood will be misunderstood

Helmuth von Moltke (the Elder) 1800-1891
Order, counter order, disorder

Ralph Waldo Emerson 1803 – 1882
The god of victory is said to be one handed, but peace gives victory to both sides.

Abraham Lincoln 1809-1865
The ballot is stronger than the bullet.

Otto von Bismark 1815-1898
Pointed bullets are better than pointed speeches.

William Tecumseh Sherman 1820-1891
I would define true courage to be a perfect sensibility of the measure of danger, and a mental willingness to incur it.

Henry James Sumner Maine 1822 – 1888
War appears to be as old as mankind, but peace is a modern invention.

Oscar Wilde 1854-1900
As long as war is regarded as wicked it will always have a fascination. When it is looked upon as vulgar, it will cease to be popular.

Herbert George Wells 1866-1946
The professional military mind is by necessity an inferior and unimaginative mind; no man of high intellectual quality would willingly imprison his gifts in such a calling.

Charles Edward Montague 1867 -1928
The number of medals on an officer's breast is in inverse proportion to the square of the distance of his duties from the front line.

Calvin Coolidge 1872 -1933
The nation which forgets its defenders will itself be forgotten.

Bertrand Russell 1872 -1970
Patriots always talk about dying for their country, and never about killing for their country.

Gilbert Keith Chesterton 1874-1936
It's not the world that's got so much worse, but the news coverage that's got so much better.

Winston Leonard Spencer Churchill 1874-1965
Nothing is more exhilarating than to be shot at without result.

Carl Sandburg 1878 -1964
Sometime they'll give a war and nobody will come.

Joseph Vissarionovich Stalin 1879 – 1953
A single death is a tragedy. A million deaths are a statistic.

Douglas MacArthur 1880 – 1964
In no other profession are the penalties for employing untrained personnel so appalling and so irrevocable as in the military.

Charles Andre Joseph Marie de Gaulle 1890 -1970
The graveyards are full of indispensable men.

William Joseph, Viscount Slim 1891 -1970
Long ago I had learned that in conversation with an irate senior, a junior should confine himself to three remarks,
"Yes Sir", "No Sir", and "Sorry Sir".
Repeated in the proper sequence, they will get him through the most difficult interview with the minimum discomfort.

Jean Rostand b 1894
Kill one man and you are a murderer. Kill millions and you are a conqueror. Kill everybody and you are God.

(Maurice) Harold MacMillan 1894 – 1986
Jaw-jaw is better than war-war.

Basil Henry Liddell Hart 1895 -1970
The only thing harder than getting a new idea into the military mind is to get an old one out.

Bertolt Brecht 1898 -1956
Don't tell me peace has broken out.

George Orwell (Eric Blair) 1903-1950
The quickest way of ending a war is to lose it.

Charles Wheller Thayer b. 1910
Guerillas never win wars but their adversaries often lose them.

Willaim H (Bill) Maudlin b. 1921
Look at an infantryman's eyes and you can tell how much war he has seen.

Bennett Cerf 1950
The atomic age is here to stay – but are we?

Alfred Einstein (on nuclear power)
If I had only known I would have become a watchmaker.

Robert McNamara 1964 (On nuclear weapons)
We have the power to knock any society out of the 20th century.

*****************************
MEMBERSHIP DUES PAYMENT REMINDER
If you pay your membership fees on a year by year basis payment is
now due for 2006.
For those members with internet access, please check the members page to ensure that your membership is current.
PLEASE TAKE THE TIME TO PERUSE THE MEMBERS PAGE AND CHECK THE ENTRIES WITH AN ADDRESS FLAG OF `N`. WE HAVE LOST CONTACT WITH THESE MEMBERS AND REQUIRE EITHER AN EMAIL ADDRESS OR POSTAL ADDRESS TO RE-ESTABLISH CONTACT
For those members receiving this newsletter by post, a code showing your membership status is printed on the address label..
The codes are:
SMEMB - Special Member (no fees)

LMEMB - Life Member (no fees)

PUOM - Paid Up Ordinary member (no fees but can transfer to 10 year membership for $50)

NEW - New member (no membership fees received as yet)

2005 – 201? membership fees paid to year indicated

199? - 2004 membership fees due for 2005
Annual dues are $10 and a 10 year paid-up membership can be had for $70.
Postage of newsletter $2.50 per year
Cheques should be forwarded to:
The Treasurer

QUR Association

24 Walcott Street,

St Lucia 4067
For those members with internet banking, payments may be made direct to the QURA Bank Account.
Details are BSB 064 129, Account 0090 4500, Account Name QUR Association Inc
Please ensure your name is supplied in the payment details.
*****************************
<![if !vml]>

<![endif]>
EMAIL ADDRESSES
The Executive Committee encourages all members to provide a current email address to allow quick and easy communication of important notifications and reminders of upcoming events.
If you know of any ex-members of QUR who are not in the association, please contact the Membership Registrar (Peter Morton)
with any contact details that you have.
THE ASSOCIATION WILL ONLY CONTINUE TO EXIST BY RECRUITING NEW MEMBERS
For members wishing to provide a new email address, please send an email to Peter Morton to ensure your address is received and entered onto our contact list.
*****************************
<![if !vml]>
<![endif]>
HISTORY OF QUR
Have you considered purchasing a copy of the History of QUR magnificently complied and edited by Paul Smith?
It contains 128 pages of stories, photographs and has a coloured badged cover.
COST : $15 per copy.
What about a CD containing over 100 images of the history of the Regiment.
COST : $10 per copy.
Why not treat yourself to a copy or buy copies for your friends. These are collectors items so don't miss out.
How to purchase copies:
Ring Trevor Luttrell
0437 442 964

Email

trevor.luttrell@qed.qld.gov.au


Send your payment to:

The Treasurer, QUR Association, 24 Walcott Street, St Lucia Q 4067.

For those members with internet banking, payments may be made direct to the QURA Bank Account.

Details are BSB 064 129, Account 0090 4500, Account Name QUR Association Inc

Please ensure your name is supplied in the payment details.

*****************************
Association Office Bearers