QUEENSLAND UNIVERSITY REGIMENT

ASSOCIATION Inc

NEWSLETTER
| | |
| --- | --- |
| Volume 18 Number 1 | March 2006 |

This is the first newsletter for the new year 2006. Unlike past years we decided to publish the newsletter after the Back to the Regiment function.

Since the last newsletter, QURA have been busy. The 2005 Christmas celebration function was again successful. We had some newer members arrive and it was encouraging to see our numbers growing.

A couple of weeks ago QURA representatives attended the Officer Cadet Graduation Cocktail Party at the Regiment. The Association presented prizes to the officer cadet who was judged to be the best performed in the entire period in QUR and to the most improved cadet. In past years, the Association has presented book prizes but this year specially made plaques that included a gold braided QUR badge were presented (see photo included with the CO's report). QURA congratulated all the cadets in holding up the traditions of the past by performing very well at Duntroon. Details of the recipients are listed in the CO's report in this newsletter.

On 17 March the unit again hosted a Back to the Regiment function. This function is open to all ex QUR members to return to the Regiment to meet old mates and to hear from current members. It was indeed great to have one of the original soldiers from the 1950s (Jim See) attend…. and he was able to catch up with some old colleagues from that era. In fact he is the grandfather of a current officer cadet. We were able to find an old photo of Jim and this is shown in this newsletter. Again we saw some familiar faces but also welcomed some new faces from the past. I would like to express my thanks to the Commanding Officer and the staff of the Regiment for their continued support in hosting another very successful evening.

QURA continues to gather items of historical importance and we look forward to promises from two more members to write of their memories of QUR. These memoirs will be published later in the year. In order to raise money to continue the preservation of historical items, the executive are working hard to sell QUR memorabilia. New to the stable of items are badged stubby holders and a grey version of the QURA tie. The stubby holders are maroon with grey printing and feature the Unit badge. All members who attended the Back to the regiment were convinced that they should purchase a stubby holder….. and they did. At only $5 each these are extremely good value. A picture of the new stubby holder can be seen in the memorabilia items on the For Sale page. Sales are brisk and it would indeed be pity if you missed out on your chance to purchase one. Just send $5 to QURA with $2 for postage or they will be available on Anzac Day. Why not take the opportunity to purchase a new tie. The most important thing to remember is that all the profit goes towards our work preserving the history of the Regiment.

Again I remind all that we welcome anyone writing of their time in QUR. It does not have to be long. It does not have to be typed. All we want is for as many members as possible to write of their experiences. We also welcome getting access to old photos so we can scan them for future use. Any photos supplied to the Association will be returned to the member or we can safely preserve them as part of the Unit history.

Recently we wrote to all members encouraging them to continue their membership with the Association. It is vital that we continue to build on the membership. Although these fees are very low, they allow us to continue our work in support of the Regiment.

Since our last newsletter the Regiment was given some glass front display cabinets by the University. The Commanding Officer has already arranged for display items to be shown and they look magnificent. It is well worth a visit to see the display. We would again encourage you to support the Association to acquire more cabinets. You might even consider a donation, no matter how small.

The Association continues to encourage members to communicate by email as this is the fastest and the less expensive option. When paying for purchases, attendance at functions and for membership fees, the executive encourages members to use `Direct Debiting` to our account to save in administration efforts.
QURA bank dtails are BSB 064 129, Account 0090 4500, Account Name QUR Association Inc Please ensure your name is supplied in the payment details.
All members are invited to the Regiment for the usual Anzac Day activities. See other parts of this newsletter for details.

In the future we intend to keep adding to the website with historical items and memoirs of ex members. We won't just be waiting for a newsletter to be published. So keep visiting the website. Remember if all QURA members sat down and wrote of their time at QUR this forms a very good source of history. No matter how small or insignificant it may appear to be, each contribution adds to the collection.

I look forward to seeing you all on Anzac Day.

Trevor Luttrell
*****************************
CO's Report
Although this is the first newsletter for the year, so much has already happened for QUR, and this isn't even our busy time which will be mid year. For the first time in a long stretch, we weren't required to run January/February courses this year.
The Royal Military College Formation has labelled particular University Regiments as "experts" on specific training modules in the suite of courses, and our time will come in June/July.
Instead our staff have been travelling around the Nation contributing their expertise to courses delivered at other University Regiments.

We have also seen the graduating class of Staff Cadets, our newest Lieutenants, successfully complete a gruelling 6 weeks at Royal Military College Duntroon. We had 15 graduates this year; four from North Queensland Company, and eleven from St Lucia. We were amongst the National prizes again, with Lieutenant Peter Tutin being awarded the Peter Stuckey Mitchell Travelling Award for achieving outstanding outcomes on all of his assessments. He was the second highest scorer this year, and there certainly was only a hair between the decision to award Peter the Sword of Honour or the candidate from SUR, Lieutenant Downes who actually snagged the prize. So close was the decision, I understand Downes' book prizes had been inscribed with Tuton's name! Our own Lieutenant Hall won a trip to Singapore for his exemplary performance in the course.

At our graduating class cocktail function, presentations were made to Lieutenant Hawker for his most outstanding performance during modules and continuation training conducted in the lead up to the final six weeks. Lieutenant Musumeci was awarded the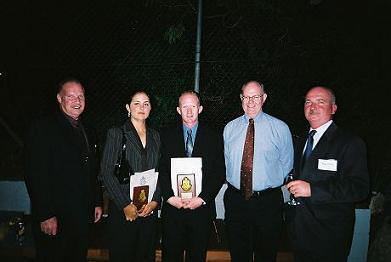 Most Improved prize. Thanks are very much due to QUR Association for providing such wonderful recognition to the deserving individuals. Of course, all our graduates have done extremely well and have achieved their aim of commissioned rank. Behind them we have some very envious Staff Cadets who will get their turn in the near future. Across the Regiment we now have around 60 Staff cadets at various stages of their training. Each month, we start another five or six following Selection Boards.
From left: Maj Greg Adams (OC JACKA Coy), Lt Tegan Musemci, Lt Matthew Hawker, Mr Hawker, Maj Ron Cox (2IC QUR)
When you visit the Unit hopefully you'll notice improvements in the facilities. This has been an ongoing effort, and the latest working bee resulted in a dramatic transformation of the Officers' Mess.

We look forward to seeing you again at the ANZAC day celebrations.

Nan Bahr
Lieutenant Colonel
Commanding Officer
Queensland University Regiment
*****************************
HISTORY
We intend continuing the collection of any pieces of history. We encourage members to take the time to write of their time in the Regiment. Either send it in hard copy of email it to any Executive member.
Don't worry about the formatting – just produce the words. We will format it for the history collection. Some pieces of history already received appear in this newsletter. These are presented in the same colours as this item.
*****************************
FUNCTIONS IN 2006
Back to the Regiment 17 March 2006

Anzac Day 25 April 2006

Regimental Dinner 6 May 2006 (By Invitation from QUR)

AGM 15 September 2006 - (To be confirmed)

Christmas Function 1 December 2006 (To be confirmed)
*****************************
Queensland University Regiment Days (by Mike Knowles)
It is a pleasure to have the opportunity to write about the four years I spent as a member of the Queensland University Regiment (QUR) which followed three year's service with 25 Battalion (the Darling Downs Regiment) and preceded three years as a member of 2 Commando Company. Perhaps my core attitudes to the army were initially shaped to a large degree by Colonel Dodd (later Brigadier) who was the Commanding Officer of the 25th Battalion when I joined it as a student at Gatton College where in was 'in' to do so. Colonel Dodd had a magnetic personality through which he cast the same charismatic influence over his soldiers as I understand General Monash did in all of his commands, and Dodd's inspiration played an important part in enthusing me not only to take to the activities of the battalion but also to work my way up in the ranks so that when I transferred to QUR I did so as a Sergeant.

At this stage I was still 'one of the boys' and as such very much appreciated the opportunity to make a new set of friends. Building upon my previous experience, and in addition to this ready-made mateship, there were two things that I liked most in this early phase of my membership of QUR. One was learning how to handle all kinds of weapons in general and marksmanship in particular, aided and abetted by the excellent training we were given by the Regular Army instructors posted to the Regiment. The other intrinsically rewarding aspect was the field work that we engaged in during exercises in which a premium was placed upon learning to understand forest, bush and open ground so that one worked hand in glove with it in a military sense. Especially, I reveled in the jungle training course run at the Canungra Jungle Training Centre.

In the University environment it was natural to sit for the examinations required for promotion to Lieutenant, and this opened the door to an entirely new world. Again, this had two sides to it. The first is relevant to one of General Monash's celebrated statements in which he said that, over all his military career, the three posts that meant most to him were platoon commander, battalion commander, and commander of the army. In keeping with this astute observation I could barely believe the satisfaction I got out of being promoted to be in charge of a platoon for this brought into play factors of which I was not previously aware. What I relished most was the gradual development of the platoon from virtually a collection of individuals, through a phase of increasing cohesion, to a unit which seemed to function with all the attributes of a close team. This had a spillover effect which affected a range of situations.
Three examples stand out. The first involved the drills practiced on the Parade Ground so that over time the soldiers not only became more precise and increasingly well coordinated in their movements individually but also the platoon itself became more and more coordinated until it virtually became an entity in its own right, moving as one. This was a delight to see and hear. The second was the acquisition of skills at the platoon level in the use of camouflage and bivouacking, assuming the landscape as it were in order to patrol it, defend it from a possible attack, or attack it as a military objective. The third was the increasing confidence and self-efficacy of the men as their knowledge and skills developed in all directions, the growth at the platoon level of esprit de corps among the men, and the way the sense of identity of the platoon increased in strength and self-awareness.

The second side of life as an Officer came by virtue of the Officers' Mess which was a clever invention by the Army, Navy and Air Force in order to provide an avenue of relaxation at the end of a busy day as well as serve as a principal means of fostering the growth of camaraderie outside the context of work. It was here also that one became imbued with many of the army's values and traditions as one increasingly acquired knowledge and appreciation of and affinity with its culture. It was through a formal Mess dinner that, as Junior Subaltern of the Evening with the task of saying Grace, I had the privilege of sitting next to Major General MacArthur-Onslo. Somehow like Colonel Dodd he had an engaging presence which, as can be seen, I have valued to this day.

In reflecting upon these full and fulfilling years a couple of incidents come inevitably to mind. One was the day at the rifle range involving a competition between the Officers and the Other-ranks. The latter won handsomely, and in fact none of Officers shot well. We were invited to the Sergeant's Mess afterwards where I must have looked somewhat like the horse that walked into the bar when the barman said – why the long face? When I explained to this friend of mine who asked the question that I had one of my worst days ever, he replied that I had not shot badly at all, and indeed had shot quite well. No, I said, I didn't get a single bull all day. Come on, he said, you have forgotten earlier times, remember who marks the targets. Of course, it was the Other-ranks!!

My other merry memories are associated with those occasions in the Officers mess when we drank well into the night. Having said this, while at these times many of us had a lot to drink, I cannot recall a single occasion when anyone had too much to drink. Again it was a learning exercise and part of the culture in which it was considered to be critical that one held one's liquor and self-control was never lost. Also, perhaps I should not say it but I cannot help it, these were the occasions, too, when renditions of Eskimo Nell were called for.

Lastly, and in conclusion, I should like to pay tribute to the many friends I made at QUR and to express the respect I had for the Regular Army personnel who were members of the Regiment at the time. The one Army Reserve Officer to whom I owe a lot was Major (now Brigadier) Harrison. What I learnt from these people in particular stood me in good stead when I moved south to Melbourne and joined 2 Commando Company before transferring to Edinburgh University to take up my first academic appointment there. Furthermore, the facets of military life which fascinated me most, such a motivation, teamwork, leadership and the abiding influence of culture, were the very things that became the issues in my subsequent professional life which I researched in the context of business and industry and applied in teaching MBA students, firstly at Edinburgh University, then at Monash University including two periods of study leave, one at the Sloan School of Management at the
Massachusetts Institute of Technology and the other at the Wharton School of the University of Pennsylvania. In other words my QUR experience played a fundamental role in shaping the course and content of the rest of my professional life.

*****************************
FALLEN COMRADE - Peter Rayner
The Association has received news of the untimely passing of former QUR member, Peter Rayner. Peter was a member of QUR during the late sixties and early seventies and will be fondly remembered for his exuberant personality. The sad news was conveyed by another old timer of QUR, Ian Greer. Ian was kind enough to pass on some of Peter's details since leaving QUR.

Born Toowoomba, 10 May 1956 Passed Away Melbourne, 25 February 2006
Beloved Son of Rosemary and Ivan, Brother of Dignan and Nigel.

Previously Husband to Melanie and Father of Claire and Morgan.
Recently Husband of Jennifer and Father of Edward.

Peter completed an MBA and moved to Melbourne in the late 1980's to work for Carlton United. He then moved to Coopers and Lybrand and eventually became a partner in Corporate Advisory. C&L merged to become PWC. Peter subsequently left to form a dotcom which unfortunately failed. He, together with some former colleagues, then formed Benson Partners which is ranked in the top 100 accounting firms in Australia. He was managing partner.

Peter separated from Melanie about 9 years ago and later married Jenny who he met at work. Claire is studying at University and Morgan is in her last years at high school. Ted is about 3 years old.

Peter was diagnosed with cancer mid 2005 and worked right up until the end. He attended a firm conference on the Friday the day before he passed away. I was lucky enough to see him a few times recently and he was in good spirits considering.
The following notice was published by Benson and Partners:-
Dear Friends,

It is with great sadness that we say farewell.

After a short but courageous battle with cancer, Peter Rayner passed
away peacefully on Saturday 25 February. Our heartfelt condolences go
out to his family and he is very much in our thoughts and prayers.

Peter was the founder of Benson Partners and in particular our Corporate
Advisory practice. His contribution to the development of the Corporate
Advisory practices of Coopers & Lybrand and PwC in Australia have been
nationally acknowledged by both his peers and the industry in general.
Peter made a huge contribution to Benson Partners, both with his people
skills and expertise, and was a valued member of the ICAA.

He was respected by his clients, staff, colleagues and all those who
came in contact with him.

In lieu of flowers, donations may be made to the Peter Rayner Memorial
Fund by contacting The Cancer Council.

The Partners
Benson Partners
*****************************
Letter from Major General Secombe ,
GOC Northern Command, 18 August 1953.

CO QUR

Would you please give the following message from me to all members of the QUR who provided the Guard of Honour for his Excellency, the Governor general, Field Marshall Sir William Slim, GCB, GCMG, DSO, MC at the City Hall on 17 August 1953.

"I wish to congratulate all members forming the Guard of Honour at the City Hall on 17 August 1953. The turn out was excellent and the steadiness on Parade and handling of arms of a very high order."

The Governor General mentioned to me that the Guard contained a very high proportion of potential officer and NCO material. In this I entirely agree with him and hope to see a very large proportion of this guard as NCO's and officers in the future. The achievement of this aim rests with each one of you.

*****************************
`Back to the Regiment` function 17 March
( Following collage of pictures taken by phantom photographer Trevor Luttrell )


Chris Goodhew (left) and Paul Carr caught test driving the new QURA Stubby Holders
Peter Sharwood (left) catching up with Greg Adams - longtime member of QUR (now OC JACKA Coy) and executive member of QURA
Dave Sallows (1955 to 1966) reminiscing with original member of QUR Jim See (on right). Jim attended the `BTR` along with his grandson, SCDT Swindells, who is currently in QUR
A much younger Jim See (when Sergeant of No 1 Platoon)
Brad Shillig (middle) catching up with new QURA members Peter Wall (left) and Peter Jensen
Barbara Handley giving advice to newly weds Trish and David Ross
Brian Smith and Sam Harrison in a somewhat over exposed position at the Bar

Col Ahern??looks remarkably like Mal `Trying` to keep Col Ahern's attendance record at `BTR` functions intact

Rod Hardaker caught wondering where the meal line starts
Peter Williams always has something to laugh about (probably Chris Goodhew!)
Donna-Lee Greaves and Alf Handley enjoying a chat
Melanie Bates-Smith looking delightful as usual
QURA executive members Paul Smith (left) and Garry Collins (where's the smile Garry?)
*****************************
Did you know?

At the presentation of the colours to the Queensland University Regiment on 19 July 1959
the following officers were present:

| | |
| --- | --- |
| Lieutenant Colonel T. Parslow (CO) | Major P. D. Connolly (2IC) |
| Major J.P Shanahan | Major R.I. Harrison |
| Captain N. Heather | Captain P.R. Gargett |
| Captain J.C. Murphy | Captain I. Mathers |
| Captain R.C. Neilsen | Captain P.I. Wornham |
| Captain J.B. Pozzi | Captain P.A.M. Pozzi. |
*****************************
Where are the Bren Carriers now?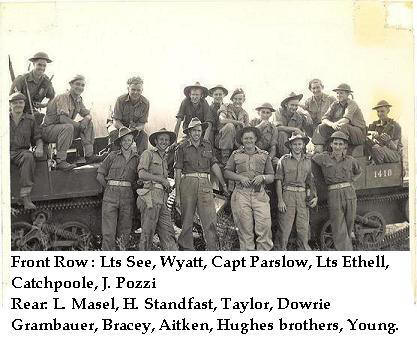 | | |
| --- | --- |
| A somewhat older Harry Standfast (right) with Sam Harrison at the `Back to the Regiment` function | |
*****************************
HISTORICAL DISPLAY CABINET APPEAL
The Association is committed to preserving the history of QUR and sees the acquisition of display cabinets as an important part of this commitment.
Your executive has been actively collecting items of historical value. Now let us display them.

You can help in three ways:
Donation of Money

Donation of any suitable display furniture

You may like to get your comrades to group together to purchase a cabinet.
All donors will be acknowledged by a sign/plaque placed inside in the cabinet.

QURA MEMBERS ARE HARDLY EVER ASKED TO HELP THE UNIT.
NOW IS YOUR CHANCE TO MAKE A REAL DIFFERENCE TO THE SAFE AND SECURE PRESERVATION OF HISTORY.
HELP US SHOW THE UNIT MEMBERS WHY WE ARE PROUD TO BE MEMBERS OF QURA.
OUR COLLECTIVE SUPPORT SHOULD BE ABLE TO PROVIDE THE CABINETS.

Please send all offers of money or assistance to:-

Trevor Luttrell
Mail : PO Box 1045 Sunnybank Hills Q 4109
Phone: 0437 442 964
EMAIL: trevor.luttrell@qed.qld.gov.au


*****************************
THE "GOLDEN YEARS" by Terry Gygar

At QUR reunions and dinners there always seems to be a disproportionate number of 'old soldiers' who served in the mid-1960's, but this should be no surprise because these were truly the "Golden Years" of the Regiment. These were simpler days before National Servicemen were called up for Viet Nam (late 1965) and before the Tet Offensive of 1968 turned the Press, and through them the public, against that war.

Over 200 recruits signed up for QUR in the Regiment's January 1965 intake. In those uncomplicated times UQ was the only University in Queensland. With no quotas in any Faculties except second year Medicine, Vet Science and Dentistry, a large number of new students came from the GPS Schools, all of which made service in their school Cadet Units compulsory. With no HECS or other student support schemes, tax free service in the Regiment was the natural choice for fit young men with a sense of adventure and the taste for Army life that was nurtured in those Cadet Units. Lots of fun, you get to blow up things and fire machine guns and get paid good money for doing it! It sure beat packing groceries at Woolworths and, if you were a Vet Science student, it made you very popular with the Dean, John Springhall who also happened to be the CO of the Regiment.

In January 1965 two Companies of Recruits were inducted into the Regiment. If you were a former Cadet Under Officer or Sergeant you joined A Company, and were also given the opportunity to attend the January camp at Tin Can Bay. The vast majority in B Company also had previous cadet service, so drill and weapons training for recruits was a fairly swift and easy task. A few former cadets who had turned up at the Regiment straight after their Senior exams were also given the opportunity to attend the December Courses at Greenbank to play the part of 'enemy' or act as GD's. So a few of us earned our Christmas spending money at Greenbank, the last group to be issued with Khaki uniforms.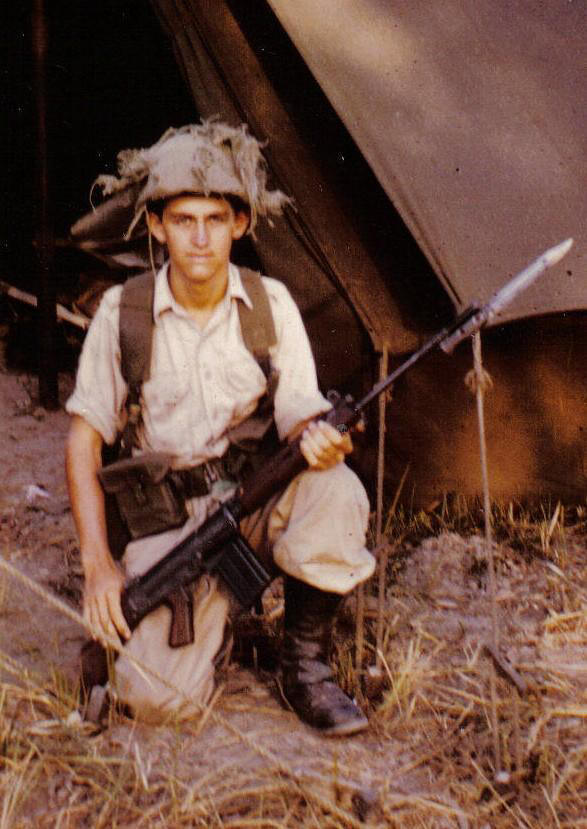 We were a safe source of obedient work parties – we knew how to march and drill, were overawed by the Staff, who were mainly crusty old WW II, Korea and Malaya infantry veterans and were thrilled to get our hands on the 'brand new' SLR's to replace the .303's that had been bruising our juvenile shoulders since we were 14 year olds. We weren't so thrilled to be wearing US pattern steel helmets though – they were just as heavy and just as useless then as they remained throughout their un-illustrious career.

The leadership in those days was superb, or so it seemed to us at the time. I think our judgment was sound though, as illustrated by the NCO's placed over us. The names of our Sergeants and Warrant Officers were later to feature prominently in the life of the Nation in both military and non-military fields. Names like Luttrell (a feared Warrant Officer!) Byrne, Dowsett, Fryberg etc and Sam Harrison was soon to take up the posting of CO.

It was also a time before Occupational Health and Safety restrictions hovered over everything we did. Travel to Tin Can Bay was in the back of long nosed WW II surplus 6 wheeled trucks, with an NCO positioned at the back to maintain order and the travellers spread over kit bags and webbing. These vehicles later came in handy to practice "helicopter de-planing drills" – a euphemism for leaping out of the back of a truck going at 30 mph. It took a few years before we saw a real Huey helicopter and realised that getting out of them bore no resemblance to this insane exercise in machismo. But we had a full strength medical platoon and they got excellent training as a result. I can still recall Sgt Vlas Efstathis instructing eager medical students in the finer points of stitch removal and giving them practice at removing one stitch each from the neat work he had done sewing up my left hand a few days previously.

Ernie Dunwoody was another of the legendary characters. Ernie roared into the Regiment every Sunday morning before parades on a war surplus Harley Davidson dispatch riders bike, still in the original green paint work, and was an enthusiastic employer of vast amounts of plastic explosives for "battle noise simulation". When Ernie wired up the "pre-planned DF's" outside the defence perimeter you knew what fire support was all about!

What young man could have asked for a better way to earn a few dollars? Digging down to OHP on the ridges of Tin Can Bay. Putting out double apron triple wire fenc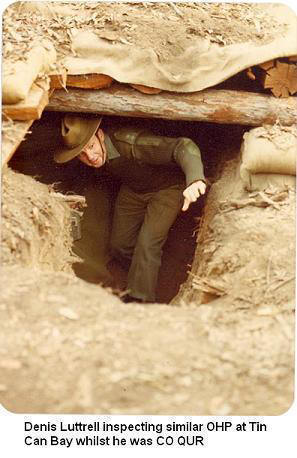 es in the small hours (and then pulling them down again in the summer heat). Exercising in Wiangaree State Forest and taking over 25% "no duff" casualties to the saturated triple canopy, spiked vines and stinging nettles. Some of us at least learned the valuable lesson that, unless you laid perfect perimeter and coms cords, you could end up sleeping within three feet of your hooch and never know it was there. We also experienced the joys of the "mobile bath platoon" because we smelt so bad after a week in the jungle that they just wrote off our work dress uniforms and issued us new ones before they would let us back on the trucks. The "drink a beer in every pub in Gympie's main street" challenge on leave night was also a "right of passage" for new recruits – from recollection only Cpl Rheinhardt Baer even came close.

As everyone was paid in cash on the last day, the post camp pay parade gave rise to a spectacle that distressed some of the local civilians. Army regulations required that this huge amount of money (the equivalent today of nearly $1 million) be collected from the Commonwealth Bank at Toowong by a three vehicle convoy accompanied by a section of SLR and F1 toting desperados led by Officers wearing .38 Smith & Wesson revolvers. After a few false alarms, we eventually arranged for the police to prominently park a marked patrol car on the foot path outside the Bank before we arrived and shake hands with the pay officer in full view of the observers before their imaginations ran riot.

The beginning of the end of these simple ways and happy days can, in retrospect, perhaps be traced to May 1966. By this time I had came into the Army on full time duty and was the Sergeant Chief Clerk of the Regiment. The ABC news announced the night before that Pte Ernie Noak had become the first national Serviceman to be killed in Viet Nam. When I drove into Walcott Street at 8.00am to open the depot gates there was a line of 5 cars waiting for us to arrive. These contained anxious parents who were bringing their 18 year old sons in to sign up in the CMF, where 6 years service was an alternative to National Service. Recruiting had also become more complicated. The QUR table in the Great Court during O Week, where we previously displayed weapons and uniforms, was now deemed to be provocative to student demonstrators and the Colours could no longer be paraded on Campus after one demonstrator grabbing at the Regimental Colour fell onto the butt of an SLR being held at the 'one guard' position by one of the Colour Guard.

So what can we learn from history ?

Firstly, there is no doubt in my mind that the greatest pool of recruits once came from School Cadet units. I can't help but think that if half the millions currently spent of ineffectual recruiting advertising was diverted into support for cadet units the "product" would sell itself and our recruiting would not be faced with selling an unknown product to an ignorant, and often misled, audience.

Secondly, The University Regiments once had a secondary role – "the military training of undergraduates". Many of our recruits did not want to become officers or their careers did not lend themselves to long term service. None the less they usually enjoyed their service and became life long supporters of the Reserve. We gained a large pool of influential long term sympathisers (names like DeJersey and Prentice spring to mind) and, from those who became teachers, we trained a pool of Cadet Officers to support those units in schools. Perhaps the existence of such a pool would assist in overcoming some of the problems currently faced by the Cadet movement. When Viet Nam (and subsequent conflicts) came, QUR also supplied a significant number of full time participants, many in highly trained and difficult to recruit specialties (Taske, Sharwood and Efstathis are but a few).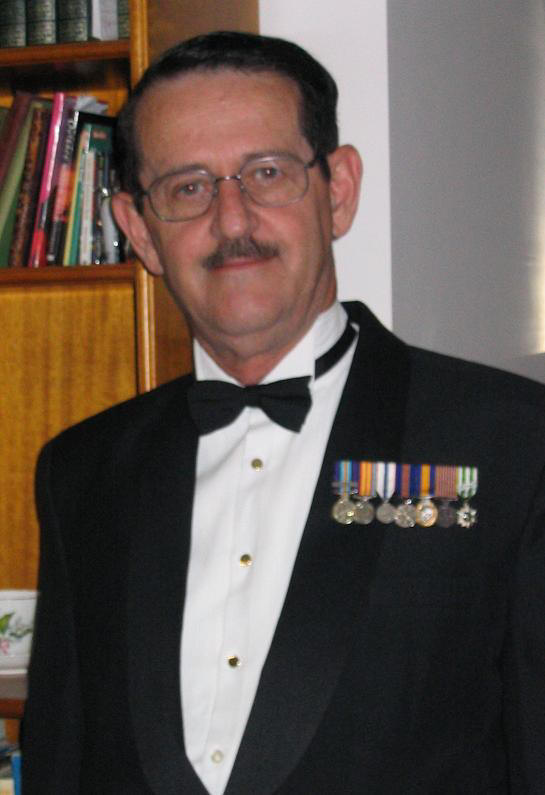 Armies take a generation to train, and it seems obvious that Australia lacks the resources and will to maintain a full strength Regular Army that can respond to every possible long term scenario. A highly professional Regular Army core with Officers drawn from the widest possible pool of quality candidates and supported by large and flexible Reserve and by leaders across the community is a national imperative. Perhaps our Reserve Officer training units should be recognised as being ideal vehicles to achieve some of the difficult prerequisites required – and these extend far beyond the mere training of the next generation of junior officers for the Active Reserve.


Terry Gygar
QUR 1963 – '67, 1973 –'86


*****************************
ANZAC Day 25 April 2006
Arrangements for participation by Association Members at the QUR ceremony will be the same as last year:
Venue: Toowong RSL monument in Memorial Park, Sylvan Road, Toowong & later at the Walcott Street Depot
Timings:
0600 QUR contingent forms up in assembly area
0615-0715 Service
0730 Gunfire Breakfast at Standfast Club
The Association Property Officer will be on hand at the St Lucia Depot to supply members with ties, pins, stubby holders and Unit histories. See you there!
*****************************
EXTRACTS FROM OLD GUARD MINUTE BOOKS
Quote from a platoon Commander over the radio from an 1967 exercise " Get off the net enemy, we haven't eaten for two days and you're stuffing the exercise"

Mentioned in Dispatches in the Camp Newsletter CONTACT 1967
John Pearn – Died of infected blisters
L/Cpl Patching – Died in pitched battle after killing more enemy than Audie Murphy.
Peter Morton – Suffocated when his pile of blankets fell on him

The Regiment Newspaper, from a camp at Wiangaree May 1968, Sam Harrison quoted as saying "When you get lost men, follow a river to the sea"

Did you know that when the colours were trooped 29 May 1960 one of the colour sergeants was Phillip Bushell-Guthrie.

A photocopy of a cheque exists addressed to LTCOL RI Harrison. Sam was sent $14.25 for meals and accommodation for attending a QUR TEWT. Had the Army paid what was asked for it would have cost around $2 for a traveling allowance. The caption to the cheque states "An example of Formation Bloody Mindedness"
*****************************
NEWSLETTER
Following a decision of the Executive, anyone requiring a printed copy of the newsletter will now have to contribute $2.50 per year towards the postage costs of the newsletter.
If you wish to receive this newsletter electronically, please email the Membership Registrar (Peter Morton ).
To continue to receive the newsletter by post, please forward your cheque to:-
The Treasurer
QURA Association Inc
24 Walcott St
St Lucia, 4067
For those members with internet banking, payments may be made direct to the QURA Bank Account.
Details are BSB 064 129, Account 0090 4500, Account Name QUR Association Inc
Please ensure your name is supplied in the payment details.
Please note that the posted newsletter is a condensed version of the edition that appears on the QURA website (www.qura.bigpondhosting.com). Due to size limitations, some articles and photos may be removed to enable the posted version to be sent at normal letter rates.
The QURA website to has the following contents:
Current and Past Newsletters

Original Constitution

Items of History for Sale (photos and history)

Photos
*****************************
If you pay your membership fees on a year by year basis payment is
now due for 2006.
For those members with internet access, please check the members page to ensure that your membership is current.
PLEASE TAKE THE TIME TO PERUSE THE MEMBERS PAGE AND CHECK THE ENTRIES WITH AN ADDRESS FLAG OF `N`. WE HAVE LOST CONTACT WITH THESE MEMBERS AND REQUIRE EITHER AN EMAIL ADDRESS OR POSTAL ADDRESS TO RE-ESTABLISH CONTACT
For those members receiving this newsletter by post, a code showing your membership status is printed on the address label..
The codes are:
SMEMB - Special Member (no fees)

LMEMB - Life Member (no fees)

PUOM - Paid Up Ordinary member (no fees but can transfer to 10 year membership for $50)

NEW - New member (no membership fees received as yet)

2005 – 201? membership fees paid to year indicated

199? - 2004 membership fees due for 2005
Annual dues are $10 and a 10 year paid-up membership can be had for $70.
Postage of newsletter $2.50 per year
Cheques should be forwarded to:
The Treasurer

QUR Association

24 Walcott Street,

St Lucia 4067
For those members with internet banking, payments may be made direct to the QURA Bank Account.
Details are BSB 064 129, Account 0090 4500, Account Name QUR Association Inc
Please ensure your name is supplied in the payment details.
*****************************
<![if !vml]>

<![endif]>
EMAIL ADDRESSES
The Executive Committee encourages all members to provide an email address to allow quick and easy communication of important notifications and reminders of upcoming events.
If you know of any ex-members of QUR who are not in the association, please contact the Membership Registrar (Peter Morton) with any contact details that you have.
THE ASSOCIATION WILL ONLY CONTINUE TO EXIST BY RECRUITING NEW MEMBERS
For members wishing to provide a new email address, please send an email to Peter Morton so he can ensure your address is received and entered onto our contact list.
*****************************
<![if !vml]>

<![endif]>
HISTORY OF QUR
Have you considered purchasing a copy of the History of QUR magnificently complied and edited by Paul Smith?
It contains 128 pages of stories, photographs and has a coloured badged cover.
COST : $15 per copy.
What about a CD containing over 100 images of the history of the Regiment.
COST : $10 per copy.
Why not treat yourself to a copy or buy copies for your friends. These are collectors items so don't miss out.
How to purchase copies:
Ring Trevor Luttrell
0437 442 964
Email
trevor.luttrell@qed.qld.gov.au
Send your payment to:
The Treasurer, QUR Association, 24 Walcott Street, St Lucia Q 4067.
For those members with internet banking, payments may be made direct to the QURA Bank Account.
Details are BSB 064 129, Account 0090 4500, Account Name QUR Association Inc
Please ensure your name is supplied in the payment details.
*****************************
Association Office Bearers