If you wish to receive this newsletter electronically, please email the Membership Registrar (Peter Morton) at peteramorton@bigpond.com.
As usual we will be asking members to continue supporting the Association through their annual membership contribution. The production of the newsletters, histories and support to the Regiment does incur a cost which can only be sourced through membership contributions and fund raising by way of selling ties, publications, etc.
Members who are not currently financial will be contacted by the executive. If you receive your newsletter by post, your current membership status is shown on the top right of the address label. A listing of current members can be found on the QURA website.
We intend continuing the collection of any pieces of history. We encourage members to take the time to write of their time in the Regiment. Either send it in hard copy of email it to any Executive member.
Don't worry about the formatting – just produce the words. We will format it for the history collection.
*****************************
This article on Brian Smith was published in the Brisbane Telegraph on 23 July 1976.
(The newspaper clipping was supplied by Brig Sam Harrison, who has kindly given Trevor Luttrell access to his personal records of QUR)

Army life in the Queensland University Regiment must seem pretty tame in comparison with two years in a crack French Foreign Legion unit.

That is the change for Brian Smith, Arts Graduate, computer systems programmer, systems analyst and part time soldier.

Brian returned to Australia in April after a working holiday overseas.
"I was working as a diver on the North Sea oil rigs and decided that I'd like to try the Foreign Legion," he said.
"So I went to Paris signed up and found myself doing a recruit course at Aubagne near Marseille."
"I'd find it difficult to explain why I joined," he said. But he laughs at any suggestion that it might have been connected with an unhappy romance – the traditional reason for joining the Legion.
"You don't find many people talking about why they joined up. It is left alone by a kind of mutual understanding." he said.
"You find an enormous range of backgrounds and nationalities in the ranks. The officers are drawn from the top five percent of graduates from St Cyr." (St Cyr is the French Military Academy, equivalent to Duntroon in Australia and Sandhurst in Britain.)
After recruit training Brian volunteered for the parachute regiment and was posted to Corsica.
"First to Corte for jump training and then to Calvi."
This is when things get really tough.
Once, after a jump, the legionnaires marched 200 kilometres in three days carrying 30 kilos of equipment plus a machine gun.
"It was over the Corsican mountains, and we managed to get about six hours rest in the whole time." he said.
Brian's unit was sent to Ethiopia at the end of 1974, when the border war flared.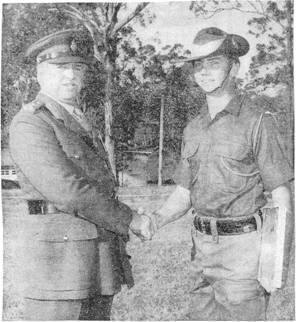 His two years were up in January 1976 and he returned to Australia … and joined the University Regiment, an Army Reserve Unit.
"I have been in the regiment before I went overseas. I enjoy the army life."
Not surprisingly, ex-legionnaire Smith carried off the prize for marksmanship on his recruit course.
But life in the officer training unit at St Lucia is going to seem quiet by comparison with 200 kilometre marches over the Corsican mountains.
Then Honorary Colonel Brig Tom Parslow presenting Brian with his prize for marksmanship


*****************************
Correspondence from The Honourable Justice Fryberg
Dear Nan Bahr and Peter Morton,

I went to the Honary Colonel's festschrift festival dinner last night, where the attached created a degree of amusement.

You might like to share it with members of the Regiment and the Association.

Regards
George

VITAE LAMPOONA!


The Paediatric Model of a Modern Major General,
We've come today to praise this man whose deeds are quite phenomenal,
A soldier, doctor, scientist, philatelist, geneticist,
He is the true original – a multi ominiologist.

Chorus
A soldier, doctor, scientist, philatelist, geneticist. – he is the true original – a multi ominiologist.

At West End Infants he began his progress educational,
Then on to Brisbane grammar and achievements quite sensational,
At Uni. and at Med. School he won honours meritorial ,
From Bachelor to Doctorates then seating Professorial,
Researching on Thalidomide for defects all congenital,
And launching a new clinic just for counselling genetical,
He studied various venoms from sea stingers diabolical ,
And even looked at Venus in a foray astronomical.

Chorus
And even looked at Venus in a foray astronomical.
And even looked at Venus in a foray astronomical.
And even looked at Venus in a foray astro-, astronomical.

This Paediatric Model of a Modern Major General,
Just oozes information with a charm that's quite mesmerical,
He talks on topics medical, historical and ethical,
His literary output now is seemingly unstoppable!

Chorus
He talks on topics medical, historical and ethical,
His literary output now is seemingly unstoppable!

UNESCO missions, Rotary – on tasks quite philanthropical,
He's doctored things in many climes, both temperate and tropical,
From igloos in the Arctic to the North Sea with a parachute,
In Bougainville, Rwanda, Vietnam whenever need's acute,
He went to Aceh recently to render aid most relevant,
Quite unaware he might require to medicate an elephant,
As Surgeon General he's a part of military history
But how to breed his fighting fish has yet to yield it's mystery

Chorus
But how to breed his fighting fish has yet to yield it's mystery
But how to breed his fighting fish has yet to yield it's mystery
But how to breed his fighting fish has yet to yield to yield it's mystery

The salesman said his E-type Jag. would draw the girls from far and wide.
Alas, to date no swooning fan has ever tossed her bra inside,
As senior Aussie now he needs a uniform elastical,
The only other option is some dieting more drastical!

Chorus
As senior Aussie now he needs a uniform elastical,
The only other option is some dieting more drastical!

Although his files of books and things spill over yards of office space,
He manages his 'no cope days' with modicum of charm and grace,
Child safety issues and the like he always must investigate,
Whenever there's dark chocolate he'll very quickly gravitate,
Staff ignorance of CPR he says is indefensible,
Like brothels run by bishops it is truly reprehensible,
Records occasions notable by taking candid camera shots,
And keeps his colleagues well informed with gentle prompts like "Diaries, chaps!"

Chorus
And keeps his colleagues well informed with gentle prompts like "Diaries, chaps!"
And keeps his colleagues well informed with gentle prompts like "Diaries, chaps!"
And keeps his colleagues well informed with gentle prompts like "Get your diaries, chaps!"

We're here today to have our say in terms congratulations for gracious gestures, words and deeds to give applause ovational,
Bedecked with many medals and his honours, State and Federal, he is the very model of a modern major general!

Chorus
Bedecked with many medals and his honours, State and Federal,
HE IS THE VERY MODEL OF A MODERN MAJOR GENERAL!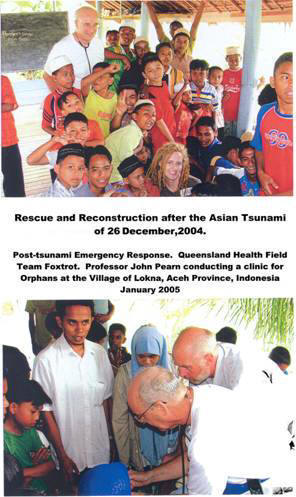 *****************************
Major General Dennis Luttrell AO,RFD, ED has just completed an outstanding 45 year career with the military.
He enlisted in the CMF into QUR in 1960 and has recently finished serving as Honorary Colonel of the Regiment.
Below is a quick overview of his time with the Regiment.

In 1960, when I joined the then Citizens Military Forces, things were very different to what they are today. Most uniforms and equipment were those left over from the Second World War, 15 years earlier at least. Clothes and webbing were light khaki, boots were leather sole with hobnails, metal toe caps and heels. My hat with a manufacture date of 1941, was older than I was. My rifle was a Lee Enfield 303. Vehicles included United States left hand drive Studebakers, Willys Jeep, and Ford and Chevrolet Blitz.

The CMF was then on the end of the food chain, When Army changed to Jungle Greens in the 1960's, while the permanents received greens, the CMF has their uniforms sent away in bundles to be dyed a colour which turned out to be almost as much blue as green. As time went on, this differential progressively disappeared, best illustrated when disruptive pattern camouflage uniform was issued progressively to the whole of the Army beginning in the north of Australia moving to the south. Reserve members as they were then, were amongst the first to receive them.

1960 saw the end of the compulsory National Service associated with the Korean War, with 77 days continuous service and 2 years CMF. QUR's numbers fell from some 700 to about 100 as most left on that last day in march 1960. That was the first day I attended. Parades were on Sundays and we were told to arrive at 10 am which I thought was a very gentlemanly hour. I did that with a safe margin only to see a full parade ground at St Lucia, and immediately thought I was late. Then there was a huge rush towards the gate as they all departed.

QUR had a huge rebuild and the CO Peter Connolly initiated the regime of officer training on top of the infantry training role the unit had had. This became the model for Australia. However, the promotion system was effectively totally internally controlled, except fro some centrally conducted written exams at officer level that were conducted once per year in winter in central locations. I recall doing one in Melbourne in 1966 in a very cold old drill hall. Unit members in those days tended to stay in the unit they first joined unless they chose to move, usually as a result of there civilian employment took them.

Beside Sunday parades running from March to July/August, a two week annual camp was held during the 1st term vacation. The University operated three terms. Later, a course was introduced in the January period for specialist and promotion training. Camps were usually at Wacol and Greenbank.

In those early days (for me), standards were high because the cadre staff (permanent) invariably were Second War veterans, and most CMF recruits had had 4 years of cadet service prior to their CMF service which gave them a flying start.

QUR members waxed and waned over the years. Numbers grew significantly with the ballot- based National Service beginning in 1965.

The Officer Cadet Training Units were formed at this time to boost the number of officers needed for this growth. There was a second dramatic fall after the end of the Vietnam National Service period. Numbers grew again in the late 1970's associated with a big national recruitment exercise, to close at 500, making viable range of specialities and considerable interest. The QUR band was formed in 1981 with an initial 6 members.

I recall in the early days, the unreliability of vehicles. They were more than 20 years old and had not had a lot of use coming from war stocks. Operating on low octane fuel, they were difficult to start on cold mornings during camp. Vehicles carried tow ropes just in case towing was necessary. When Army introduced its first helicopters having one visit camp was a good solution. They used AVGAS and once the fuel drums were opened they could not be returned. The transport sergeant became a fuel blender – often useful to have a chemistry student. The vehicles ran very well. You never stood behind them when they were starting in the morning.

The Brisbane flood on 1974 submerged the Walcott Street Depot up to about 11 feet. I recall a message from Canberra issuing instructions about paper records that had been submerged. They included dipping each page in fresh water and hanging each out to dry. No guessing that with all the mud, slush, glued furniture that fell apart as you picked it up, that not too many laundry lines were constructed at the Depot.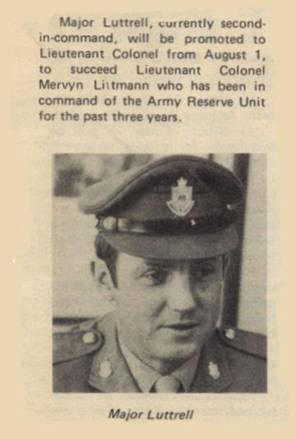 The highlight of a great period in the Regiment was the Annual Camp in Singleton. Interstate movement of units was rare in the CMF – not so much now – but even though it was very cold, the change from Wacol/ Greenbank/ Wide Bay was like a holiday even though it was probably one of the toughest and busiest we had done. Part of the Regiment flew to Singleton; part by road.

Steady refinement over the years in the environment for which resources were invariably restricted (fuel/ ammunition/training days) and the desire within the military hierarchy for the ideal (what you don't have), saw cyclic development. Nevertheless, QUR has always been at the top end of performance and outcomes with a real can - do attitude. Recent magnificent repetitive success of QUR graduates in national assessments of graduating officers is today's representation of the consistently good outcomes over many years.

The greatest reward from my years of service has been the association with the wonderful people who have passed through the Regiment, and to see what they have achieved. Over the years to see the procession of lawyers, medicos, vets, engineers, scientists etc and where they are today, the common theme of the regiment and the activities we shared is very long lasting. The only disappointment is the gradual reduction in real mess life (Subject X) that has quietly diminished across the Army. However I guess to some extent it mirrors what has occurred across the community with the changing of operations and values. The military still has a lot to offer.

It has been a real privilege to have served as a private in the Regiment through Commanding Officer to its Honorary Colonel having had a wonderful second career. There are too many people to thank and acknowledge, but I need to mention my mentor Brigadier Sam Harrison who influenced so many people like myself.

We look forward to an expanded literary contribution from Maj Gen Luttrell in the future.

*****************************
The Following correspondence was received from BJ Price:-
Gidday Peter,
I don't know if this is of interest or use to you but my old Mortarman mate Andrew (Sparty) Ricketts and myself spent May visiting WW1 Battlefields on a self conducted World Tour to pay our respects to our war dead.
On the way I emailed Sitreps to my old Army mates to keep them up to date with our progress and thought perhaps you might like to include them in one of the QUR Newsletters.
All the best,

BJ
(Due to space limitations, I have included some of BJ's emails in this edition and will include the rest of his interesting insights in further editions - Peter Morton)


World Battlefield Tour - May 2005
Andrew (Sparty) Ricketts ex-QUR & 13 Field Battery Lt.
BJ Price ex-QUR & 51Bn FNQR Digger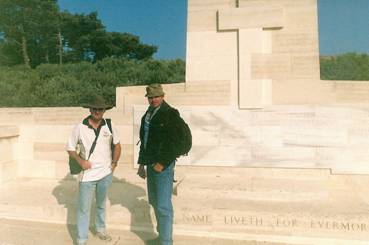 Sitrep 1: ANZAC The Fatal Shore
Well Digs here I be at long last on that fatal shore, our hallowed ground and the final resting place of many an Aussie soldier. To see those hills and the scree and the gravelly nature of the soil it makes you wonder how on a good day with a walking stick and all the time in the world a man could get just a few hundred metres. It's one step forward and five steps back country I kid you not. No wonder the Turks had considered it a natural fortress...it bloody well is!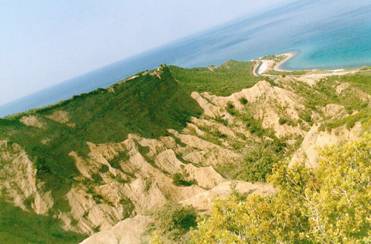 ANZAC Terrain: the Sphinx and Mule Gully
The bad news is that the somewhat nebulous media reports are sadly true and you feel likehowling when you see the utter disrespect shown to our blokes and our Country by the devasatation wreaked at ANZAC Cove. The entire short length of the beach has has a 25m wide dodgy looking bitumen road bulldozed right through the site. It parallels the beach but is set back about 60m from the shore right through the guts of ANZAC.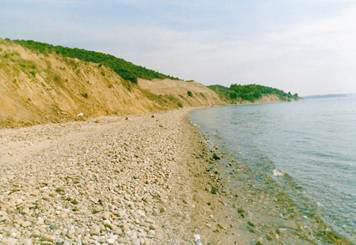 ANZAC Cove...and earthworks
This third world earthworks looks worse than if the Dean Bros had snuck in in the middle of the night and been given 'til daylight not only to bulldoze the track but also to lay the bitumen. The resultant spoil has just been pushed over the road and spills right down across the full length of the beach making it only 3 to 5 metres wide.
The next downpour will see all of this loose loamy spoil slide straight into the Aegean. Like I said I could have howled with rage. I just propped and shook my head I felt like I'd been king hit.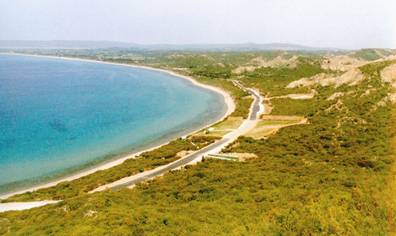 ANZAC Road and Carpark

To make matters worse, if you can believe it, to widen the road they've used
an excavator to sheer away the steep hills directly above ANZAC Cove....thus
the ample spoil. However the sheer angle of the cutting and the extremely
loose nature of the soil means that like the spoil spilling down onto ANZAC
Cove this cutting above the road is a massive landslip waiting to happen.
And did they find the human remains of our boys....shit how couldn't they
since they've cut the guts out of the place.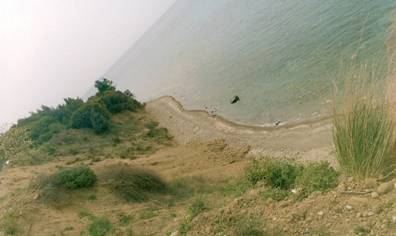 ANZAC Cove Spoil

By Christ I'm ropable. I saw the whole shitful shemozzle but I still just couldn't believe it and am having somewhat of a hard time coming to terms with it. All the while over here you hear about how much respect the Turk has for Australia....my fat Aunt. What a pack of utter bastards. (Take a deep breath Pricey)
Anyway, Sparty and I and heading over in an hour or so to spend the day on foot up in the battlefield proper so I send another SITREP hopefully of a more uplifting nature.

Take care all.
Pricey out.


Sitrep 2: BASHIBAZOOK BULLSHIT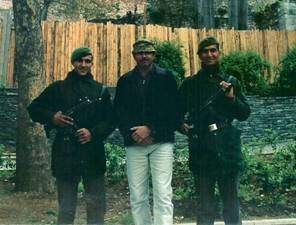 BJ and Johnnies


Digs,
Fortune has smiled upon my mate Sparty and me this day. Indeed today has been one of the most memorable days in my life; allow me to relate. We are staying at a place called ANZAC House which is in Cannakale on the Asian side of Turkey just across the Narrows from the Peninsula.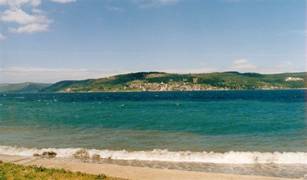 Turkish Fort on the Narrows

Not a bad little dive, it's only 2 star, or 5 cockroaches as I prefer to call it but the staff are pretty decent coves that call you "maayt" and reply with a "nu wuhries maayt". So they have the vernacular down pat, though I could teach them a few things about the great Australian art of fluent and florid swearing. One of the few arts I have mastered....errr in fact probably the only bloody thing at all I've mastered.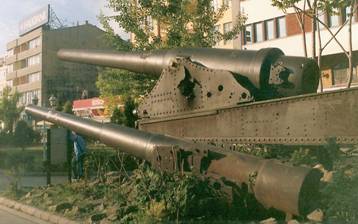 Damaged Cannon at Cannakale

When we first walked into AH three days ago there was this character seated
there having an ale and when he saw our slouch hats (the same battered last
legs grade 4 character I wear around the farm) he said in unmistakable strine
"Gidday Diggers". Well it was nice to hear that accent so we dropped our
packs and joined him (Peter Robb) only to find out he used to run guided
battlefield tours throughout Gallipoli and France\Belgium. Before we got
too settled in we were joined by a Kiwi mate of his (Dusty...and he was)
returning from yet another day of bush bashing around ANZAC. He saw the
slouchies sitting on the table and immediately donned his cap bearing the
red diamond motif of the NZ Infantry. What a shame, 4 grunts meeting up
at ANZAC House each with a thirst for ale only matched by our passion for
WW1 Aussie Mil History.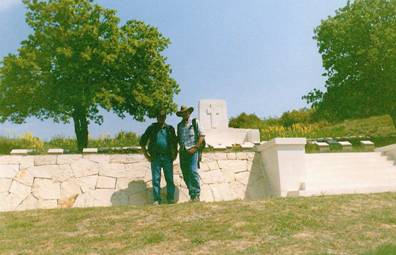 Peter Robb and BJ

It just so happened that a dozen or so ales later we were best mates relating all sorts of obscure Digger facts from Jacka's rank on May 19 1915 to who was the Digger who scored the coveted regimental number 1.
Let me tell you these blokes knew their shit and given the salubrious circumstances we got on bloody famously.
Before the night was out we had all the names and addresses of Peter's contacts on the Western Front and to beat that they had offered to take us bush bashing through ANZAC the next morning gratis! How's that for hospitality. It was just what we needed to help orientate us on a battlefield upon which it is so easy to get slewed once you get down off the high ground and into the maze of gullies and washouts. Terrific fellas I kid you not.
We had done a day tour by bus earlier to further help us get an overall appreciation of the lay of the land but had the misfortune to have a smarmy Turkish guide who talked so much utter bullshit that it was all I could do to shut up and just give him daggers with my looks. Actually, mark that down as another art I've mastered....the look of the pissed off Digger.
Anyway as the maxim goes "time spent on reconnaissance is seldom wasted". Apart from the lying little bashibazook we were absolutely reinforced in our position to have undertaken this trip unguided. I felt like a complete prick baa baaing around with this mob of civvie nongs as Abdul sprouted his bullshit and they lapped it up like dumb as dogshit dills.
Stayed tuned Digs I'll relate the dinkum ANZAC experience next email as I've yet again outdone myself with sesquipedalian panache and as have as a result crapped on for too bloody long and must away.

Take care all.
Pricey out.

Sitrep 3: RECALIBRATED

Well Digs I have climbed that holiest mountain, and I have seen the other side.
And bugger me with a fence post (nails, fencing wire and all) if it wasn't one of the most pathetically beautiful sights you could set your Mach 1 eyeballs on. Nothing had prepared me for the beauty of ANZAC.
I had expected low ugly scrub and found a paradise the envy of any Botanical Garden. We just stood there and gaped like dummies in a breeze.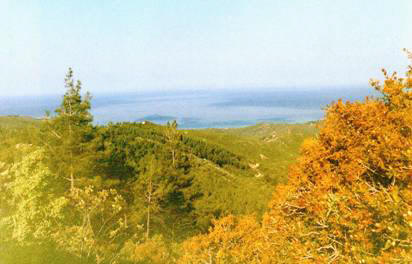 Rhododendron Ridge

I was clean bowled with the natural beauty of ANZAC, the vegetation wasn't the drab, and weather blasted malformed scrub I had expected. Rather it was a patchwork of glorious springtime colours, both the bright new foliage of all manner of textures and hues, from metallic silvers to silky purples, sun bright yellows to verdant opulent greens. I just never expected such patent beauty in an area which seeps with sorrow and terrible loss. I had to sit down take stock and just shake my head in bewilderment. How could this place which witnessed so much death and suffering be so breathtakingly beautiful....from the jagged skyline to the horizon where the turquoise Aegean meets the Turkish haze.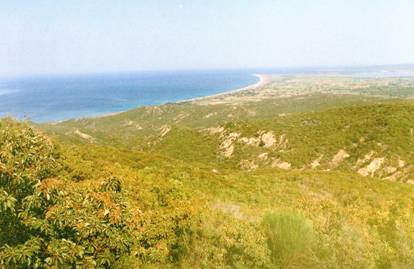 View to Suvla Bay

Now I know why it was said that there were more poets than soldiers on ANZAC.
A man would have to be soulless if he was untouched by such extraordinary
majesty. Let me just reinforce the fact that my own backyard is no abomination
of desolation. I have spent more than my fair share of hours drinking in
the visual wonder that is the World Heritage listed Wet Tropics, the Coral
Sea, The Atherton Tablelands and the Great Barrier Reef but I never ever
expected ANZAC or coastal Turkey for that matter to be so incredibly beautiful.

I guess the age old black and white stills of the shell blasted slopes of
Gallipoli had formed an impression I expected to see borne out in contemporary
vision. Buzz wrong. Recalibrate dickhead.

With our two guides Pete and Dusty, Sparty (Self Propelled Arty) and myself
took the 8am car ferry across the Narrows to Eceabat from whence we grabbed
a Taksi(sic) and took off for Chunuk Bair.....the vital ground.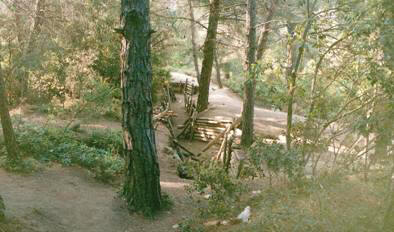 Kiwi Trenches Chunuk Bair

Our plan was to start from the heights and make our way down through the main sites to the beach at ANZAC. We had the day in which to do it so couldn't buggerise around for too long.
When the August offensive was in full swing at Lone Pine, the Nek, Cape Helles and Suvla, where the NZ Wellington Battalion with the legendary Lt Col Malone leading took and held the heights of Chunuk Bair for 2 murderous days and nights before withdrawing with just 75 men standing. Malone fell there with those tough Kiwi Diggers and their names are carved in marble at this the main Kiwi Memorial.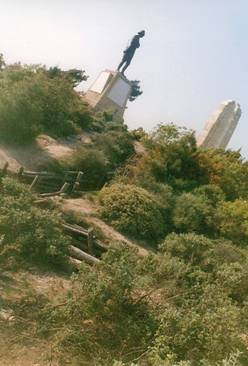 Chunuk Bair...the vital ground

Although the memorial is dwarfed by the Ataturk Memorial standing close by (err well they drove the Kiwis off after all...with a bit a help from the Pom Naval guns).
The day was a cracker weather wise, blue sky, a little haze and a crisp breeze hissing through the pine clad heights.
We followed the line of the second ridge (the ANZAC front line) from Chunuk Bair via the main road which follows no man's land rightalong the ridge.
So much for sacred sites eh.
How many men of both sides lie under that strip of bitumen?
Pete said that after it rains you can pick up pieces of shrapnel and spent rounds, cartridges and old clips....the detritus of war.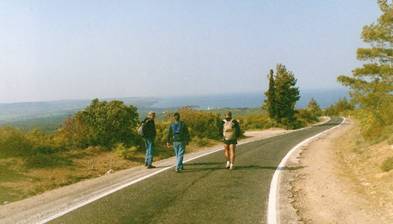 Walking No-man's Land Today


Cars buzzed by occasionally, punctuating the cadence of our footfall and imposing on the poignancy. On they sped through that which 90 years ago no man, no matter how hard or how careful, could survive for more than seconds.

Not that the road isn't almost as bloody dangerous nowadays. No bugger wears a seat belt and they just fly along as fast as they can heedless of what side of the road they take a corner on. Pretty bloody hairy.
We had seen a Mercedes that had been involved in an accident the day before and there was the plain imprint on some poor bastard's head on the passenger side of the windshield.
Anyway we ambled down from Chunuk Bair along the second ridge with the third a distant line of pencil pines, stark reminder of the objective never obtained (except by a few) that first fateful ANZAC Day.
We came to the Nek with its modest cemetery and memorial. The site of the heroic yet futile charge that led to the death of 340 of the Lighthorsemen for no gain whatsoever. Just to see the ground over which they had dashed and died against a tiered defence of massed rifles and MG's made you wonder how such men could have even considered such an act.
But they did it for their Digger mates upon Chunk Bair and the Pine whom they were told they were supporting through this feint.
But the views boys, the view.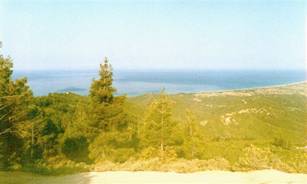 The Aegean Sea


The sparkling Aegean to one side over a sheer drop and the dangerous ravines and gullies to the other. There was no way forward but to face that storm which rained death upon the flower of our Nation.

We had met a young Israeli bloke up at Chunuk Bair and he had come along with us for a spell. He was an Infantry Officer in the IDF so once again the grunts seem to gravitate to each other.
At the Nek we found that one of the gravestones of the Lighthorsemen had the Star of David on it and I told our new mate to come and have a look. He seemed amazed when I told him that our greatest General, John Monash, arguably the finest General that ever took the field in WW1 was a Jew.
I also told him how our lads on their faithful neddies had ridden under Allenby and Chauvel through the Holy Land and liberated Jerusalem and took Damascus and the surrender of the Turks.
"So you see mate" I said "we have a very special bond with you blokes". He was plainly impressed with this new cobbers....even the Kiwi.

Flippin' heck Digs, times getting on and I'm only a two fingered typist so I must away for now. We are off to the Forts on the Narrows today to have a squiz.

Take care mates.
BJ out.


Further emails from BJ Price will appear in the next newsletter

*****************************
If you pay your membership fees on a year by year basis payment is
For those members receiving this newsletter by post, a code showing your membership status is printed on the address label..
Annual dues are $10 and a 10 year paid-up membership can be had for $70.
As mentioned earlier, the Executive Committee is moving towards notifying members via email when the newsletter is available on our website. By producing the newsletter in an electronic form we can provide colour photographs and can, in fact, include more pictures and articles.
By having email addresses, it also allows the Executive to quickly notify members of important occurrences and provide reminders of upcoming events.
We will still maintain a postal service for those members without email accounts but an extra charge of $2.50 per annum will be required to assist in the postage and handling costs.
For members wishing to provide a new email address, please send an email to Peter Morton at
Have you considered purchasing a copy of the History of QUR magnificently complied and edited by Paul Smith?
It contains 128 pages of stories, photographs and has a coloured badged cover.
What about a CD containing over 100 images of the history of the Regiment.
Why not treat yourself to a copy or buy copies for your friends. These are collectors items so don't miss out.
The Treasurer, QUR Association, 24 Walcott Street, St Lucia Q 4067.
For those members with internet banking, payments may be made direct to the QURA Bank Account.
Details are BSB 064 129, Account 0090 4500, Account Name QUR Association Inc
Please ensure your name is supplied in the payment details.