QUEENSLAND UNIVERSITY REGIMENT

ASSOCIATION Inc

NEWSLETTER
| | |
| --- | --- |
| Volume 17 Number 2 | May 2005 |

The Association has had rather a busy time since the last newsletter. The Back to the Regiment night was again a very enjoyable occasion and many new faces attended. The Regiment again catered in spectacular fashion and all were entertained by a jazz combo from the Regimental Band. The Association is indeed very grateful to the Regiment for hosting this occasion.

The Association was privileged to be invited to the Graduation Cocktail Party for the newly graduating cadets from QUR and RMC. The Association presented two prizes to those cadets who were deemed to be the best and most improved during their time at QUR. The awards recognize performance over the whole period of study rather than the last period which attracts the RMC awards.

Members of QURA attended the Anzac Day ceremony at Toowong and as usual the Regiment provided those attending with a magnificent display of drill, dress and reverence.

I was indeed very honoured to be invited to propose the toast to Colonel Garry Chandler who passed away at the end of last year at the recent Regimental Dinner. Garry was a past Commanding Officer of the Regiment and also a hard working past President of the Association.

The executive is continuing to collect and process more items of history of the regiment. A significant number of historical items have been received from Brigadier Sam Harrison and Brigadier Tom Parslow. To both members, the Association is very grateful. The historical items are being scanned to computer disc so they can be part of the historical items now collected. Again I appeal to all to members of QURA to give us access to any item of history associated with QUR. Additionally I appeal to all to take a few minutes to write a short piece of their time in the regiment. It does not have to be a long piece of literary art – just a few notes of an event will be satisfactory.

Looking forward, the Association is working towards the AGM in September. Please note the change in the published date for the AGM. As an early warning, members should consider whether they would like to be nominated to fill any of the executive positions. The area involved in the collection and preservation of the history of QUR is where we need most support. Should members want to offer their services please contact me so I can arrange for your successful nomination.

To enable the Association to raise the finances required to continue the work of the collection and preservation of history, the Association has ordered a new stock of QUR ties. The style of the last tie is being continued but an additional tie in different colours will be also available. As soon as the stock arrives we will publish the styles and cost on the website. The Association is currently negotiating with a company for the supply of gold woven badges suitable for placement on jacket/coat pockets. It is anticipated that the cost will be under $50. As soon as we can get a picture of the badge, and the cost, we will inform members, so keep an eye on the website. The badge also can be mounted in a picture frame with an engraved plaque and would be a spectacular for the wall of the residence of members.

Members should note that preserving the history of QUR and conducting the other business of the Association is not without cost. It is important for all members to remember to send in their membership fees to provide us with the required cash flow.

Finally QURA wishes to thank Major General Dennis Luttrell for his long interest in the Regiment and his recent completion of his tour of duty as Honorary Colonel. We welcome Major General John Pearn as the new Honorary Colonel and look forward to working with him in the future.


Trevor Luttrell
*****************************
CO's Report
I have had the immense privilege of Command at QUR for 43 days so far. LTCOL Ross Williamson has left the Unit in outstanding shape following his tenure in Command.

Staff Cadets continued to sweep the prize pool at RMC Duntroon last February and yet another bright and capable batch have launched into their careers as junior officers in Defence.

The unit has been extremely busy providing continuation training, non continuous First Appointment Course (FAC) training, Officer of Cadets courses, Back to the Regiment night, a Cocktail function for recent graduates, NPMA audits, Army Individual Readiness Notice training (weapons, fitness, etc etc), Recruiting interviews and so on. I can't believe that all these and more have occurred in so short a time.

The Regimental Dinner (7th May) was a very enjoyable event and it appeared that Her Excellency the Governor of Queensland Mrs Quentin Bryce and Mr Bryce, and also Chief of Training Command-Army, Lieutenant General Wilson, Colonel Reserves (RMC-A) Brian Martyn and dignified and distinguished guests from this Association all had a good time. The dinner
marked the completion of Major General Dennis Luttrell's, AO RFD ED, tour as Honorary Colonel. He has provided stellar leadership, guidance, advice and support for six years to the Unit and we will recognize the outstanding contribution he has made. We welcomed Major General John Pearn, AM RFD, to his new appointment to the role.

We are preparing the training program for 2005/2006 and it is clear that the momentum will just keep racing.

Cheers
Lieutenant Colonel Nan Bahr
Commanding Officer
*****************************
Biography of LtCol Nan Bahr
Lieutenant Colonel Bahr enlisted to the Army Reserve WRAAC in March 1983. Following her completion of Officer Cadet Training at 4 Training Group, South Australia, she was commissioned as an officer and appointed to RAAOC, 4 Ordnance Pl.
When a vacancy arose she transferred to RACMP and was posted as Platoon Commander at 4 Military Police Platoon. When she completed some of her tertiary studies she transferred to NCO Promotions Wing, 1 Training Group, and she was an instructor for a variety of NCO, Officer of Cadets and Recruit Courses.

As a Captain she held the positions of Company 2IC and Operations Officer for 1 MP Coy, Enoggera. During her time at 1 MP Coy, Lieutenant Colonel Bahr was a recipient of a Prince of Wales Award, which afforded her the opportunity to spend time at the Royal Military Police Training Centre in Chichester, United Kingdom, 106 Para MP Coy in Aldershot, and the WRAC Training School. This experience assisted her to provide advice for the development of a problem-based approach to Military Police training, which was introduced at the RACMP School around that time.

After her time at 1 MP Coy, Lieutenant Colonel Bahr held a range of instructional and administrative positions at 1 Training Group. She later was a part of the newly formed Deployable Joint Forces Headquarters as an Operations Staff Officer. Lieutenant Colonel Bahr also had the opportunity to be the Career Adviser for officers in Service Corps for South East Queensland at the Army Personnel Agency- Brisbane at a time that coincided with the personnel challenges that resulted from the amalgamation of 6 and 7 Bdes, and the dissolution of the Ready Reserve.

Lieutenant Colonel Bahr was the last Officer Commanding for the Army Reserve Recruiting Component of the Australian Defence Force Recruiting Unit, Brisbane. When the unit was disbanded and amalgamated into the tri-service recruiting organization, she returned to the Command and Staff College as an Instructor and received the Instructors Award for 1999.
She has also been awarded the Reserve Force Medal for long service. In 2000 Major Bahr was seconded to HQ 7 Bde to raise a Bde Recruiting Cell., which was followed by posting as Officer Commanding the Logistics Support Company of 7 CSSB.

As a civilian, Lieutenant Colonel Bahr is Director of Teacher Education for the University of Queensland. She holds first degrees in Music, Education, Psychology and Biology with postgraduate qualifications in Educational Psychology. She holds higher degrees in Music Education and Educational Psychology. To date she has published two edited books, around twenty five internationally refereed journal articles, thirteen national journal articles and has presented around fifteen research based conference papers.
In addition she has three refereed chapters currently in press respectively on learning in adolescence, adolescent resilience, and technological impacts on classroom learning. She also currently has a co-edited book in press on Middle Years of Schooling reforms in Australia. In 2004 she won the Edith Cowan Award for a research paper on Authentic Learning. In 2000 she was awarded a University of Queensland award for Excellence in Teaching, and in 2002 the University of Queensland Faculty of Social and Behavioural Sciences Award for Program Innovation in Teaching. She has been an individual finalist for Australian Awards for University Teaching in both 2002 and 2003.
She is married to Mark, an Associate Professor of Bond University with two children, Jacob who is 4 and Hannah just 1 year old.

*****************************
FUNCTIONS IN 2005
Back to the Regiment 11 March 2005

Anzac Day 25 April 2005

Regimental Dinner 7 May 2005 (Invitation from QUR)

AGM 9 September 2005 - PLEASE NOTE CHANGE of DATE

Xmas Function 2 December 2005 (TBC)
NEWSLETTER
In the last edition, members who wished to continue to receive the newsletter by post were asked to contribute $2.50 annually to the costs of collation and postage. To date, only two members have taken up this offer.
As the executive wishes to maintain regular contact with as many members as possible, it has decided to continue the postage of this edition to those members who have not replied.
However, members who have not replied by the next edition will no longer be sent a posted copy of the QURA newsletter.
If you wish to receive this newsletter electronically, please email the Membership Registrar (Peter Morton) at peteramorton@bigpond.com.
To continue to receive the newsletter by post, please forward your cheque to:-
The Treasurer
QURA Association Inc
24 Walcott St
St Lucia, 4067
For those members with internet banking, payments may be made direct to the QURA Bank Account.
Details are BSB 064 129, Account 0090 4500, Account Name QUR Association Inc
Please ensure your name is supplied in the payment details.
Please note that the posted newsletter is a condensed version of the edition that appears on the QURA website (www.qura.bigpondhosting.com). Due to size limitations, some articles and photos may be removed to enable the posted version to be sent at normal letter rates.
The QURA website to has the following contents:
Current and Past Newsletters

Original Constitution

Items of History for Sale (photos and history)

Photos
MEMBERSHIP
As usual we will be asking members to continue supporting the Association through their annual membership contribution. The production of the newsletters, histories and support to the Regiment does incur a cost which can only be sourced through membership contributions and fund raising by way of selling ties, publications, etc.
Members who are not currently financial will be contacted by the executive. If you receive your newsletter by post, your current membership status is shown on the top right of the address label. A listing of current members can be found on the QURA website.
Key to Status
| | |
| --- | --- |
| NEW | Membership Pending |
| PUOM | Paid Up Ordinary Member (Lifetime Membership) |
| UNKWN | Membership Status Unknown |
| LMEMB | Life Member |
| ???? | Membership Current to year ???? |
| ????H | Year Honarary membership Bestowed (QUR Graduates) |
HISTORY
We intend continuing the collection of any pieces of history. We encourage members to take the time to write of their time in the Regiment. Either send it in hard copy of email it to any Executive member.
Don't worry about the formatting – just produce the words. We will format it for the history collection.
Academic Prizes for QUR Cadets
Our President, Brig Trevor Luttrell presented book prizes to two cadets for academic and military excellence in the studies for commissioning on 26 February 2005. The committee acknowledges the excellent work of both the graduates and staff of the QUR during the previous twelve months and is committed to supporting their efforts by the supply of these annual awards.
The 2005 QUR graduates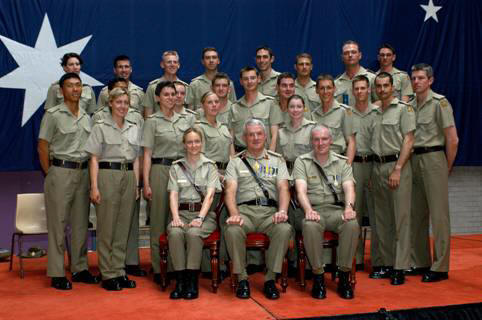 Rear Row
J. GRIEGER, A. WALKER, M. GRIEGER, G. LAWERENCE, B. HOWARD, N.YOUNG, D.LORD, T. LE CORNU
Third Row
E. CHANDRA, R. BIRCH, G. SMALL, I. DAVEY,I. PARKER, D. SWAN, J. STOT
Second Row
R. OGILVIE, R. DIXON, K. BURRUP, D. HICKEY, G. JONSSON, D. FRASER, C.ATKINSON
Front Row
MAJ D. HALLER (OC NQC), MAJGEN D. LUTTRELL (Honorary Colonel), LTCOL R. WILLIAMSON (CO 1993 - 1995)


The following media release was received by LtCol Ross Williamson

================================================

Subject: ARMY'S NEWEST RESERVE OFFICERS WILL GRADUATE SATURDAY



Department of Defence Media Mail List
------------------------------------------------------------------------

CPA - ACT/Sthn NSW 004/05
Friday, 18 February, 2005

Army's Newest Reserve Officers will Graduate Saturday


WHAT: Graduation Parade for Army Reserves Staff Cadets

WHERE: Royal Military College Duntroon Parade Ground

WHEN: Saturday, 19 February 2005 at 0930. Media are advised to arrive
no later than 8:50am to collect media passes.

71 Royal Military College Staff Cadets will become Army Reserve
Lieutenants on Saturday at their graduation parade and awards
presentation.

An intensive six weeks continuous training phase, conducted during
January and February, has seen the completion of up to three years of
dedicated training by these Army Reserve Staff Cadets.

The Part Time Course Modules are designed to compliment University
holidays, and whilst many of their fellow students have been enjoying a
Summer break, these Graduates have been undertaking the final step
towards becoming Army Officers.

The Army Reserve is amongst the most technically advanced organisations
in the country and widely recognised as providing excellent skills,
training and qualifications. RMC is a vital part of this training
providing Army's future leaders.

The newest Officers in the Australian Army will be posted to Army
Reserve Units in their home State commencing duty in March.

Lieutenant General David Hurley, AO, DSC, Chief of the Capability
Development Group, will be the reviewing officer for the graduation
parade and will present the graduation certificates and awards after.

This years award winners are:


* Sword of Honour Winner and the recipient of the Field Marshal Sir
Thomas Blamey Memorial Prize: Staff Cadet Duncan Swan from the North
Queensland Company, Queensland University Regiment. He will also receive
the DEF Credit prize for Offensive and Defensive Operations.

* Peter Stuckey Mitchell Travelling Scholarship will be awarded to Staff
Cadet Emma Jonsson from Queensland University Regiment.

* The Duntroon Society Prize will be awarded to Staff Cadet Katie Burrup
from Queensland University Regiment.

* The Royal New South Wales Regiment prize for Tactics will be awarded
to Staff Cadet Geoffrey Small from the North Queensland Company
Queensland University Regiment.

* The Brigadier Ian Geddes (Retired) prize for Military Skills will be
awarded to Staff Cadet Toivo Tuovinen from the University of Tasmania
Company.


================================================




*****************************

On Duty in the `SandPit`

The Following correspondence was received from LtCol Peter Sharwood in response to an email sent re the 2005 ANZAC Day Parade.

Peter,

Thank you for the reminder about the ANZAC Day service but I will be unable
to join you this year as I am in the sand pit. Please pass my regards to all
my friends at QUR.

We are in a very busy hospital and I have been here just under three weeks
and about to start my 30th major procedure. We have a lot to do and a big
staff including 7 general surgeons, (two of whom do vascular surgery of
which there is plenty), three orthopaedic surgeons, two neurosurgeons plus
an opthalmic surgeon, a fascio-maxillary surgeon, an ear nose and throat
surgeon and a urolgist. The CO is a plastic surgeon and joins in as needed.


We have been doing just about everything from spinal fusion to wound care,
from debridement to flap repairs and major reconstruction. The aim is to get
people out of hospital as fast as possible and it is nothing to complete a
procedure at 2300 and have the patient flown out an hour later! Most
patients leave at night. For one case in which I was involved, we had five
surgeons operating on the same patient concurrently, but I believe the
record was seven! The operating theatres are the double expandible
containers we use in the Australian Army and the hospital is tentage.

We do get time off and living conditions are comfortable, almost luxurious.
We have our own Australian " Camel Club" recreational area where we can
hear Australian accents. We have about 20 Australians here on a base of
about 25,000 people. We will be celebrating ANZAC Day with the appropriate
ceremonies.

There is evidence of beligerent activity around here and precautions are
always necessary. The weather was a little cold the first few days we were
here, but now every day is in the 30's. In a month it will probably be in
the high 40's.

Cheers

Peter Sharwood

*****************************

Further Correspondence from `afar`

Most members will know LtCol Dave Woodrow, longtime QURA member. Dave sent email last month.

Peter

We are currently in London touring around spending the kids inheritance. Apologies for non attendance-at QURA activities until 25 May. I may miss only the third dinner in about 40 years

Yesterday, as Knights of Saint John, we were at the High Commission in Malta as guests of Richard Palk who you will remember from old QUR days. We has a most pleasant evening trying to remember QUR events, characters and dates. Your name naturally came up through the old timers memory haze!

Richard would like to be kept on the mailing list and to be remembered to his old acquaintances in the "club".

Thanks
Dave Woodrow


================================================


A follow up email was received from Dick Palk, well renowned member of QUR during the seventies.


Peter and Dave,

Well this is a "Blast from the past" isn't it ?

Dave, thanks for getting in touch with Peter on my behalf and it was good
to catch up with you and your colleagues on Tuesday evening . It was a good
night and I was amazed at the number of common acquaintances both Helen and
I had with members of your group - but then again most of the group was
from Queensland! The Maltese guests we had on the evening joined us for
"one for the road" after you had left and they all agreed that you were a
most sociable group!

Peter, it's good to be in touch again after so long - actually I must
confess that a couple of months before coming to Malta I had met Sam
Harrison at a luncheon in Brisbane and he had passed on your email details
to me saying that I should re-activate my QUR Association membership. I
must admit that as I was soon to leave for Malta I put it to one side
however my fortuitous meeting with Dave Woodrow the other night must mean
it's time to sign up again to the Association.

Thought you may be interested to know that in the twenty months we have
been in Malta we have had visits from a couple of former QUR colleagues.
John Dowsett visited us just after we arrived and Peter Jones and Liz
called in last year for a few days. Bruce and Elizabeth Foy plan to be here
in September and of course Dave Woodrow joined us for drinks a couple of
days ago (but that was just an amazing coincidence).

Anyway must get back to work - I'm just in the process of finalising
arrangements for Anzac Day next week. We start the day with a Dawn Service
(which I instituted last year) and you will be pleased to hear that we
finish the service with Anzac Biscuits and coffee and Bundaberg Rum -
shipped in especially for the event. We then have an 11am Service of
Remembrance which is followed by a luncheon at our Residence. Last year we
had 250 people back to the house - so it's a fairly "big day" !!

I'll finish on one Admin point - Dave gave you my Maltese work address
however it's easier to send me correspondence from Australia through the
Diplomatic Bag and that address is: Malta Bag, Locked Bag 40, KINGSTON,
ACT, 2604. Obviously correspondence to this address only needs postage to
Canberra. Mail to this address is picked up by the department and air
despatched to the High Commission.

Dave thanks for putting me in contact with Peter and again it was good to
catch up with you the other night. Peter it's good to be back in touch and
I look forward to seeing you in the flesh when we get to Queensland. Please
pass on my regards to anyone of the old gang who may still remember us.

Best regards,

Dick

Richard Palk
High Commissioner
Australian High Commission
Ta' Xbiex Tce, Ta' Xbiex, MALTA



*****************************

We gather here, at this early hour, on this day every year, to honour the
heroism, tenacity, and resilience of that group of young men whose units were
sent to Gallipoli where, connecting up with equally raw young men from new
Zealand, they joined British and French forces and fought in a campaign designed
to relieve pressure on our ally, Russia, by opening up permanent and safe sea
communications with eastern Europe and bringing the Balkans on to our side. By
this it was hoped that this would shorten the duration of the war considerably.

But the overwhelming strength of the Turks and, let it be said their bravery,
prevented the allies' success.

The total Gallipoli casualties on our side, including the French and Naval, were
33,000 killed, 78,000 wounded and 8,000 missing. Of these, the Australians made
up 8,500 of those killed and more than 19,000 of those wounded.

But the shock news of these casualties, far from weakening this country's
resolve at that time, actually served to strengthen it, for the recruiting rate
increased – and remember they were all volunteers.

As the news of the casualties began to filter back to Australia, so did the
heroism of the ANZACs – from all sources: from the British – amazed at the
toughness, the resilience and the tenacity of our hitherto untried soldiers;
from the French, from the navies involved, and from our own war correspondents
like C.E.W. Bean and not least, from the enemy themselves.

The way these ANZACs bore the brunt of the fight in the Dardanelles stirred in
Australians everywhere a new feeling of camaraderie, a feeling that matched the
way in which the rest of the world suddenly began to look at Australia – not
just as an offshoot of Britain, but as an independent nation of a very
independent character.

And this view of ourselves, and the world's view of us, continues today, thanks,
to that spirit forged in the fires of Gallipoli.

We must not ever forget, though, what that spirit demanded; or the lives those
men gave in the name of our nation.

We must resolve anew that we will make this nation, Australia, into one worthy
of their sacrifice.

We respect and honour the demands that were made, not only on our servicemen and
women, but in the home, too.

And we are aware how easily it could happen again, and how quickly the situation
could arise – and how suddenly this country could be at the mercy of an
aggressor. And then, if we treasure our freedom, our civil liberties, our free
speech – our very lives, in fact – then we will all need that spirit of ANZAC.


We must never let the spirit die.

*****************************

Photos from ANZAC Day Ceremony, 2005
| | | |
| --- | --- | --- |
| | | QUR Regimental Band and RSL marchers forming up for the parade at Toowong |
| Members of QUR continent at the Toowong ANZAC day Ceremony | | |
| | | Maj Greg Adams, QURA execuive member and currently serving in QUR , commanded the QUR contingent on ANZAC day. |
| Members of the QUR Band on parade during the ANZAC Day march | | |
| | | Former QUR CO Col Peter Jeffrey, Current QUR CO, LtCol Nan Bahr and QUR Honorary Colonel MajGen Denis Luttrell with other distinguished guests at the ANZAC day service |
| Last post being played at the ANZAC day service, Toowong 2005 | | |
*****************************
QUR CO, LtCol Nan Bahr, and Officers of the Regiment hosted their Annual Regimental Dinner at Cromwell College on the 7th May. Special guest for the night was the Govenor of Queensland, Mrs Quentin Bryce.
The Dining President, Maj Ron Cox, called on Brig Trevor Luttrell to propose a toast to former QUR CO and QURA President, Col Garry Chandler RFD who passed away last December.
At the dinner, the out going Honorary Colonel MajGen Denis Luttrell AO RFD ED was thanked by LtCol Nan Bahr for his long and helpful association with QUR. During his reply, MajGen Luttrell acknowledged the help and guidance of former CO and Honorary Colonel Brig Sam Harrison MBE RFD ED.
The incoming Honorary Colonel, MajGen John Pearn AM RFD expressed his delight at being asked to fulfill the Honorary Colonel's position. Older QURA members will remember John from when he was RMO at QUR in the seventies.
| | | |
| --- | --- | --- |
| | | QUR Regimental Dinner - Top table icluded Govenor Mrs Quentin Bryce and her husband Dr Michael Bryce, MajGen John Pearn, MajGen Denis Luttrell, LtCol Nan Bahr, Mag Ron Cox and Brig Rod Hamilton. |
| Govenor Quentin Bryce, LtCol Nan Bahr and Maj Ron Cox | | |
| | | QUR band supplied the dinner music at Cromwell College |
| Honorary Colonel MajGen Denis Luttrell (1998-2005) with new Honorary Colonel MajGen John Pearn | | |
| | | QURA members Maj Greg Adams, Maj Wayne Barclay emjoy a chat over dinner with MajGen John Pearn and the Govenor's Aide |
| Capt Col Ahern and LtCol Bob Byrne having coffee in the ante room with Maj Brad Shillig and Brig Trevor Luttrell in the background | | |
| | | QURA members Assoc Prof Terry Gygar and The Hon Justice George Fryberg enjoy a chat after the Dinner |
| Col Ahern telling the current 2IC Maj Ron Cox how things used to be while Maj Rod Hardacre looks on ready to `psychoanalyse` his comments | | |
*****************************
If you pay your membership fees on a year by year basis payment is
now due for 2005.
For those members with internet access, please check the members page to ensure that your membership is current.
For those members receiving this newsletter by post, a code showing your membership status is printed on the address label..
The codes are:
SMEMB - Special Member (no fees)

LMEMB - Life Member (no fees)

PUOM - Paid Up Ordinary member (no fees but can transfer to 10 year membership for $50)

NEW - New member (no membership fees received as yet)

2005 – 201? membership fees paid to year indicated

199? - 2004 membership fees due for 2005
Annual dues are $10 and a 10 year paid-up membership can be had for $70.
Postage of newsletter $2.50 per year
Cheques should be forwarded to:
The Treasurer

QUR Association

24 Walcott Street,

St Lucia 4067

For those members with internet banking, payments may be made direct to the QURA Bank Account.

Details are BSB 064 129, Account 0090 4500, Account Name QUR Association Inc

Please ensure your name is supplied in the payment details.
*****************************
<![if !vml]>

<![endif]>

EMAIL ADDRESSES

As mentioned earlier, the Executive Committee is moving towards notifying members via email when the newsletter is available on our website. By producing the newsletter in an electronic form we can provide colour photographs and can, in fact, include more pictures and articles.

By having email addresses, it also allows the Executive to quickly notify members of important occurrences and provide reminders of upcoming events.

We will still maintain a postal service for those members without email accounts but it will assist your Executive greatly if up to date email addresses are provided.

For members wishing to provide a new email address, please send an email to Peter Morton at

peteramorton@bigpond.com

so he can ensure your address is received and entered onto our contact list.

*****************************

<![if !vml]>

<![endif]>
HISTORY OF QUR
Have you considered purchasing a copy of the History of QUR magnificently complied and edited by Paul Smith?
It contains 128 pages of stories, photographs and has a coloured badged cover.
COST : $15 per copy.
What about a CD containing over 100 images of the history of the Regiment.
COST : $10 per copy.
Why not treat yourself to a copy or buy copies for your friends. These are collectors items so don't miss out.
How to purchase copies:
Ring Trevor Luttrell 0407 143 289
Email Peter Morton
peteramorton@bigpond.com
Send your payment to:
The Treasurer, QUR Association, 24 Walcott Street, St Lucia Q 4067.
For those members with internet banking, payments may be made direct to the QURA Bank Account.
Details are BSB 064 129, Account 0090 4500, Account Name QUR Association Inc
Please ensure your name is supplied in the payment details.
*****************************
Association Office Bearers