Between audits and conferences the real business of officer training continues. The present course of 34 active participants are performing well and with a bit of determination, family and employer support as well as luck most will graduate from the Royal Military College in February 2001.
Three Officer of Cadet courses have been conducted for the Australian Army Cadet Corps since February with another occurring next weekend. The interaction between the Regional Training Centre –South Queensland, the 1st Cadet Wing and the Regiment is good. This is essential in these days of increasing responsibility for the training of Officers of Cadets in the way that Training Command directs.
QUR competed in the Australian Army Skill at Arms Meeting (AASAM) which has been conducted at the Greenbank Range over the past two weeks. Our team consisted of 9 participants, 7 of these achieved a place in the top 100 shooters (out of about 400 shooters from full time and part time Australian Defence Force personnel as well as international participants from countries including Canada, USA, Singapore, Malaysia, Fiji, and France.) This is a commendable effort especially considering that the Officer Cadet team of four have only been in the Army for five months and had minimal training. They achieved second place for the Regiment in the minor units competition.
WJ LYNCH
LTCOL
Full time service for Reserve Personnel
DEPLOYMENT OF QUR PERSONNEL ON OPERATIONS
Colonel Peter Sharwood RFD,MBBS (Qld), FRACS, FA (Orth)A.
Garry Collins stirred a lot of fond memories about life in QUR in the sixties and at that time our political focus was on Vietnam, conscription and the protests about a war in a far off country. Several QUR officers went to Vietnam. One of the first was the then Capt. John Taske who continued to pursue a full time military career rising to the rank of Colonel. He is currently in full time practice as an anaesthetist in Brisbane. He continues to serve as a consultant at 2 Fd Hospital. David Lewis (RAS 1965) spent two years as a medical officer in SVN and continued to serve in the ARA until he transferred to the reserve, commanding 9 Fd Ambulance in Townsville and became eventually as the Army Office orthopaedic consultant. John Pearn, now the Surgeon General , served as a physician at 1 Aust Field Hospital Vung Tau. Terry Gygar after a period as chief clerk in QUR, volunteered for Aviation corps and served in Vietnam. He was not so good at parachuting and spent weeks in plaster with an ankle fracture so it was probably lucky he was not allowed to fly. He went on to politics and the law after his return. CMF personnel had to change to the ARA to serve in SVN except for the reserve officer visits. Many members of the ARA who served in Vietnam subsequently came to serve in QUR and contributed greatly to its growth and development in the next 30 years. Many still belong to the Association, though I am not sure if any is still serving.
Communism was said to be the threat to Australia. History though took another turn, the dominos did not fall. Australia's trade within and influence in the region flourished. Government policy changed from forward defence to defence of the mainland. We set about a life at home in the 70's with prosperity and no thought of the possibility of war, even when Indonesia invaded East Timor in 1975. Military service was not the order of the day but the government policy was to maintain a large reserve force albeit without equipment, defined role or purpose. We had be come now known as the Reserves.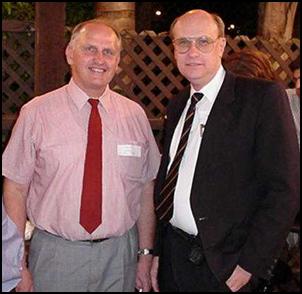 Peter Sharwood is on the right with former CO Brian Venz at the Back to the Regiment Night.
We were canvassed time and again to give an opinion as to what should be the role of Defence Reserves. The questions were asked and occasionally results were published but nobody acted, nothing changed. We simply had another reorganization and changed some names but business went on as usual. Even for a short period, the government sought to tax reserve pay. The attitude was that there was a regular army and a reserve army. The former relatively lean in manpower and resources and the latter, starved of resources but able generally to provide numbers. Integration was the catch cry but in my experience a token gesture that was never really adequately tried. Soldiers and officers left the reserves in droves, retention rates for soldiers was so short, very rarely could one see a soldier fully trained although the training offered was excellent and professional. There was always a pervading feeling of never being asked to do a job, and if you did get to do anything, there was rarely any thanks.
Although peace keeping operations had been around since the late 40's Australia had a small role in them until the commitment of the RAAF helicopters to the Middle East in the early 80's. There were small groups of officers and NCO's who were sent to the Middle East and elsewhere as UN observers.
Occasionally, Reserve Officers were considered and posted to these positions, especially during the Vietnam War, but only after their undertaking a commitment to full time duty for long periods or actually joining the ARA. I believe there may have been QUR personnel involved in these activities.
It was not until Engineers were sent to SW Africa that Australia became a part of worldwide peacekeeping operations. Although we had a commitment to reserve forces becoming part of the defence force, attachment for deployment involved transferring to full time duty for a minimum of six months. The Gulf War saw for the first time reserve officers serving as part of a deployed force, in this case to the USNS Comfort where reserve medical specialists served for three months. Two former members of QUR were deployed to the "Comfort" Col. David Lewis and then Major (now Wing Comd) Athol Mackay who was, at that time, serving in the ARA. I was posted at the time as CO 2 Fd Hospital. I was to go to the USNS Comfort from the end of February 1991, but by then the war was over and I was not required to go.
The commitment to Cambodia was essentially from signals and to my knowledge, no QUR personnel served in UNTAC. The unrest in Somalia saw the deployment of the ODF there in an active service role but again I have no knowledge of QUR personnel being involved in Somalia, though I would not be surprised to hear that they were as there are quite a few officers in the ARA who enlisted into QUR in the 70's and sought to pursue a full time military career.
1994 saw the massacres in Rwanda. Australia provided the medical support for UNAMIR II. A component of a field hospital was deployed and for twelve months, 150 medical staff with a further 130 support and protection personnel were deployed to central Kigali. This operation could not have been mounted without the commitment of Reserve Specialist Medical Officers. There was only one serving medical specialist in the ARA. Lt Col John Teh. He was a Queensland University graduate, but had never been a member of QUR. The role of this mission was to provide medical support for UN troops and personnel. As well there was an ability to use "spare capacity" for treatment of the locals. A lot of time was spent dealing with mine injuries and victims of motor vehicle accidents. Several QUR personnel served on Operation Tamar. Colonels David Lewis and John Pearn, Lt Col. Peter Sharwood and Maj David Scott (ARA). For this and other deployments it now became possible to move readily between "regular" and active or inactive "reserve", provided the paperwork was complete and one completed weapon training (Steyr conversion) and could pass the basic fitness test. There were great difficulties though in getting paid!
Operation Bel Isi commenced in 1996 with a small unarmed "Truce Monitoring Group" deployed to Bougainville PNG in December 1997 . In April 1998 it was renamed a "Peace Monitoring Group". This operation is ongoing. I have served there as surgeon as has Col. David Lewis and Wing Comd Mackay Maj Merv Cobcroft, formally RMO QUR has served as an anaesthetist.. Lt Col. Kevin Farrell and Lt Col. Brent Common (both of whom enlisted in QUR in the 60's) have served as OC Medical Company and Senior Medical Officer for the Force. I am sure other QUR personnel have been there as well.
In 1975, East Timor was invaded, our journalists were murdered, the local citizens were brutally suppressed, imprisoned, beaten and murdered but our political masters decided to go against world opinion and recognize this aggression by Indonesia as legitimate. At the time of the invasion, some Australian troops were present in East Timor and their medical officer was Maj Paul Dinnen who had enlisted in QUR ten years earlier.
The East Timorese fight for separation from Indonesia continued for 14 years. It culminated in 1999.
In December 1999, as I wrote much of this from my room in the Museum of Dili, I looked out on that devastation and destruction brought on a people who have been oppressed and subjected to genocide. It is estimated 200,000 people died in the conflict in that country since 1975. When one travels the streets and villages there are no middle-aged men and very few women over 35. There are young people and children, a few old men and women. Their plea for justice was finally heard and they voted overwhelmingly to be released from tyrannical oppression, only to be dealt a cruel blow for two weeks with massive and wanton destruction of their homes, businesses and personal possessions.
QUR members were there with the first INTERFET troops. Others I know will be posted there in the next few weeks. In December, I spoke to Len Eacott (Senior Chaplain DJFHQ and HQ INTERFET) and a major influence in the foundation of the QUR association. He was commenting about his platoon of Chaplains. (24, including one General from Italy!) I did not see the other "QUR" personnel but I know they were serving in the area. Thankfully they were not being injured and did not need to see me.
Times have changed. There are now many opportunities and a great need for reservists to serve with our regular colleagues. We now are now slowly beginning to look like one army. I would strongly encourage both junior and senior ranks to put up their hand and serve some time on operational service as there is nothing like the real thing to hone the skills of leadership and command.
Peter Sharwood
Biographical note: Colonel Peter Sharwood enlisted in QUR in 1965 and was commissioned RA Inf in 1967. He continued in Regimental postings including Chief Instructor OCT Coy and Adjt (CMF) until 1972 when he was appointed to the RAAMC as a Medical Officer 1 CCS. He was training officer of that unit and served as RMO QUR 1977 - 1978. He has served with the British Army (TA) whilst undergoing fellowship training in Orthopaedics in England. He had full time service as a staff officer HQ 1 MD in 1981. He commanded 2 Field Hospital from 1990 to 1992 and then served as SO1 Med, HQ 1 DIV (DJFHQ). He was promoted Colonel in 1996 as Consultant in Orthopaedics (Army Office) . He was selected for service USNS COMFORT during the Gulf War but was not required to go. He has served in Rwanda in 1994, Bougainville in 1998 & 1999 and in East Timor. He will be returning to Timor in April 2000 for another tour of duty. When at home he is in private practice in orthopaedic surgery in Brisbane. He is a clinical senior lecturer University of Queensland Graduate Medical School and on the consultant staff of Greenslopes Private Hospital and 2 Field Hospital. His interests are in hand surgery, spinal surgery in the elderly population and military orthopaedics.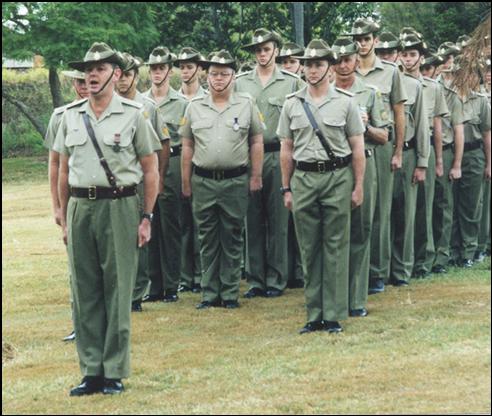 Regimental 2IC, Major Gary Symons, about to give the order for the QUR detachment to march off from the area of the Sylvan Road memorial following this year's Toowong RSL ANZAC Day ceremony.
| | | | | |
| --- | --- | --- | --- | --- |
| Position | Name | Bus Hrs | A/Hrs | e-mail |
| President | Paul Smith | 3221 1275 | 3379 9825 | pesb@ozemail.com.au |
| Vice President | Trevor Luttrell | 3323 1607 | 3345 2754 | trevor.luttrell@qed.qld.gov.au |
| Immediate Past President | Garry Chandler | 0412 643 850 | 3273 5303 | wellesley@uq.net.au |
| Asst Secretary (QUR 2IC) | Gary Symons | 3371 9255 Tue ni | | |
| Treasurer | Andrew Luttrell | 3225 8349 | 3217 7424 | |
| Membership Secretary | Peter Morton | 3406 6820 | 3848 4736 | pamorton@ozemail.com.au |
| Newsletter Editor | Garry Collins | 3351 4044 | 3359 5993 | gazco@powerup.com.au |
| Committee Members | Col Ahern | 3896 9510 | 3278 1862 | |
| | Neil Heather | | 3379 6582 | nheather@gil.com.au |
| | Ian Hughes | | 3371 4197 | |
| | Rhys Thomas | 3883 0221 | 3263 2238 | rhys.thomas@health.qld.gov.au |
| | Mal Try | 3227 6259 | 3870 0096 | mal.try@env.qld.gov.au |
| Ex officio Member | Michael Thomas | 3244 6131 | 3357 1971 | michael.thomas@detir.qld.gov.au |
2000 Calendar of Events
◊ Friday 15 September - Association Annual Dinner at the United Service Club, Wickham Terrace
◊ Friday 24 November - Christmas Drinks
(in the city after work)
◊ Monthly drinks – Victory Hotel on the last Friday evening of the month